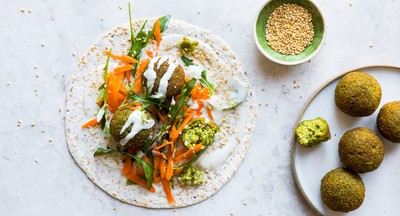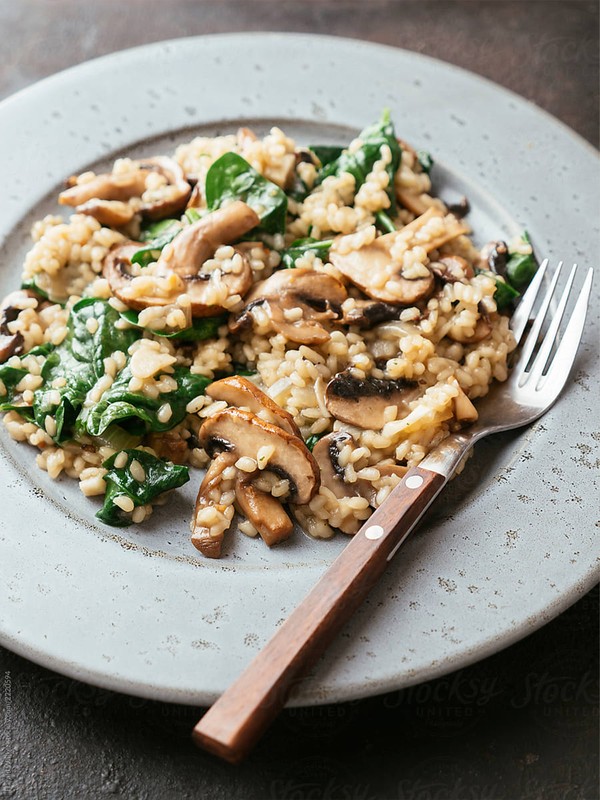 An IBS Nutritionist Shares His Food Diary

---
Irritable bowel syndrome (IBS) is a common disorder that causes uncomfortable symptoms from bloating to constipation. In fact, it affects as many as one in 20 adults in the UK – including Dr Sunni Patel. From go-to smoothies to gut-friendly snacks, here's what this culinary medicine coach eats to look after himself…

Hydration is essential first thing. Most of us wake up dehydrated, so it's important to rehydrate first thing. Water plays a central role in many bodily functions, including gut health. I'm not very British or Indian in that I'm not a fan of tea or coffee, but I enjoy a cup of chicory coffee. It's caffeine free, not acidic (like tea and coffee can be, which can irritate the gut) and is a source of inulin, a prebiotic fibre that feeds the good bacteria in our gut. I also drink a lot of ginger tea, which is great for digestion. Ginger relaxes muscles of the digestive tract, increases gastric secretions and speeds up digestion to offset nausea, indigestion and bloating. 
Oats are a great source of fibre. I'm a big fan of oats – they're easy to make and versatile. They're also rich in fibre and beta-glucans, which helps to support digestion and the gut bacteria. They lend themselves to both sweet and savoury flavours, and work well cold and hot. I'm partial to a warming bowl of cocoa, blueberry and peanut butter porridge in the morning, or will make a batch of overnight oats with grated hard fruits – like pears and apples – with a mix of nuts and seeds. Overnight oats are a good breakfast option if your mornings are busy – prepare the oats the night before and store in a sealable glass jar in the fridge. 
It's worth reading the label when buying peanut butter. Nut butter is a good source of healthy fats, protein and vitamin E, but a few tweaks will boost your nutritional intake. Look for a peanut butter that's made with high-quality peanuts and without any added palm oil, refined sugar or preservatives. My go-to brands include Meridian, Pip & Nut, Whole Earth and Manilife. Aldi's Foodie Market peanut butter is a great, healthy and affordable alternative. 
"Look for a loaf of bread that has at least 3g of fibre per slice – Burgen and Vogel's are good brands."
Savoury oats are a healthier spin on risotto. Savoury oats may sound odd, but don't knock them until you've tried them. Try cooking oats with vegetable stock and ginger instead of water or milk and add sautéed vegetables – mushrooms and pak choi work well – and top with tofu or tempeh, and drizzle with soy sauce and sesame seeds.  
Scrambled tofu is high in protein. On the weekend, nothing beats my healthier spin on a full English, with scrambled tofu as a plant-based alternative to eggs. Fry it with onions, peppers, tomatoes, celery, spinach and salt, pepper, turmeric, coriander powder, ground cumin and chilli powder, then serve with grilled avocado and tomato, sautéed mushrooms and sourdough toast with baked beans. It feels like a treat, but I know it's also doing my gut good by providing a variety of plant points and a healthy source of protein and carbs. When buying tofu, know that the firmer a tofu, the higher it is in protein. Opt for organic and one that's made without genetically modified soybeans, which can be prevalent in tofu – my go-to brands include Taifun, Dragonfly and Clearspring. 
Bread can be part of a healthy diet. Ideally choose a loaf that's wholegrain or wholemeal, sprouted or sourdough, and get into the habit of reading the label. Always choose a bread that has a higher fibre content, with at least 3g of fibre per slice, and one that has minimal additives and zero artificial preservatives, sweeteners or hydrogenated oils. Bread that's fresh from the bakery is ideal as it'll be the least processed, but good supermarket brands include Burgen and Vogel's. Warburtons and Hovis wholemeal and wholegrain bread is also made without preservatives or additives and provides a decent amount of fibre. 
Sometimes the simplest dishes are the best. I'm currently going through a phase with tomatoes. For a simple summer lunch, blister a generous amount of tomatoes in a pan with olive oil, garlic and herbs, and stir through pasta or serve on toast. My top tip is to keep tomatoes out of the fridge at room temperature – they'll taste so much better.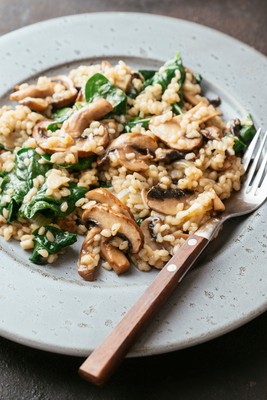 HARALD WALKER/STOCKSY UNITED
Roasted chickpeas and baked crisps make good snacks. I'm a huge fan of savoury snacks – crisps are my vice. I love lentil crisps for a slightly healthier back-up – Harvest Snaps are a great recent discovery. Its chips are made with peas, chickpeas and lentils and taste great. When it comes to savoury snacks, always read the label, and opt for the shortest list of ingredients possible. Look for crisps that provide adequate fibre and lower levels of saturated fats, salt, trans fats and sugars. Choose crisps that use natural flavourings derived from herbs, spices or real food ingredients and avoid brands that rely heavily on artificial flavourings or monosodium glutamate (MSG). Some mainstream brands offer baked crisps, which are lower in fat than traditional fried options. Air-popped popcorn, roasted chickpeas, or roasted nuts and seeds are also decent snack options.
Dates will satisfy a sweet craving. If you're into sweet snacks, stuff Medjool dates with peanut butter or tahini drizzle and melted dark chocolate – keep them in the fridge as a go-to pick-me-up. Alpro's Greek-style yoghurt pots also make a protein and calcium-rich snack – top with blueberries and seeds for added nutrients. If chocolate is your thing, make sure it's 80% or above for a decent dose of antioxidants.
Meal prep can keep you on track. If you don't have a lot of time to pursue healthy eating, or if you spend more time thinking of what to eat than actually cooking, consider getting involved with some meal prep. Taking time on the weekend to cook a few basics is my secret weapon to staying nourished and on track during a busy week. Falafel is a good one to start with – soak chickpeas and green lentils overnight, or used canned legumes, and mix with chickpea flour (it's easier to digest) and spices before baking in the oven. You can then make up a lunchbox of falafel, mixed leaves, hummus, veggies, olives, pickles, chickpeas, broad beans, seeds and toasted pitta croutons. Or serve in a wrap, naan or chapati. I often add sauerkraut and kimchi to my salads – the Vadasz range gets my vote.
"If coffee irritates your gut, try chicory coffee. It's less acidic, caffeine free and is a source of prebiotic fibre to feed gut bacteria."
I don't really follow recipes. Instead, I love experimenting and recreating dishes from holidays or restaurants that I enjoyed. The most recent was a slow-cooked red onion pasta dish – think lots of onions slowly caramelised stirred through with fresh oregano and nutritional yeast (a delicious, plant-based alternative to parmesan that's also rich in B vitamins) and served with pasta. Think about what's in season and work around that. Risottos are also a great way of getting creative with veg – try using an ancient grain like spelt for a higher fibre count and a nuttier texture – using what's in season. For example, leeks are a good alternative to onions and they're a good source of probiotic fibre. 
Getting to know your triggers is important. If you struggle with IBS or digestive issues, understanding the foods that don't agree with you can make all the difference. When my stomach is feeling sensitive, I avoid garlic, onion, chilli, peppers and fibrous foods, and instead stick to smoothies, soups, yogurt, sourdough, rice cakes and soothing, anti-inflammatory fruit like papaya. A simple miso soup with silken tofu, rice noodles, carrots, ginger and mint is a fantastic digestive aid. A low-FODMAP smoothie is a good breakfast option to minimise symptoms – my go-to blend is one ripe banana, a tablespoon of chia seeds, a tablespoon of almond butter, freshly grated ginger, a teaspoon of cinnamon, three dates, ice cubes and oat milk. 
If you do one thing differently, eat more colour. Diversity and abundance of good gut bacteria is what makes the gut microbiome robust. Studies show eating 30 different types of plants per week is associated with better gut health. This may sound like a lot, but it can be easily achieved if you eat a variety of fruits, vegetables, wholegrains, nuts and seeds. 
For more, head to DishDashDeets.com and follow Sunni on Instagram @DrSunniPatel
DISCLAIMER: Features published by SheerLuxe are not intended to treat, diagnose, cure or prevent any disease. Always seek the advice of your GP or another qualified healthcare provider for any questions you have regarding a medical condition, and before undertaking any diet, exercise or other health-related programme.
DISCLAIMER: We endeavour to always credit the correct original source of every image we use. If you think a credit may be incorrect, please contact us at [email protected].