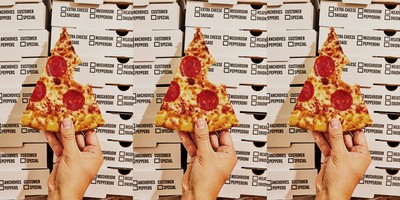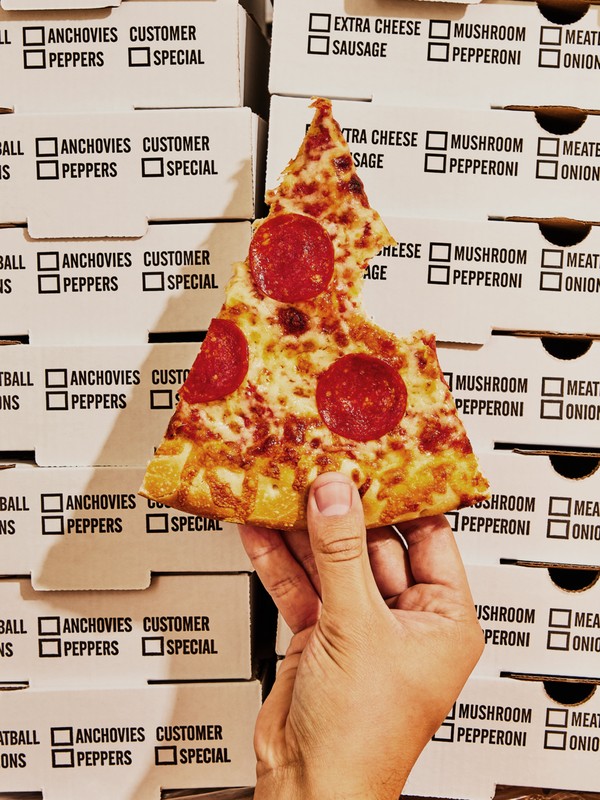 A Nutritionist's Guide To Navigating Deliveroo

---
For a quick midweek dinner or a Friday-night treat, sometimes a takeaway is the only answer. But it's no secret that takeaways tend to be loaded with empty calories, so we asked three nutritionists for their advice on placing a healthier Deliveroo order next time you're in the mood…

Photography
JOE ST.PIERRE/STOCKSY UNITED
Choose The Right Cuisine
"Takeaway food is typically high in fat and salt as they stimulate appetite, making them an attractive combination for food manufacturers, as well as being low in vitamins and minerals. As a rule, options like fish and chips, Chinese, Indian and pizza of the Dominoes and Pizza Hut variety is never going to be the healthiest option. Instead, look for Mediterranean, Japanese and Middle Eastern restaurants, which tend to offer balanced and nutrient-rich options. Look for 'grilled', 'steamed' and 'oven-baked', and be cautious of anything that's 'creamy' or 'fried', which tend to indicate higher calorie dishes." – Sophie Trotman, nutritionist
Opt For Vietnamese Over Thai
"While many Asian dishes are vegetable-centric, not all are light. For example, Thai curries often contain a lot of added sugar, and tend to be paired with carb-rich accompaniments like bread and sticky rice. Vietnamese food tends to be light, and is generally lighter than Thai food, so seek this out if you're looking for a healthy option. If you enjoy dishes from places like Wagamama, swap udon noodles for rice noodles and choose broth-based dishes rather than creamy or oily sauces. For example, order a grilled chicken ramen rather than a chicken katsu curry, which can contain upwards of 1,000 calories per portion." – Sophie 
Avoid Fried Options
"This may sound obvious, but avoiding fried dishes is a top tip to ensure a healthier takeaway. Frying can increase the calorie content of a meal by 50% without taking into consideration the batter. Oil quality is also a concern, as food tends to be fried in pro-inflammatory oils like rapeseed or sunflower. Japanese tempura is the exception, as it's cooked in a different way. With tempura, food is fried after being dipped in a very cold batter and fried for a short period of time." – Lucia Stansbie, nutritional therapist
Steer Clear Of Vegan Burgers
"Plant-based burgers and vegan meats feature on many takeaway menus, and they can be anything but healthy. Vegan meat is considered an ultra-processed food and can sometimes contain even more calories and saturated fat than real meat. If you want a plant-based option, look for a burger patty made from beans as opposed to a soya-based burger or anything made to resemble meat. 
If you're ordering a regular burger, ditch the bun. A classic white burger bun is ultra-processed and high in sugar. If you can, substitute for a bread roll, and ditch condiments like ketchup, which are laden with sugar and additives. Healthier condiments include salsa, guacamole and English mustard." – Lucia 
Be Careful With Sushi
"Asian food, which focuses on fresh ingredients without the use of dairy, can be a good option if you make the right choices. Always steer clear of fried dishes and sugary sauces, and approach sushi with caution. Sushi rice is packed with refined carbohydrates, often prepared with sugar, and is very low in fibre, making it easy to overeat without noticing. If you love sushi, see if there's the option to swap the rice for brown rice, and order a vegetable side with it, so you can eat half the portion of sushi and more veg." – Paola Langella, integrative nutrition health coach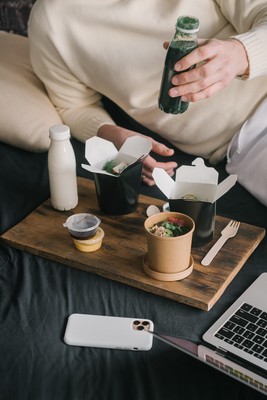 Do Your Research
"The options on Deliveroo are endless, but for a healthier option, look for a restaurant that has a smaller menu, which indicates the food is fresher. When there's a long menu, it's almost impossible for the kitchen to cook everything fresh." – Lucia 
Keep Carbs & Protein Balanced
"There's nothing wrong with noodles. In fact, rice and soba noodles are great options as they are gluten free and easier to digest. What you need to be mindful of, however, is the proportion of carbs, protein and vegetables. To make a noodle (or rice) dish healthier, make sure it contains plenty of vegetables – if not, order a side – and a good source of protein, like chicken, beef, prawns or tofu. Also be mindful of the sauces used in Asian-based noodle and rice dishes – cheaper restaurants will use more sauces and MSG to enhance flavour, which can trigger headaches and skin rashes." – Lucia 
Stick To Tomato-Based Dishes
"If you love an Italian takeaway, opt for simpler pizza and pasta options, like tomato-based recipes. Sauces with cream and cheese tend to be high in saturated fats, and usually contain minimal vegetables. A pizza topped with a fresh tomato sauce, vegetables and cheese, along with a rocket side salad, is a far healthier option than a meat feast pizza with a side of fried mozzarella sticks. When considering pasta, know that egg pasta, like tagliatelle, ravioli and lasagne, tends to be higher in calories and fat than dry pasta, like spaghetti and penne. Most Italian menus will offer a salad or two – ask for it to be dressed with olive oil as a simple way to increase the fibre and antioxidant content of a meal." – Lucia 
Be Savvy With Condiments
"Steer clear of complex dips and dressings which feature many flavours – these tend to contain endless additives and artificial flavourings. If you love dips, opt for vegetable-based dips, like salsa and guacamole, or try a yoghurt-based dip, which can be a good source of protein and calcium. If you're a condiment fiend, consider stocking up on some healthier alternatives to keep at home. Have a look in your local health food store – as a rule of thumb, the shorter the ingredient list, the better. Avoid products containing corn syrup (this is closely linked to increased obesity), as well as rapeseed or sunflower oil, which can cause inflammation." – Lucia 
Go Low-Carb
"Whether from bread, rice, potatoes or noodles, most takeaways are high in carbs. For a low-carb or keto meal, focus on protein and fats. Avoid bread and rice; instead, choose salads, non-starchy vegetables and protein. Most restaurants now offer lettuce wraps as a substitute for bread. Chilango lets you replace the rice in a burrito bowl with extra salad, and most poke places let you replace the rice – or half of the rice – with a healthy slaw or salad." – Sophie 
---
Make sure your next Deliveroo ticks the nutritional boxes with these top tips for all cuisines…
"Choose tandoori or grilled options over creamy curries. Accompany this with a vegetable side dish. Be mindful of the breads – pick bread or rice to go with your meal, not both. Saag aloo – a spinach and potato dish – provides a range of vitamins and minerals, including iron from spinach and potassium from potatoes. Dhal is also rich in protein and fibre." – Sophie 
"A Chinese menu can be tricky to navigate from a health perspective. Consider opting for one 'naughty' dish, like sweet and sour chicken, alongside a side of vegetables, such as stir-fried broccoli, and brown rice. Swapping meat for fish can also be an option – like prawn noodles. Steamed dim sum and steamed fish dishes are also good choices." – Lucia 
"A Vietnamese pho is a top choice – it's my go-to Deliveroo order. That, plus summer rolls. A Korean bibimbap with a brown rice base is also a balanced option with carbs, protein and plenty of veg. I'd add some kimchi, a fermented food that supports gut health. Stir-fried tofu and vegetables with brown rice is also nutritionally balanced – just be mindful of the amount of soy sauce used, which can quickly increase the salt content of a meal." – Lucia 
"Sushi rice has a high GI index, so be sure to order plenty of sashimi for a dose of protein and healthy fat. I'd order a variety of sushi and sashimi, and add a seaweed salad or miso aubergine for fibre." – Lucia 
"Grilled kebabs are a great source of lean protein, while tabbouleh is rich in vitamins A and C. Hummus is an excellent source of plant-based protein and healthy fats – just make sure it's made with olive oil as opposed to sunflower oil." – Sophie 
"Pizza can be made healthier by choosing a thin crust, less cheese and extra vegetable toppings. A thinner crust reduces the carbohydrate load, too. A caprese salad is nutritious – the tomatoes provide vitamin C and lycopene, the mozzarella is a good source of calcium and protein, and basil is rich in antioxidants. Pasta in a tomato sauce is always a good option, with some studies suggesting cooked tomatoes contain more bioavailable nutrients than raw tomatoes." – Sophie
"Add a side of mushy peas, which are a good source of protein, fibre and vitamins, and consider ordering a smaller portion of chips. A side salad will enhance the meal's nutrient density, adding vitamins and fibre to balance out the fried food." – Sophie 
DISCLAIMER: Features published by SheerLuxe are not intended to treat, diagnose, cure or prevent any disease. Always seek the advice of your GP or another qualified healthcare provider for any questions you have regarding a medical condition, and before undertaking any diet, exercise or other health-related programme.
DISCLAIMER: We endeavour to always credit the correct original source of every image we use. If you think a credit may be incorrect, please contact us at [email protected].