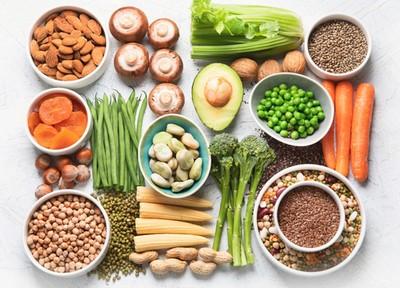 The Superfood That Can Help You Live Longer

---
It doesn't get the same airtime as turmeric, coconut oil or omega-3s, which means fibre is the superfood you might not be getting enough of. SLMan caught up with nutritional therapist Yasmin Alexander to find out all about fibre and its many benefits…

There Are Different Types
You can find fibre in fruit and vegetables; some breakfast cereals, breads and pasta that use whole-grains; pulses such as beans, lentils and chickpeas; as well as nuts and seeds. As Yasmin explains, there are different types of fibre, typically classified as soluble or insoluble. "Fibrous foods usually contain both soluble and insoluble fibres, but one is often in higher amounts. The solubility refers to how they behave in the digestive system and the different functions they perform. Soluble fibres – such as oats, chia seeds, apples and beans – swell and absorb water to form a gel, therefore bringing water into the digestive system, which can soften stools and help with constipation. Insoluble fibres – such as seeds, wholegrains and skins on fruits and vegetables – bulk out stools and can improve regularity of bowel movements."
You're Probably Not Eating Enough
Since 2015, UK nutrition guidelines have recommended a daily fibre intake of 30g. Recent studies show just 9% of adults reach this target. As Yasmin says, "The average British man only consumes about 20g of fibre daily. By comparison, in rural parts of Africa, average fibre intakes can be around 60g per day."
It Can Fight Disease…
There's more to fibre than preventing constipation. By regulating bowel movements, fibre helps clean out your digestive system and get rid of things (extra hormones, cholesterol, toxins and waste) that shouldn't be there. "Fibre can also reduce the risk of diseases such as diabetes, heart disease, high cholesterol and some cancers, such as prostate cancer," says Yasmin. "Protein may be the most sought-after food group, but fibre really deserves the spotlight." One study found that for every 8g increase in fibre per day, the risk of type 2 diabetes drops by 15%, heart disease falls by 19% and colon cancer dips by 8%. For reference, 8g of fibre is equivalent to a piece of fruit or a can of beans.
…And Help With Weight Management
"There is a lot of research linking higher fibre intakes to weight management and weight loss," says Yasmin. "Weight loss studies are often complicated as it's tricky to isolate just one dietary element, but eating in a pattern which includes plentiful fruit, vegetables, wholegrains, nuts and seeds shows benefits for controlling weight." Fibre also contributes to satiety, which may prevent snacking on high-energy foods. "Statistics show more men are overweight than women in the UK, so fibre is a nutrient worth focusing on for men."
It's An Affordable Superfood
"We often focus on grains when thinking about fibre, but fruit and vegetables are great sources, with half an avocado containing around 2g of fibre. Artichokes are another brilliant source and one of the richest sources of prebiotics (food for your friendly bacteria). Nuts and seeds are also a great source, with a 30g serving containing nearly 3g of fibre – they're the perfect snack or topper to salads and soups," Yasmin says. Fibre-rich foods needn't cost you a fortune – some of Yasmin's favourites include: chia seeds (one tablespoon provides 5.6g of fibre); kidney beans (half a can provides 11.5g of fibre); flaxseeds (3.5g in every tablespoon); oats (4g per 50g serving); and falafel made from chickpeas (a whopping 5g per four balls).
It'll Supercharge The Immune System
"Around 70% of our immune system is created within the gut and, by feeding our good bacteria, fibre is essential to support this system," Yasmin explains. "Fibre is the number-one fuel for our digestive system – research shows getting at least 30 different types of plant fibres each week is a great way to optimise gut health."
It Pays To Build Up Slowly
When it comes to increasing your fibre intake, Yasmin's advice is to move up gradually. "Going from nought to 100 in a short space of time can bring with it some unwanted side effects such as an increase in gas and bloating. Start slowly and add more fibre over a few weeks rather than overnight. Try adding an extra serving of fibre each day and build up every few days."
YASMIN'S SIMPLE SWAPS TO BOOST YOUR FIBRE INTAKE
Swap white, processed carbs like white bread and pasta for wholegrain varieties.
Keep the skins on. Not peeling potatoes and other fruit and veg such as apples and butternut squash not only keeps the fibre intact, but will save you time and energy.
Get some fruit and veg into your snacks – think apple with nut butter or hummus with carrot sticks or oatcakes.
Swap your packet of crisps for a packet of mixed nuts or roasted corn.
Switch up your usual refined breakfast cereal for porridge, granola or muesli – oats are a great source of fibre.
Don't forget about legumes – beans, lentils and chickpeas are fantastic sources of fibre. Add them to dishes like bolognese, shepherd's pie, curries, soups and stews.
*Features published by SLMan are not intended to treat, diagnose, cure or prevent any disease. Always seek the advice of your GP or another qualified healthcare provider for any questions you have regarding a medical condition, and before undertaking any diet, exercise or other health-related programmes.
DISCLAIMER: We endeavour to always credit the correct original source of every image we use. If you think a credit may be incorrect, please contact us at [email protected].