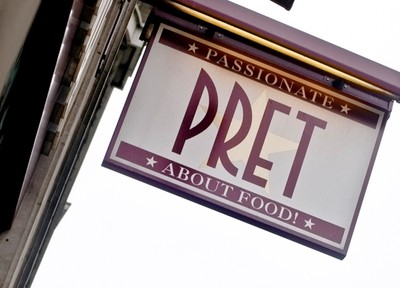 What To Order At Pret, According To A Nutritionist

---
For a quick mid-week lunch, Pret is always on the list. Whether you get your daily fix by popping into your local or via Deliveroo these days, we asked nutritionist Clarissa Lenherr to share her expert analysis of the menu, to find out which choices might be just that little bit healthier…

Photography
ONEBLUELIGHT/ISTOCK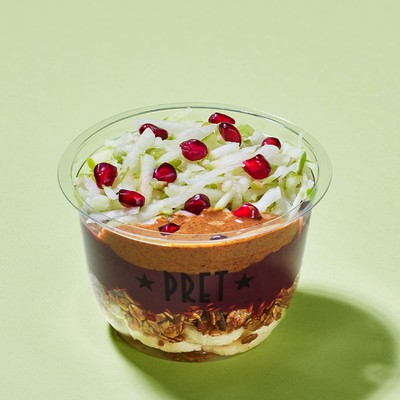 Acai And Almond Butter Bowl
What's Inside: Sliced banana, granola and acai berry puree, topped with shredded apple, pomegranate seeds and almond butter.
Calories: 349
Verdict: Packed with a variety of berries – think blackcurrants, pomegranate seeds, raspberries, blackberries and strawberries – this dish is an antioxidant powerhouse. Acai berries, for example, contain more antioxidants than most berries, and are also a good source of vitamin A, which supports a healthy immune system and vision. However, it also contains two forms of added sugar – muscovado sugar and golden syrup – which, alongside the natural sugars, makes this pot high in sugar. While it may only contain 350 calories per serving, most of these come from sugar, with almost 34g of sugar per serving. It also only contains 9g of protein, so may not be the most energising option. Adding in some yoghurt will help boost the protein content.
RATING: 7/10
Veggie Breakfast Roll
What's Inside: Mushroom and spinach omelette with cheese and slow-roasted tomatoes served in a crusty white roll.
Calories: 332
Verdict: If you need a vegetarian breakfast option, you could do worse than choose this veggie roll. It contains 17g of protein per serving, which will fill you up, but swapping the white bun for a wholemeal alternative would give the dish more fibre – with the white bun, it only has 3g of fibre. Mushrooms make up 16% of the meal which is great – mushrooms are a rich source of B vitamins and selenium, which can contribute to energy and a healthy immune system. Whilst it does contain a few tomatoes, some greens, such as spinach or rocket, would have been a welcome addition.
RATING: 6/10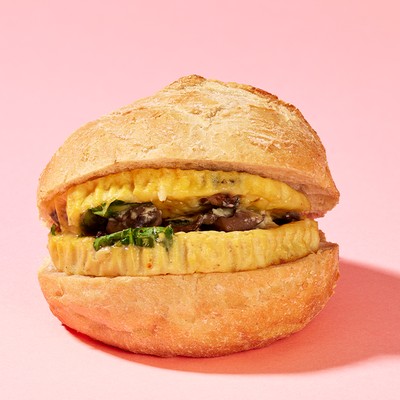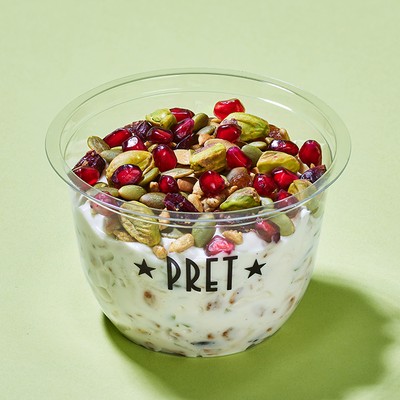 Bircher Muesli
What's Inside: Granola soaked overnight with yoghurt, honey and freshly grated apple. In the morning, it's topped with pistachios and mixed seeds.
Calories: 309
Verdict: This is a solid breakfast option. Offering complex carbohydrates from the oats, protein from the yoghurt and healthy fats from the nuts and seeds, it's a well-balanced meal. However, it would be nice to see just one added sugar on the ingredients list, rather than three – it currently contains muscovado sugar, golden syrup and sugar as well as concentrated apple juice and honey. Each pot contains 38g of sugar, pretty much all of which is sugar, but this is balanced out by 14g of protein, and pumpkin seeds are a great source of magnesium, which contributes to over 300 processes in the body. Pistachios, meanwhile, provide us with copper, a mineral that contributes to skin health. 
RATING: 9/10
Hummus & Roast Pepper Open Sandwich
What's Inside: A thick slice of multigrain bread topped with hummus, red tapenade and basil leaves. Finished with chargrilled peppers, creamy diced feta and toasted pine nuts.
Calories: 503
Verdict: This is a good lunch option for those on a gluten-free diet, which is why the ingredients list is so long – the bread itself contains several ingredients that make it gluten-free. It also contains a good amount of wholegrains, which contribute to the fibre content – each serving contains nearly 12g of fibre, which is more than one third of your daily recommended intake. Fibre will keep you fuller for longer and energy levels more consistent. This dish contains 14.5g of protein per serving thanks to chickpeas, which are also packed with fibre and nutrients. Chickpeas also provide a plant-based source of iron, and the addition of red peppers, which are rich in vitamin C, will aid the iron's absorption.
RATING: 8/10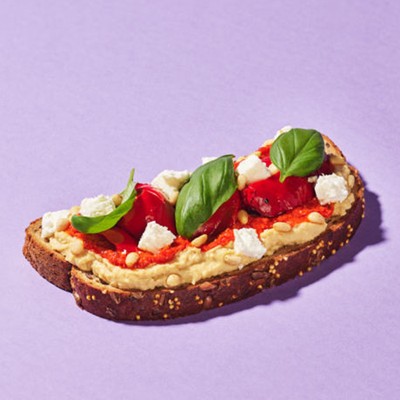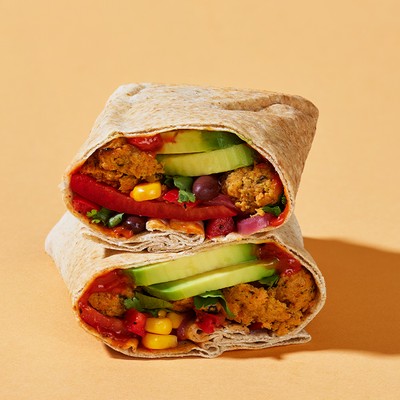 Falafel, Avocado & Chipotle Flatbread
What's Inside: Sweet potato falafel and freshly sliced avocado with chipotle ketchup, topped with pickled onions, red peppers, coriander and corn salsa. Wrapped in wholemeal flatbread.
Calories: 478
Verdict: This is a carbohydrate-rich option thanks to the flatbread and falafel, which are made with sweet potatoes as opposed to chickpeas. Containing nearly 60g of carbs per serving, it's a good choice for those who lead an active lifestyle, although it only contains 10g of protein, which is disappointing. The avocado also provides a source of healthy fats, which will keep you fuller for longer. On the plus side, it also contains 12g of fibre per serving, which is good for your gut health.
RATING: 7/10
Chicken, Avocado & Basil Sandwich
What's Inside: Chicken with sliced avocado and basil. Finished with mixed salad leaves and yoghurt mayo.
Calories: 464
Verdict: This is a Pret classic that contains surprisingly fewer calories than you may think. With 39g of carbs, 24g of protein and 7g of fibre per serving, it's pretty well balanced, and is made with yoghurt mayo, which is lower in fat than traditional mayonnaise. Wholegrain bread bumps up the fibre content and a decent amount of chicken provides a good source of protein. The only downside is the lack of greens – a handful of tomatoes, carrot or beetroot would elevate the nutritional content of this sandwich.
RATING: 7/10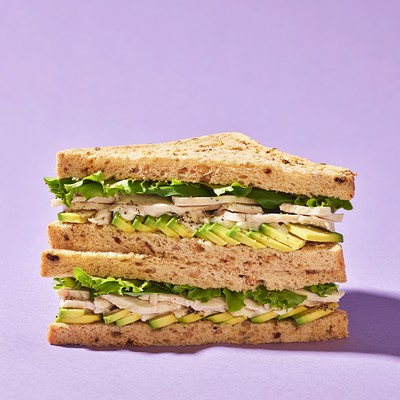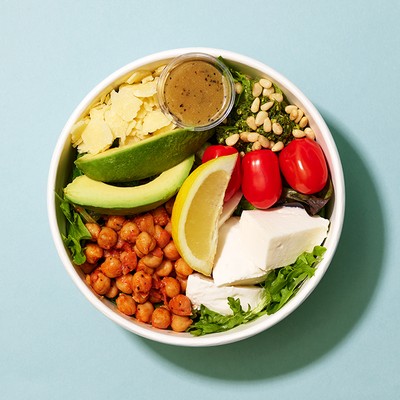 Roasted Chickpea Salad Bowl
What's Inside: Roasted chickpeas with sliced avocado, mozzarella, Italian cheese, baby tomatoes and pesto, topped with roasted pine nuts on a bed of salad leaves. Served with Pret's French dressing.
Calories: 547
Verdict: If you're looking for a salad that's low in carbs and high in healthy fats, this salad ticks the box. However, even though it's a salad, the calories are quite substantial, and it contains less fibre than many of Pret's sandwiches. The calorie content is likely down to the two different kinds of cheese used as well as the dressing, which is made with sunflower oil. If you are having this at home, consider using your own olive oil and a squeeze of lemon instead of Pret's dressing – olive oil is a far superior source of monounsaturated fats and nutrients. The mixed leaves, however, do offer a wide range of nutrients, particularly red chard, which is a rich source of vitamin K.
RATING: 7/10
Salmon and Mango Salad Bowl
What's Inside: Lightly roasted salmon on a bed of salad leaves and crunchy carrot and mooli slaw, with fresh mango, sliced avocado, edamame beans, coriander and pickled onions. Served with a pot of green dressing.
Calories: 358
Verdict: There's a lot to love about this salad. As well as being low in carbs – which makes it a good option for those looking to lose a few pounds or those who find their energy levels are impacted by carb-rich meals – the salmon also provides a good source of protein and omega-3 fats. Omega-3s can contribute to cognitive health, immune system function and mood. The addition of mango gives the bowl a naturally sweet flavour and provides potassium, one of the most important minerals in the body which contributes to muscle and nerve health.
RATING: 9/10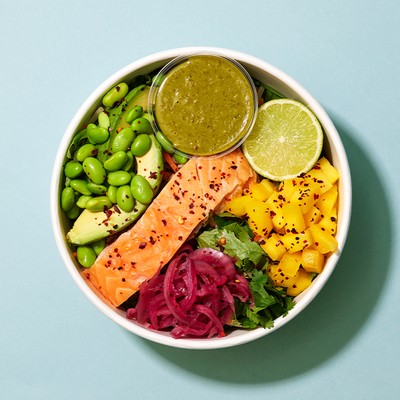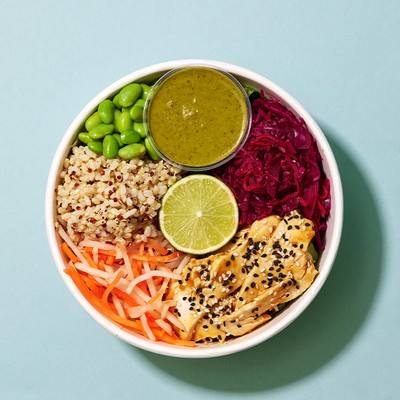 Tamari & Ginger Salad Bowl
What's Inside: Chicken in a tamari and ginger dressing with salad leaves, brown rice, edamame beans, crunchy carrot and mooli slaw, pickled cabbage and carrot. Served with a pot of green dressing.
Calories: 329
Verdict: Offering the perfect balance of complex carbohydrates, protein, healthy fats and vegetables, this salad will leave you feeling full and energised. The addition of ginger provides a natural warmth and spiciness, whilst also providing anti-inflammatory benefits from antioxidants. The only downside is that this salad is fairly low in fibre – there is just 5g per serving – so perhaps consider adding in a handful of nuts.
RATING: 8/10
Vegan Cookie
What's Inside: A rich dark chocolate cookie, studded with melting chocolate chunks and crunchy almond pieces, enriched with almond butter.
Calories: 377
Verdict: Just because something is vegan, doesn't automatically make it healthy. This cookie has close to 400 calories, which is the same as one of Pret's sandwiches. In addition, it has over 30g of sugar, most of which is added sugar – the NHS recommends no more than 30g of added sugar per day. The one benefit is the use of almond butter, which provides healthy fat and some protein that may help to balance out blood sugar levels, but it is far outweighed by the added sugars. 
RATING: 4/10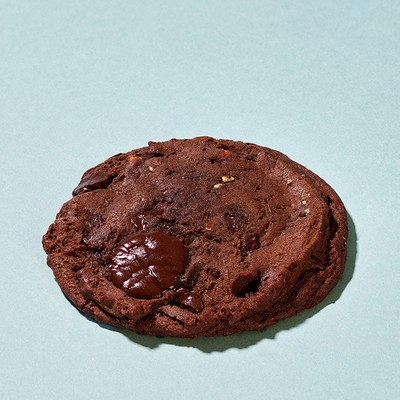 For more information visit ClarissaLenherr.com and Pret.co.uk
 
DISCLAIMER: Features published by SheerLuxe are not intended to treat, diagnose, cure or prevent any disease. Always seek the advice of your GP or another qualified healthcare provider for any questions you have regarding a medical condition, and before undertaking any diet, exercise or other health-related programme.
DISCLAIMER: We endeavour to always credit the correct original source of every image we use. If you think a credit may be incorrect, please contact us at [email protected].