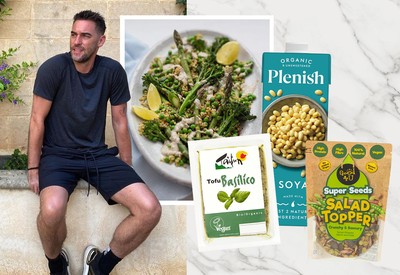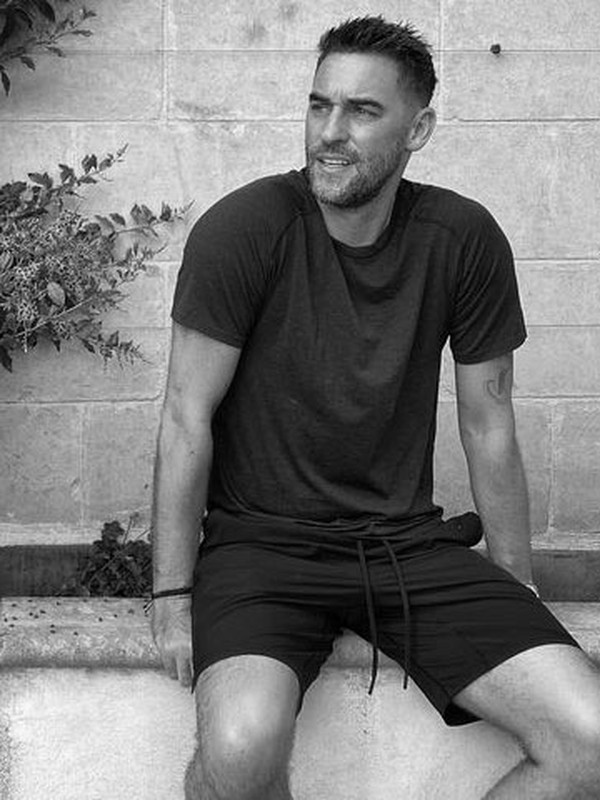 What A Sports Nutritionist Eats

---
Rob Hobson works with some of the UK's top athletes and recently formulated his own supplement range with Healthspan. If you want to eat like a pro, here's how this registered nutritionist looks after himself…

Photography
@ROBHOBSONNUTRITIONIST
I train four times a week. This involves 20 minutes of cardio followed by 45 minutes of weights and bodyweight training. I also do hot yoga twice a week, which is intense – the classes last 75 minutes. I don't drive, which means walking everywhere, so I end up averaging at least 10,000 steps a day too. 
Fitness is about looking and feeling good. I'm in my mid-40s and feeling supple and flexible is important to me. Mobility is vital as you age – I don't want to be that guy who struggles to get off the sofa. Of course, a little vanity is involved too, but yoga is something I genuinely enjoy.
I'm naturally slim. But this is exacerbated by the fact I can't sit still for long while also being prone to anxiety. I've managed to bulk up over the years, but it doesn't take much for me to lose weight quickly. To maintain muscle mass, I focus on eating four meals a day, which vary in size, as well as two protein shakes. 
I'm not a fussy eater. Still, I always try to include plenty of vegetables, and opt for lean proteins and brown versions of carbs where possible. I'd never think to make a sandwich for lunch, so I almost always cook something hot, which usually involves bringing together whatever needs using up in my fridge.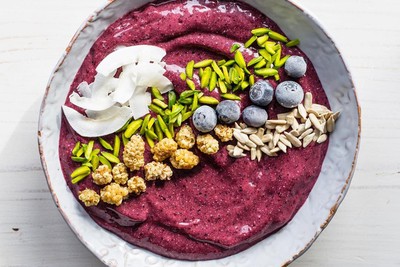 Carbs aren't the enemy. If you stick to healthy carbs and watch what you eat with them, there's nothing wrong with them. Of course, we are all different, but as an active person carbs are essential in my diet. I don't have a sweet tooth, so naturally avoid sugar. It's not always saintly though – I make good use of Deliveroo and get through a couple of bottles of wine across a typical week. 
Wholegrain carbs are the healthiest food. I always try to eat my greens, which provide a greater number of nutrients than other veggies, but fibre from wholegrain carbs like brown rice, pasta and bread is fantastic for overall health. Having eggs for breakfast is a simple way to upgrade your diet – they're an incredible source of protein and countless vitamins.
I could eat more oily fish. My diet is pretty balanced, but I don't always eat my two weekly portions of oily fish. I enjoy eating sardines, salmon and mackerel, but don't always think to put them in my shopping basket. I intermittently take an omega-3 supplement if I feel my oily fish intake has been low.
Having eggs for breakfast is a simple way to upgrade your diet – they're an incredible source of protein and vitamins.
Heart health is a concern for men over 40. Switch your white carbs for brown, watch your sugar intake, look for green or amber traffic lights on food labels, and eat more sweet spices like cinnamon and nutmeg. Going plant-based once or twice a week is also a good idea – swap chicken for Quorn or marinated tofu.
I supplement with Creatine. It helps me maintain muscle mass and the short bursts of high-intensity exercise in my workouts. Given the food I consume daily, I know I am getting above and beyond the nutrients required for good health. I do, however, take a daily B vitamin complex. I am confident I get what is needed from my diet. Still, this supplement helps ward off fatigue, and I notice the difference when I don't take it.
6AM
I start the day with two coffees made with soya milk. I head to the gym most mornings and prefer not to eat beforehand. However, this is not set in stone. If I wake up hungry, I'll have a couple of slices of toast with butter. After the gym, I have a protein shake. I use a clear whey product as it doesn't have that cloying creamy taste.
10AM
After a shower and doing some work, I have breakfast around 10am. Breakfast is almost always three scrambled eggs with tomatoes or spinach served on wholegrain toast to help with my fibre intake. Eggs are the breakfast of champions. Not only are they a good source of protein, but they also contain a source of almost every other essential vitamin and mineral. I also have a small bowl of fat-free yoghurt with berries and honey.
1PM
A typical lunch for me is pasta with a tomato-based sauce or pesto. I almost always add spinach as it's the easiest vegetable. I add a protein such as chicken or salmon, which I buy ready cooked and slice before adding to the pasta. I sometimes use canned tuna. I like to drizzle olive oil over the pasta before eating. I don't always like eating meat, so another go-to meal is rice fried with veggies (canned sweetcorn, frozen peas, peppers). I usually crack an egg into it for protein, then add spices like curry powder, herbs like coriander and a little soy sauce. I sprinkle seeds on the top, too – I love Good4U toppers and sprinkle them on everything from salads to veggie burgers.
As well as two daily protein shakes, I take Creatine to support muscle mass and boost stamina in the gym.
3PM
I tend to crave something savoury around this time. I'll often pop a wholemeal pitta bread in the toaster and have this with hummus or, if I'm in a rush, a piece of fruit.
7PM
Dinner varies depending on how much time I have, and what I can be bothered to cook after a busy day. Most evenings, it's some form of grilled protein – chicken, fish and halloumi are staples – served with potatoes or rice with lots of vegetables, usually tenderstem broccoli, green beans and roasted red peppers. If I'm not in the mood to cook, I'll defrost meat from the freezer, which I have pre-marinated, and serve with microwaveable rice and bagged salad. I stock up on Merchant Gourmet microwaveable grains when I see them.
10PM
I'm always hungry before bed. A couple of slices of toast with nut butter or a protein shake fills the gap and means I don't fall asleep hungry.
---
Shop These Expert Approved Products....
All products on this page have been selected by our editorial team, however we may make commission on some products.
DISCLAIMER: We endeavour to always credit the correct original source of every image we use. If you think a credit may be incorrect, please contact us at [email protected].