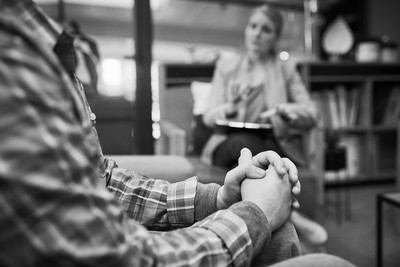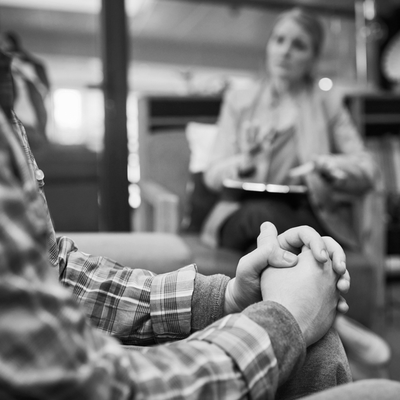 An Expert Guide To Finding A Therapist

---
In recent years therapy has become a more mainstream method to help people cope with anxiety, depression, grief and relationship issues. However, with a multitude of styles available and a lack of industry regulations, finding the right therapist for you can be difficult. That's why we asked two experts what to think about when looking for one.

Photography PEOPLE IMAGES/ISTOCK
First, what does 'therapy' mean exactly?
"Therapy offers a safe space to explore your feelings and gain insights into your patterns and behaviours. It can help you develop coping strategies and improve your relationships with others. And while the stigmas around therapy and seeking help for mental health problems are shifting, there are still many misconceptions. The first is that you must be struggling to access therapy – this simply isn't the case. In fact, therapy often works best as a preventative measure. Some people use therapy as a form of self-development or to understand their feelings, thoughts or behaviours better. It can also provide a supportive space to vent your day-to-day stresses. At the same time, having therapy is not a sign of weakness. Engaging in therapy is a courageous thing to do. Self-reflection and sitting with our thoughts, feelings and experiences is not always easy. However, it can help us to understand ourselves and our needs better so we can live a more authentic life. Moreover, you don't need to tell your therapist everything – you are in control of the pace of the sessions. A good therapist will not force you to speak about something that you're not ready to." – Rina Bajaj, chartered counselling psychologist 
How do you know which type of therapy is right for you?
"There are many different types of therapy and most have names that are confusing and difficult to understand, which offers very little clarity for the average person. Under the six umbrella types of therapy – cognitive and behavioural, humanistic, psychodynamic, integrative, creative and relationship – there are many more individual theories and techniques. The type of therapy that is right for you will depend on the issue you are struggling with and the type of person you are. Some therapies spend a lot of time in the past, looking at the root cause of an issue, while other therapies work in the present. A combination of therapy types can work very well – you will find many integrative therapists who use a variety of techniques. As a rule of thumb, when looking for a therapist, it is better to focus on whether they have experience working with the issue you have and not too much on the type of therapy they practise. This doesn't work in all cases; there are times when the type of therapy is very important but for people looking for their own therapist – focus on the issue not the type of therapy." – Claire Williams, accredited counsellor & founder of Therapy Finders
Therapy provides a safe space to explore your feelings and gain insights into your patterns and behaviours."
Where should you start with trying to find an expert?
"The most effective way to access free therapy is to chat to your GP, who will most likely refer you to your local IAPT (Improving Access to Psychological Therapies) programme. Many of these services have their own websites, so you can actually refer yourself directly rather than having to go through your GP. Going private is also possible – expect to pay anywhere from £40 to £200 per session, although this depends on the expertise on the therapist and their demand. It's also worth having a chat with your therapist to see if they offer a discounted rate, a means-tested sliding scale or payment plan. It is also worth checking if you have access to an employee assistance programme via work or private healthcare cover for mental health" – Rina 
What should you look for in a therapist?
"A connection with your therapist is the most important factor. In your initial session, pay attention to how you feel and trust your instincts. The therapeutic relationship is one of the biggest assets of therapy and, in order to develop this, you as a client need to feel safe enough to start sharing your thoughts and emotions, even if this isn't an easy process. It's also important you ensure the therapist has the right qualifications (usually a postgraduate diploma or doctorate in their field) and they are registered with a therapy governing body in the UK, such as the Health and Care Professions Council, British Psychological Society or the UKCP or BACP, to name a few. Ask your therapist questions about their style and approach – this will give you an idea of whether they work in a more structured and goal-oriented way or in a more explorative way." – Rina 
Focus on whether a therapist has experience working with the issue you have and not on the type of therapy they practise."
What can you expect from your first session?
"Your initial session is a time for you and your therapist to get to know each other. They'll start by asking you why you are there and what you want to bring to the sessions. They probably won't say too much in the first session, preferring to listen to you and get an understanding of what you are going through. They may summarise what you have said at the end of the session to make sure they have understood you correctly, then they will let you know if they would like to work with you. However, there is no pressure to decide immediately if you are unsure. If you don't feel a particular therapist is right for you, for whatever reason, be honest with them.  Any therapist will understand that the professional relationship between client and therapist is key to a successful journey through therapy and they will not take it personally. Similarly, they will tell you if they don't think they are right for you, and they may be able to recommend someone more suited to your needs." – Claire 
How soon will you see results?
"How long is a piece of string? Everyone's therapy journey is unique, and there's no one-size-fits-all solution. Some people will go for as little as six weeks, while others will be in it for years, and others will dip in and out during various periods of their life. Most therapists will recommend starting with at least one session per week – this gives you time to process the session over the week but also doesn't leave too long between sessions, so the work flows. As the therapy comes towards an end, it's common to start having longer periods between sessions, moving from once a week to once a month while you transition into a new chapter." – Claire 
How can you tell if therapy is working?
"It may take several weeks before you start to see or feel any real change. Signs that your therapy is having an impact are changes in your behaviour or thought patterns; people noticing changes in you; you becoming more self-aware; your thoughts and feelings aren't so overwhelming; and day-to-day activities becoming more manageable and easier to cope with. If you don't think your therapy is helping, be honest with your therapist. They may be able to help you see changes you hadn't even noticed, and they will help you explore why you think this, and help you focus on what you consider successful therapy to look like." – Claire 
Finally, what advice would you give to someone hesitant about starting therapy?
"The first step is always the most challenging. Start by having a phone conversation with a therapist to see how you connect to them. Identify your 'why'. Why is it worth taking the emotional risk to start therapy? How are you hoping to feel and what would you be doing if things were different? Weigh up the discomfort of staying where you are emotionally or practically versus taking the risk to speak to someone. Remember, you are in control of this process." – Rina 
For more from the experts or to book a session, visit RinaBajaj.com & TherapyFinders.co.uk
DISCLAIMER: Features published by SheerLuxe are not intended to treat, diagnose, cure or prevent any disease. Always seek the advice of your GP or another qualified healthcare provider for any questions you have regarding a medical condition, and before undertaking any diet, exercise or other health-related programme.
DISCLAIMER: We endeavour to always credit the correct original source of every image we use. If you think a credit may be incorrect, please contact us at [email protected].