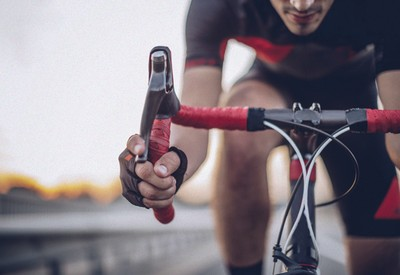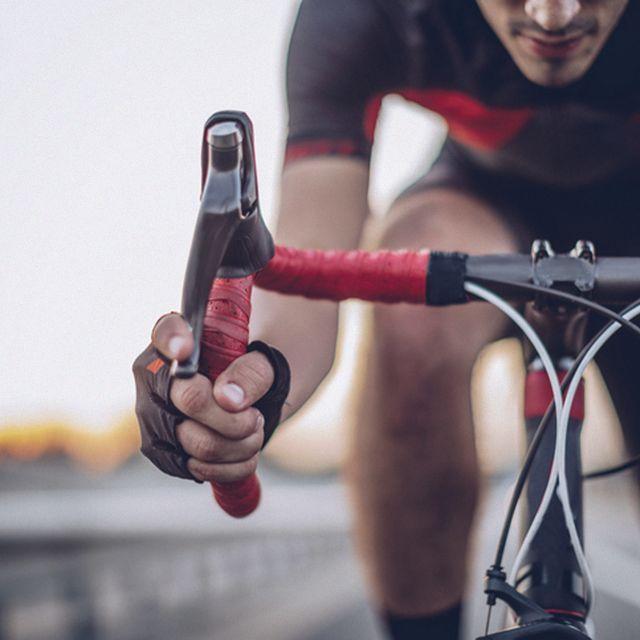 4 Regulars Share Their Triathlon Tips

---
They say there's no substitute for experience – but maybe there's a shortcut. Whether you're taking on a triathlon this year or want to fine-tune your fitness regime for something else, four veteran racers revealed to SLMan what they've learnt over years of competing. From training plans to race-day tips, here's what they gave us…
Photography SOUTH AGENCY/ISTOCK
Simon Bennett
Co-Founder Of Tri-Fit Athletic
I've done 50 sprint triathlons. I was a sprint swimmer growing up, so the short stuff took my fancy from the get-go. I've raced a large chunk of my triathlons in the sprint category (750m swim, 20km bike, 5km run), but have also completed half Ironmans (1.9km swim, 90.1km bike, 21.1km run).
Have a plan. So many guys try to just swim more, ride the race distance they've signed up for, and add a few runs to their training each week. This is ineffective and will almost always lead to failure on the day, especially in longer-course racing. Finding a good coach who can provide a tailored training plan will set you up for success. It's important to follow the plan too, and not get carried away. If your programme says, 'Easy 45-minute jog', then do exactly that. You have to pull yourself back as the volume can become addictive.
Think about the time you have. When building a training plan, think about your availability to train and any restrictions. For my half Ironman training, my week would include two swims, two or three rides, and two or three runs. These would be broken down into interval-based training throughout the week, then long swims, rides and runs. I would also include two strength/mobility sessions to focus on specific areas. 
A good pair of trainers is essential. It's worth investing in quality training kit – a decent pair of runners was my priority item. I borrowed a friend's time-trial bike first to see if I enjoyed it, and only bought one once I knew I wanted to invest. A decent triathlon suit is also a must. Tri-Fit's Evo Tri Suit has additional pockets on the legs for loading up on race nutrition and carefully chosen fabrics strategically placed for comfort and speed. 
Looking after your body is key. I've experienced overuse injuries during triathlon prep several times – sadly, these are almost inevitable when pushing yourself to the max. Running takes its toll on my knees so I'll often switch to a cross trainer. It's important to look after your immune system too, as intense training can take its toll. Stay hydrated, rest well and think about nutrition – these will give you the best chance of staying in the game. 
Eat more carbs. One hour prior to a race I'll eat porridge or bircher muesli, which contain low-GI carbs for sustained energy release – this will fuel you for the first 60-90 minutes of racing, but if there are strong headwinds, you'll burn more calories and will need more fuel. After this, the general rule is to eat 30g of carbs every half hour until you finish. 
I've learned several tricks of the trade. First, elastic bands off a bunch of asparagus are the perfect way to hold your shoes level when pre-clipped onto your bike. As you jump onto your bike and start pedalling, they snap and you slide your feet into your shoes. Secondly, try cutting a small section of your right wetsuit leg so it slides off past your timing chip when you're frantically trying to rip off your wetsuit in transition. Finally, remember to run your race and not someone else's. Respect the sport and you'll have a great day. 
Visit Tri-FitAthletic.co.uk
Sam Begg
Account Manager At Compete PR
An off-road triathlon is a great challenge. I started doing triathlons in 2013 and since then I've done most, if not all, of the different distances. I recently ventured into the exciting world of off-road triathlon, which consists of a swim stage, mountain biking and trail running. I love these events as they're often in stunning, albeit challenging, locations, and the times are mostly irrelevant. It's impossible to compare between courses and events because the hills, mud and weather can affect everything.
Consistency is king when it comes to training. Keep showing up and putting in the work without overcomplicating the finer details, and you'll see great progress.
A triathlon club can help. I joined a club pretty early on and it made training much easier. It offered a great breadth of sessions throughout the week, meaning there wasn't much to plan myself. The structure, camaraderie and consistency you get when training with the same group five times a week is huge. Even joining individual discipline clubs (like a running club) can take a big chunk of planning off your plate.
Aim for at least eight weeks of training. You can get away with less training for a shorter race or if you come from a background in endurance sports. Be prepared to get creative in your training, especially if you're prepping for an off-road triathlon. Just recently, my local trails were blocked by fallen trees in the wake of Storm Eunice and the deep, boggy mud made them un-runnable and un-rideable. On days like this, you have to make do with what's available to you, so I headed to the pool. The beauty of training for three disciplines is there's always two others to revert to. 
Don't underestimate your tyres. A great, high-end set of tyres can be a game-changer on any bike. On a road bike, investing in good tyres can make your bike faster, more comfortable and more resistant to punctures. On a mountain bike, the handling and grip differences between two sets of tyres can be night and day. It could mean the difference between riding up a long climb without slipping or having to get off and push. 
Don't try anything new on race day. Energy gels are great, but it's worth finding one that suits you. I rate Science in Sport Beta Fuel Chews or Clif Shot Bloks for a carb boost. Test-run your pre-race breakfast, too. It can often be an early start so it needs to be something that's easy to digest, like a white bagel with jam. The same goes for tech – get used to any fitness watch when training so you don't waste valuable time fumbling around with the buttons.
Take your time. If it's a big race, make sure you get there in plenty of time. There's lots of pre-race faffing that goes on – from race registration to racking your bike in transition and getting into your wetsuit. 
Visit CompetePR.com
Bryce Sage
Marketing Manager At 361
Consider having your bike fitted. Having done nine triathlons, I've learnt the importance of a properly fitting bike – aerodynamics are everything. It could be your saddle needs raising slightly, or the base bar needs lowering a couple of millimetres. It's also worth investing in clip-on aero bars – these are handlebar extensions with padded forearm rests that allow you to get into a more aerodynamic position when riding by drawing your body forward into a tucked position. They can help you shave off seconds on the bike. 
Since using a pair of carbon-plated shoes for race day, I haven't looked back. I rate 361's Flame shoes for improving energy return when you're running. They're also super lightweight and well priced. 
A coach is worth its weight in gold. My coach David van Oosten formulates everything for me based on swim, bike and run tests I do at the beginning of the season, which starts three months before a race. I'll train seven days a week, getting in at least two swims, four rides and four runs, as well as one recovery ride. I find the running the most challenging but think interval sessions have helped my speed immensely. When I started triathlons, it took me 30 minutes to run a 5k – now, it takes just under 20 minutes. 
A Garmin can make life easier. I currently use the Garmin Forerunner 935, which has a specific triathlon function for racing. It also has a great battery life, making it a good choice if you're into longer distances, like Ironman. A handy tip is to set up automatic laps with a certain amount of time or distance – that way, you can take the race one step at a time and set yourself short goals on race day. It's a handy way to take your mind off the pain.
Be practical. Don't try to fit your life into a training schedule; build a training schedule that fits your life. Be realistic about how much time you can dedicate to training instead of setting yourself up for failing by trying to maintain an unsustainable workload. I work full time, have a wife and three small children – it's important to keep things in balance.
Visit 361Europe.com
Ben Parker
Head Coach At RunBuddy
Your time isn't the holy grail. I started doing triathlons when I was 17 and worked my way up to Ironman. I also recently qualified for the Ironman 70.3 world championships later this year. For my first few races, the goal was finishing, but it's understandable that you'll want to improve from there. Try not to fixate too much on your time, though. Instead, enjoy the challenge and the adventure, and be proud of how far you've come on your own personal journey. We're all winners in our own race.
Not all days will be great. Accept that when you're training, there will be waves and dips in motivation. Be patient and don't beat yourself up for one lazy day. Making it social can help – train with a friend and consider getting a coach onboard to patch the cracks in your armoury. 
2XU does good compression gear. Designed for long-distance competitions, its shorts, tops and tri suits have you covered. When it comes to shoes, I always wear Nike, and Wiggle is great for swim gear.
Visit TheRunBuddy.co.uk & follow @BenParkerFitness
DISCLAIMER: Features published by SLMan are not intended to treat, diagnose, cure or prevent any disease. Always seek the advice of your GP or another qualified healthcare provider for any questions you have regarding a medical condition, and before undertaking any diet, exercise or other health-related programme.
DISCLAIMER: We endeavour to always credit the correct original source of every image we use. If you think a credit may be incorrect, please contact us at [email protected].