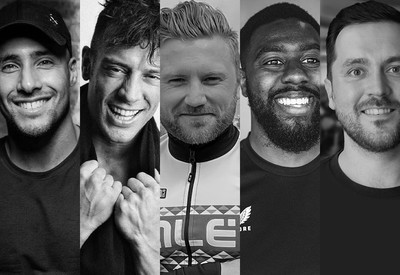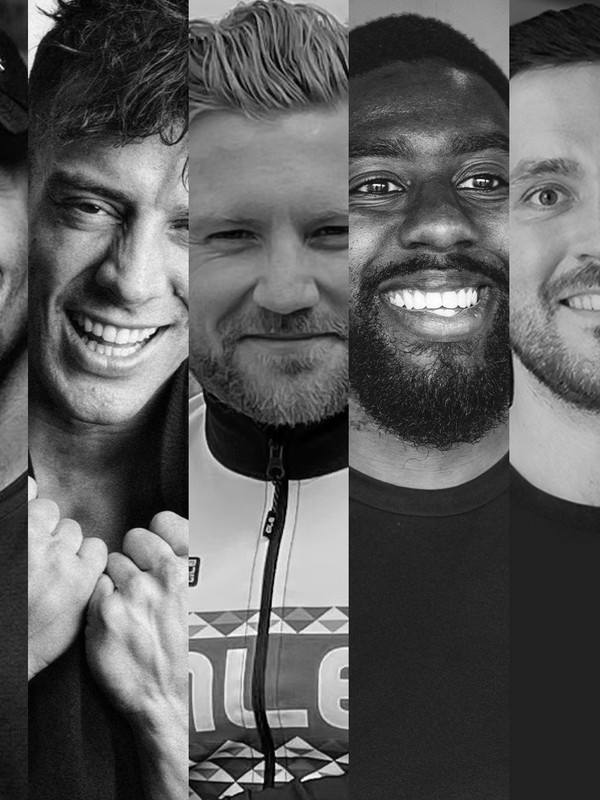 5 Trainers Share Their Weekly Workout Routines

---
Need some fresh workout inspiration? We went to five of the fitness world's leading trainers to discover the ins and outs of their weekly routines…

Omar Mansour
PT & Performance Coach
Training at the moment is full on. I'm currently training for a competition called Hyrox – it starts with a 1km run, followed by one functional workout repeated eight times. There are global rankings across all events and each season culminates with the World Championships where the athletes with the fastest times from each division in each city (it's held across the world) go head-to-head. I ensure I'm covering all bases for the competition in my training. I usually aim for two to four competitions a year – last autumn, it was a boxing fight.
My week is a mix of cardio and strength. On a Monday, it's always a track interval session at Track Life LDN, where I'll typically do around 4-5km of faster intervals; Tuesdays are focused on strength; and on Wednesdays I take a rest day – I love cryotherapy and infrared saunas to speed up recovery. Thursday is another strength day, Friday is conditioning, and weekends are for running. On a Saturday morning I love heading to my local park for a hill sprints session, and on a Sunday, I aim for an hour-long steady run.
Pre-workout mobility is non-negotiable. For optimal performance and to stay injury free, I incorporate ten minutes of mobility in every warm-up. I always make sure I get at least six (ideally seven) hours of sleep every night.
You can't beat a treadmill workout. I teach at KXU and when I have time and my schedule allows, I'll jump straight into a HIIT & Run class – they're an incredible way to build strength and endurance.
Follow @MrOmg & visit OmarMansour.co.uk
Michael Bahh
Master Trainer At BXR City
I switch up my training every two months. I'll either add more supersets, compound-based moves or cardio-based routines to keep my body challenged and avoid hitting a plateau. It also helps avoid overuse injuries, which are surprisingly common. It's always a smart strategy to switch things up so muscles never become accustomed to the same training stimulus – it's the key to building muscle and strength. 
A short workout is better than nothing. No matter how busy my week is, I always make time for a workout and ensure I take all sets to muscle failure – for me, this helps build muscle strength and mass faster. I will often do two sessions in one day, focusing on different muscle groups, if time allows. However hard I train during the week; the weekends are always for recovery. 
Boxing is my go-to form of cardio. Over the next few months, it's all about getting back to boxing ring fitness. Boxing is a great way to tick both the strength and cardiovascular boxes. I also love the Versaclimber.
I couldn't be without my massage gun. I'm a big fan of percussive therapy and use it before and after a workout to ward off any potential DOMS (delayed onset muscle soreness). Coupling this with sufficient sleep, great nutrition and light activities on the weekend such as chasing after my kids, walking, cycling and swimming all help. 
Follow @MichaelBaah_
Harry Aitken
Master Trainer At Auster Fitness & Qualified Sports Scientist
I cycle 100 miles a week. I cycle three to five times per week in the morning, weather dependent, for around 20-30 miles. On the weekend, I'll head to Windsor or the Surrey Hills. If I'm cycling in the morning, I wake up at 5:15am, have an Amunra performance coffee and try to get on the road early to avoid London traffic. Later this summer, I plan to ride 200 miles in one day, so need to make sure I keep up the longer weekend rides to build endurance. 
Fitness doesn't have to be limited to the gym. I love bouldering and rope climbing, and regularly do Muay Thai and boxing as well as surfing and wakeboarding in the summer. I'm also a huge fan of calisthenics, which I practise four evenings a week. I focus on bodyweight training using gymnastics rings and pull-up and dip bars – I dedicate a session each to straight arms, bent arms, handstands and compression work. 
Don't discount the importance of sleep. If I haven't slept well, I find it tough to find the motivation to train, both before and after work. I aim to be in bed as early as possible to maximise rest and use my Garmin Fenix smart watch to provide insights into how I've slept, recovery times and heart rate variability. Tech isn't perfect but it can help. 
Nutrition matters. I ensure my diet is full of nutrients – I eat a lot of fruit and vegetables and prioritise protein, aiming for around 1.5g-2g per kg of bodyweight spread across the day. A warm bath with Epsom salts is also great for muscle soreness, blood flow and recovery. I always finish a bath or shower with cold water, which also speeds up recovery. 
Follow @MasterAitken
Waz Ashayer
Group Fitness Manager At Equinox & Founder Of Raise LDN
I dedicate a day to each major muscle group. I train like a bodybuilder, isolating muscle groups to focus on during each session, accompanied with some LISS (low impact steady state) cardio on a Wattbike. So each workout I'll either focus on the legs, back, chest or shoulders. In addition to this, I also ensure I commit to a minimum of two interval-style cardio sessions, which I usually do on a treadmill. 
Consistency is important. If you want to see results, showing up is important. It's important to keep the body guessing and challenged, but I never compromise on a workout or avoid the basics. One of my current goals is to work more on mobility, especially single leg stability. It's boring, but it's these small things that will ensure longevity for my training. Plus, it's fun to learn skills like this. 
Train hard, recover harder. I visit London Cryo once a week where I have one of several treatments – either cryotherapy, an infrared sauna, hyperbaric oxygen therapy, or compression boots. I also see an osteopath once a week and swear by Puresport CBD. 
A decent gym makes all the difference. I manage group fitness for Equinox, and while I love all three of our gyms, the E At St James Gym is a cut above. It has an elevated member experience, and nothing beats working out in beautiful surroundings. 
Follow @WazAshayer
Jack McNamara
Master Trainer & Chartered Exercise Specialist
Variety is key. Most people in the health and fitness space will tell you constantly changing up your routine isn't the most constructive path to progress, but for me variety is important. Plus, each week I always make sure I'm progressing at least one aspect of my training – this could be pushing the pace on a run, increasing the weights during a gym session, or even improving on my range of motion through mobility work. At the moment, I'm enjoying 5km runs, reformer Pilates, weights, cycling and swimming. I always take an active recovery day too – this may be a gentle bike ride or sometimes walking home from work instead of sitting on public transport. 
Marathon training is on the cards. I've just signed up to the Newport marathon in October. My last marathon was Paris last year when I was pushing hard for a PB, but this time I'm looking to go out and enjoy the process and the training.
Two rest days keeps me injury-free. I try to ensure I have at least two (non-consecutive) days without exercise every week. Any less than this and my body starts to develop aches and pains that I can't seem to shift. However, days without exercise don't mean days without physical activity. I embrace low intensity movement on my 'rest' days, such as a long walk or bike ride and catch up on my favourite podcasts.  
Visit Train.Fitness
DISCLAIMER: We endeavour to always credit the correct original source of every image we use. If you think a credit may be incorrect, please contact us at [email protected].