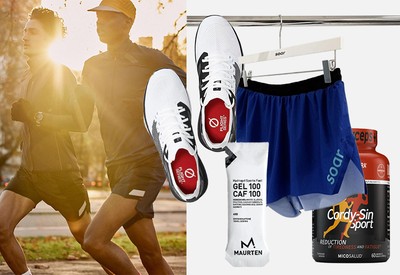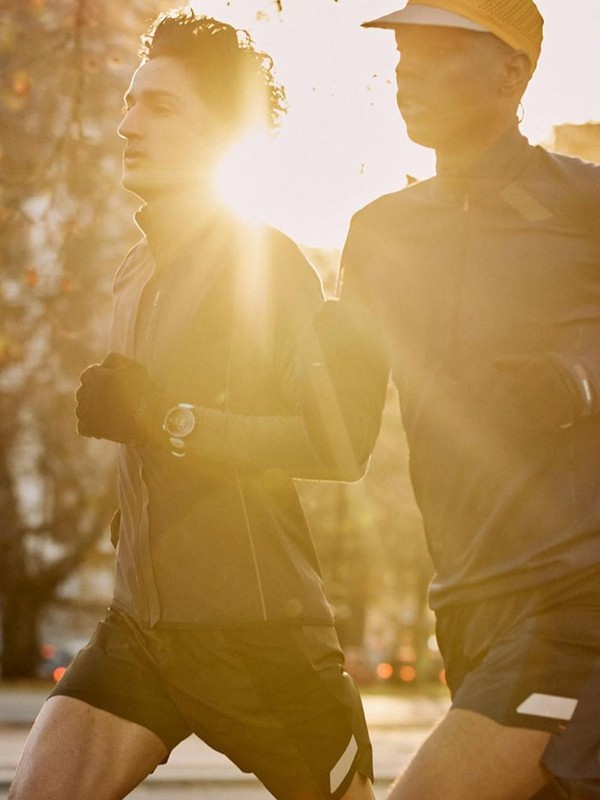 8 Cool New Bits Of Running Kit To Know About

---
From an epic half marathon on the Adriatic coast to high-tech training gear and fuel, these are the launches to keep on your radar this spring…

Photography
@SOAR_RUNNING
The Broken Body Fix: Remedy Physio
Whether you're just starting out on your running journey or looking to get to the bottom of long-standing niggles, Freddie Murray and his team of physios will get you back to your best for better performance. Using state-of-the-art kit and science, the team specialises in sports rehabilitation, strength and conditioning, nutrition, osteopathy, immunology and sleep. You can see Freddie and his team at The Ned or The Lensbury in Teddington, which also happens to be the home of England Rugby. 
Visit Remedy.Online 
The Compression Kit: Pressio
Compression therapy is nothing new, but how athletes use it to boost circulation, improve performance and align muscles is changing. Case in point? Pressio, the brainchild of triathlete Jamie Hunt, draws on 20 years of research to create leggings, tops and shorts that give you an edge. The world's first biodegradable activewear range, it is made using traceable recycled materials and non-polluting dyeing techniques. We can't get enough of the compression leggings, which provide strategic muscle support for your toughest runs. 
Visit Pressio.com
Although one of the first goals many runners make is to be faster, a better goal – that will eventually lead to increased speed – is to be stronger. Not sure where to start? The One Track app has your week in fitness sorted – from strength and mobility workouts to running intervals. For a bespoke programme, the One Track team will put you through your paces with a series of tests and produce your own personalised schedule – a must if you're training for an event in the next few months.
Download the app at OneTrack.Club
Designed for smashing records, these super-foam shoes give spring-loaded propulsion to every step. Two years in the making, The North Face's Flight Vectivs are the first carbon-plated trail shoe, engineered to provide maximum energy return. No detail has been forgotten – there's a special panel around the midfoot to increase stability and a toe cap on the upper will protect from stray rocks and branches. 
Visit TheNorthFace.co.uk
Hydrogels – most notably from Swedish brand-of-the-moment Maurten – are the fuel of choice among the world's best endurance runners. Maurten's hydrogels are better absorbed by the body, meaning the carbs can get to work where they're needed with less GI distress. Not convinced? In a recent 5k time-trial, performance was 2.1% faster with a hydrogel.
Visit Maurten.com & follow @Maurten_Official
The Endurance Boost: Cordy Sin Sports
Made with pure organic cordyceps, a medicinal mushroom rich in bioactive substances and known as the 'energy' mushroom, this clever supplement reduces tiredness and fatigue for enhanced performance. Whether you're training for an event or need a helping hand with early morning sessions, each dose has been proven to increase the production of metabolic energy in your cells by up to 40% – as well as increase muscle power, reduce muscle recovery time and enhance the elimination of lactic acid. 
Designed for real-world amateurs training in all conditions, Soar Running's gear has you covered. Founded by run junkie Tim Soar, who saw a gap in the market for clean, contemporary race gear that also maximised performance, the brand's racer vests, running shorts and rain jackets have spring sessions sorted. The Race Vest 4.0 – a lightweight, breathable singlet made with 100% recycled fabric – is a good place to start. 
Visit SoarRunning.com & follow @Soar_Running
The Event: Tribe Run For Love
In 2013, Tribe co-founders Tom, Guy and Rob completed the first Run for Love – a 1,000-mile journey across Europe, from Odessa to Dubrovnik, to set up the first home for trafficked children in the UK. Since then, the Tribe community has raised more than £1 million to fight modern slavery. This summer's event is a six-day, 260km journey through untouched national parks in one of the wildest areas of Croatia, offering panoramic views of the Adriatic. If you're not up for the whole race, there's a half marathon on offer. 
Visit TribeRunForLove.com
DISCLAIMER: Features published by SLMan are not intended to treat, diagnose, cure or prevent any disease. Always seek the advice of your GP or another qualified healthcare provider for any questions you have regarding a medical condition, and before undertaking any diet, exercise or other health-related programme
DISCLAIMER: We endeavour to always credit the correct original source of every image we use. If you think a credit may be incorrect, please contact us at [email protected].