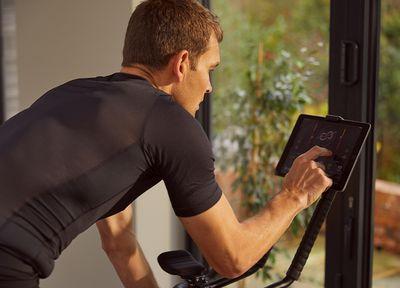 The Best Spin Bikes For Your Home

---
A failsafe way to get fit, spinning is a low-impact, endorphin-boosting workout suitable for everyone. With studios closed for the foreseeable, there's never been a better time to add a bike to your home set-up. Whether you're looking for a real-ride feel or a compact bike to fit into a small space, these are the bikes you need to know about…

Photography WATTBIKE
BEST FOR THAT AUTHENTIC RIDE FEEL: Next Generation Wattbike Atom
Having launched in 2008 following an eight-year period of development with British Cycling, Wattbike is all about performance-driven kit that's built to last. Sales of the Next Generation Wattbike Atom leapt 113% in the first month of lockdown 1.0, and it continues to be a top choice for those wanting a real-ride feel. Sufficiently quiet for home use, it's compatible with a host of popular training apps (including Peloton) for classes and it's one of the few bikes that works well with Zwift, the online multiplayer cycling platform that recently hosted a virtual Tour De France. There's no built-in screen, so you'll need to use an iPad or phone, but a high-tech offering that ticks plenty of boxes makes this bike a go-to for those in the know. 
 
PRICE POINT: £1,899 or monthly instalments from £90 per month.
 
Visit Wattbike.com
BEST FOR GYM-FLOOR QUALITY: JTX Cyclo-6
If you're after a reliable bike that will last you for years, you can't go wrong with a JTX model and this gym-spec bike comes highly recommended. With a reputation for good quality, great customer service and value for money, JTX is one of the leading gym brands in the UK. From a heavy-gauge steel frame to a weighty 22kg flywheel and extra padded seat, no detail has been overlooked. It also features a heart-rate monitor that connects to an on-bike monitor to track your workouts. JTX bikes also come with free in-home repairs for two years as well as a lifetime frame warranty.
 
PRICE POINT: Was £899, now £569, although stock isn't expected until mid-March.
 
Visit JTXFitness.com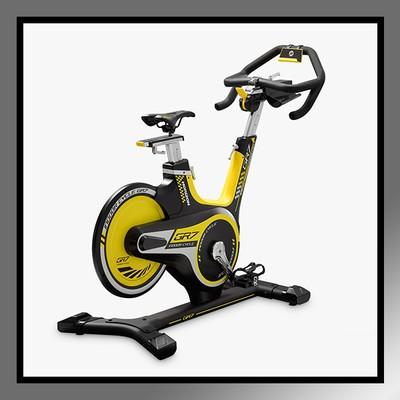 BEST FOR ERGONOMIC RACE DESIGN: Horizon GR7 Indoor Bike
With a Tour de France-inspired aesthetic, this true indoor bike is designed for anyone wanting a more engaging way to ride. Precision-engineered to bring the feel of real road cycling to your living room, the Horizon GR7 has been ergonomically designed with both an adjustable V-frame and pedal and seat placements that mimic a road bike, as well as magnetic resistance systems that enable you to move smoothly through different gears without the clunkiness typically associated with traditional resistance bikes. Horizon has also made it easy to connect your phone via Bluetooth to track your progress. You can also follow virtual rides (cycling in the Pyrenees, anyone?) and coaching sessions.
 
PRICE POINT: £1,119
 
Currently out of stock online; visit John Lewis when stores reopen.
BEST FOR CLASS JUNKIES: Peloton
Self-motivation can be tricky at home, but Peloton has solved this with an in-built 21.5-inch HD screen that not only tracks your vitals but beams dozens of daily live spin classes into your living room. There's also a bank of more than 10,000 on-demand classes, with options to filter by music, instructor and difficulty. If you're feeling competitive, you can see how your performance tracks against other class participants of similar age, gender and location. Peloton has also recently launched Bike+, a premium model with improved Apple Watch connectivity and a rotating touchscreen, ideal for Peloton's off-bike classes.
 
PRICE POINT: The bike itself costs £1,750 plus membership is £45 per month, but Peloton also offers 0% finance over 39 months.
 
Visit OnePeloton.co.uk
BEST FOR AN AFFORDABLE OPTION: Apex
Spin junkies will jump at Apex's bike, which is 60% cheaper than Peloton. Apex is partnered with London spin studio Boom Cycle, so membership gets you access to some of the best spin instructors in the land, with the option to compete on a real-time leaderboard for competitive types. Because an at-home bike spends more time on display than in use, Apex has also given its bike a smart, sleek design and you've got a choice of four neutral colourways. Up to six profiles can be added to one account, making Apex a good choice for active households.
 
PRICE POINT: The bike will set you back £1,200 and subscriptions cost £30 per month, including unlimited live and on-demand classes.
 
Visit ApexRides.com
BEST FOR THE GYM EXPERIENCE: Echelon Connect Sport Bike
Ideal for those keen to get going, Echelon's bikes will be delivered in just two to five days (Peloton's wait times are a minimum of three weeks). If you're looking for a variety of ways to exercise indoors over the colder months, the Connect Sport offers a host of off-bike workouts, including kickboxing, yoga, Pilates, HIIT and strength classes. The bike itself will set you back less than £800, making it one of the most affordable options out there, but a lower price also means fewer high-tech features – for example, it lacks extras like dumbbell holders and pedals that work with click-in bike shoes – but it's a top choice for those looking for a fuss-free way to stay fit.
 
PRICE POINT: £799 plus membership from £24.99 per month.
 
Visit EchelonFit.uk
BEST FOR DESIGN: Keiser M3i Indoor Bike
Used in some of London's top spinning studios, this high-spec bike is for those who take their fitness seriously. Savvy in both design and ride, it's the first bike to feature a V-shape frame, which mimics road bikes by enabling the seat and handlebar to be raised in conjunction with each other, and there's an even an in-built stretch pad to loosen tight calves and hamstrings before and after a workout. Adjustable for all heights (from 4ft 10 to 7ft and up to 350lbs), it's suitable for men and women alike, and the simple screen displays all the info you need – cadence, power, calories, heart rate and more.
 
PRICE POINT: The bike will set you back £1,795.
 
Visit KeiserUK.com
BEST FOR SOMETHING HIGH-TECH: Technogym Bike
The result of more than 30 years of research and testing with Olympic athletes, this stylish bike won't disappoint. It adapts to your body in seconds, thanks to its quick setting, while the pedalling is the most fluid and quiet ever – ideal for those concerned about bothering the neighbours. Like Peloton, it has an impressive-sized screen from which to stream classes. Technogym has an exclusive partnership with 1Rebel, so expect daily live classes and hundreds of on-demand sessions. You can even do one of the studio's cult total-body workouts, complete with hand weights to build upper body strength. Whether it's bad weather or a global pandemic that's forced you to move your cycling efforts indoors, this athlete-inspired model gets our vote.
 
PRICE POINT: £1,990
 
Visit Technogym.com
BEST FOR A DECENT ALL-ROUNDER: JLL IC400 Pro
With a 22kg flywheel to ensure that even the most experienced amateurs will get a challenging ride, this is a serious bike that will serve you well. If you're looking to build fitness, the large monitor will come in handy, tracking time, speed, distance, watt, calories, pulse and RPM as you ride, and there's a nifty device stand, meaning you can stream workouts from your phone if you need the extra motivation. Bonus points go to the comfy neoprene handlebars (surprisingly not all bikes feature these), ergonomic pedals, and the built-in wheels that make it a doddle to manoeuvre the bike around the house should you need to.
 
PRICE POINT: £579.99, but JLL has also partnered with Klarna to offer buy now, pay later options.
Visit JLLFitness.co.uk
Looking to invest? Simon Cook and Charlie Lucas, founders of Apex, share their top tips for buying a bike for home use…
Check The Spec 
"Check how much weight the bike supports and that the handles and seat can be adjusted to your height. If you can't reach the handlebars or your knees are coming up too high when sat on the saddle, you won't do your body any favours. Also check the bike's footprint – most of us don't have huge amounts of space to spare, so the more compact the bike is, the better."
Understand The Flywheel
"Flywheels – which are there to simulate the feel of an outdoor bike by storing energy to smooth the cycling motion – can come in all shapes and sizes. It's a myth that the heavier the flywheel the better. A light flywheel is more appropriate for the average person and provides more than enough inertia to give a comfortable ride, and it'll also mean there's less pressure on your muscles and joints. A lighter flywheel will also make your bike easier to carry around the house if you need to move it."
Choose A Magnetic Bike
"Where possible, avoid a bike with a cable resistance system, and go for magnetic. This will make your bike virtually silent (great for the neighbours) and will require a lot less maintenance."
Check The Pedals
"Ideally, a bike should give you the option to clip in, as well as the option to wear normal trainers. For example, Apex bikes have 50/50 pedals – there's a toe cage on one side for those who don't have cycling shoes, or you can flip the pedals and wear cleats."
 
Consider Its Shape
"Look at the size of the bike's frame and legs – you want it to have some heft so the bike feels stable and balanced, and can withstand a good amount of usage, without being too bulky. It also helps if your bike has small wheels on its feet, as this makes it a lot easier to manoeuvre around a room."
Stay Connected
"If you want to join virtual classes and track your stats, check what connectivity your bike offers. If it's Bluetooth-enabled, you'll be able to connect your phone or tablet to your bike."
For more information, visit ApexRides.com
DISCLAIMER: We endeavour to always credit the correct original source of every image we use. If you think a credit may be incorrect, please contact us at [email protected].