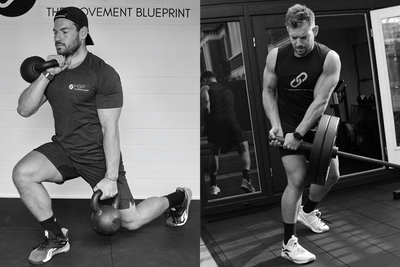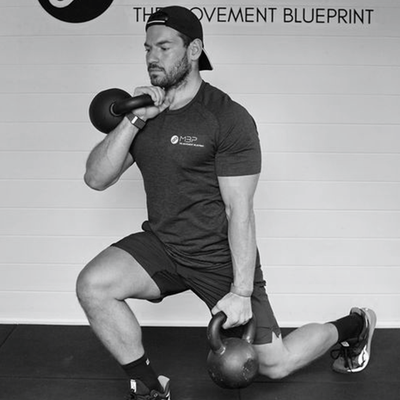 How To Build Running Endurance & Strength

---
To be a good runner, you need strong glutes and hamstrings to propel the body forwards, a solid core to generate force, and a strong upper body to keep you stable. The problem is, if you're not training right, running can wear down muscle. We sat down with Harvey Lawton – co-founder of Run Shape Resilience and ultrarunner William Goodge's strength coach – to discover his secrets for becoming a stronger runner, including a seven-day programme to kick-start your new regime…

Photography @THEMOVEMENTBLUEPRINT
All products on this page have been selected by our editorial team, however we may make commission on some products.
Strength Training Makes You A Stronger Runner
"Run Shape Resilience (RSR) has changed the game for the athletic runner looking to optimise their physique alongside their running performance. It's a protocol we are passionate about bringing to the forefront for the modern-day, high-performing runner. Strength training will improve performance markers, such as VO2 max, lactate threshold and running economy to make you a more efficient runner. When your body becomes more efficient, it takes less energy to run at the same speed, meaning you'll be able to run faster and longer, all while building muscle."
Lifting Weights Won't Slow You Down
"If you love running and the gym in equal measure, but think you can't succeed in both simultaneously, think again. Some runners are hesitant to strength train because they think it will make them bulky and slower. But strength training, when done correctly, can make your running more effective, and more enjoyable."
A Full-Body Approach Is Best
"For the best results, hit the gym twice a week. This is where you'll develop strength, power and speed. Sessions should include deadlifts, lunges, weight dips and pull-ups – exercises that have positive carry-over to running performance. Your second gym session should focus on functional bodybuilding – this session will complement the hard work done throughout the week, while also integrating positions to help restore range of motion through the lower body following two consecutive days of running. In these workouts, focus on high-stability exercises designed to sculpt a runner's physique – think high-volume rows, presses and isolated cable work, sprinkled with run-specific positions." 
Three Runs A Week Is The Sweet Spot
"Three runs across the week covers all bases with the goal of building speed, power and endurance. Split your runs into intervals, an easy run and a long run, which together guarantee progress. This is the structure I use with my clients, it has been formulated over ten years working with high level endurance athletes. Break interval runs up into segments of work and rest – these are shorter, more intense sessions that will leave you feeling worked, but not wrecked. Long runs are designed to build tolerance and time on feet."
The Majority Of Your Runs Should Be Easy
"Easy runs – or runs executed at a three or four out of ten on the RPE (rate of perceived exertion) scale should formulate around 70% of your training. Higher-intensity efforts are built into the programme through interval sessions. There's no need to keep an eye on heart rate – you should get into the habit of listening to your body to dictate your RPE. Many factors on any given day can cause variability in heart rate, whereas an RPE allows subjective flexibility to either ease off or increase effort depending on how you feel that day and your environment (e.g. with headwinds or hills). Interval sessions should be done at a grading of at least eight out of ten."
"The programme is made for athletic runners looking to optimise their physique and running performance."
Plyometrics Are A Good Way To Warm Up
"Plyometrics – also known as jump training – is the ideal prep for your runs. These low-volume, highly transferable positions not only prepare your muscles, tendons and joints; they ramp up your nervous system and prep your cardiovascular system ahead of the session. Hops, skips, A-marches and pogo jumps are signature RSR moves."
You Need To Balance Intensity With Recovery
"The physical gains earned in a hard workout are made in the days following a session. Remember – you can only improve as fast as you can recover. The RSR programmes include recovery flows and curated movement circuits to assist with recovery. Sleep is essential – aim for seven to eight hours per night – as is nutrition and hydration to nourish and repair, and daily sunlight exposure to reset your circadian rhythm."
"To fully maximise the programme, you'll need access to a variety of free weights (ideally dumbbells and kettlebells), and weight machines like the leg press in order to progressively overload. Sleds, cables, a trap bar, a barbell and resistance bands are a bonus. Plus, a pair of running trainers."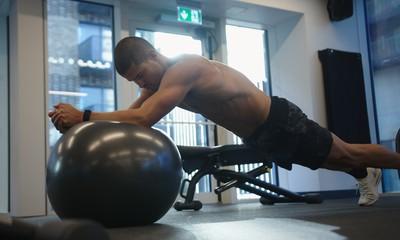 Tempted? Try The First 7 Days For Yourself...
DAY 1: "The programme starts with a strength session, and the first part of day one is a testing day designed to help you gather valuable data to then use for comparison. Pay particular attention to the tempos and pauses when strength training, connecting with the movement and feeling the positions and stimulus. In this first session, we focus on isolated moves, testing on the lower body, upper body and core, followed by lower body prep, lower body strength and finishing with powerful moves like front-rack kettlebell alternating reverse lunges, eccentric push-ups, hand-release press-ups and single leg V-ups."
DAY 2: "Today it's a tempo run. To prep the body, do 20 on-the-spot marches and dynamic leg swings. The goal is to elevate your heart rate, working you between 65-75% effort. Warm up by running at a 7/10 RPE for 15m, followed by 30m at 8/10 RPE, repeating twice. Then, do a 10km tempo run. The first 1km should feel easy, followed by 4 x 1.2km at your 5km race pace. Finish with 800m of an easy/moderate pace, followed by a 1km cool down."
DAY 3: "We'll focus on strength today. Start warming up the lower body with movements like single leg deadlifts, walking lunges and dead bugs, followed with deadlifts using a barbell, seated dumbbell presses, tricep dips, machine leg extensions and hamstring curls. The intensity and weights you use will vary depending on your level and the plan you're on. The session finishes with a sled push with a heavy load and kettlebell suitcase hold to increase capacity and create a metabolic adaptation."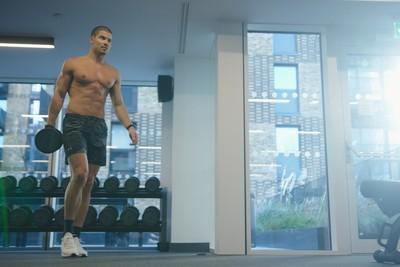 "Rest days are essential. You can only improve as fast as you can recover."
DAY 4: "It's an 8km easy run today. Start by prepping the body with knee tuck-ups, and walking quad stretches, before moving on to accelerations similar to those in the initial run – 15m at a 6/10 RPE, followed by 30m at a 7/10 RPE. Make sure you're focusing your attention on your acceleration and deceleration, implementing short, sharp steps to slow yourself down. Head out for an 8km easy run at a conversational pace."
DAY 5: "This strength session is designed to kickstart muscle growth and enhance resilience to prevent injury. Warm-up with banded chest-supported pull aparts, single-leg glute bridges, and split squat thrusters. There's then a tempo part of the workout using weights followed by a lower body-specific section to increase capacity and prevent injury around the hip and shoulder."
DAY 6: "After the usual warm-up moves, it's a 12km long run. This should be performed at an easy to moderate pace that you feel you can continue beyond 12km."
DAY 7: "After a week of challenging work, today is a rest day. Take the day to focus on restoration, including easy movement and steps – but always listen to your body – and quality nutrition. Take the time to reflect on the week and prepare for the week ahead, which will build on last week and keep the body challenged for continued results over the next eight weeks."
For more information or to sign up to an eight-week RSR programme, head to TheMovementBlueprint.co
SLMan readers can get 20% off any Run Shape Resilience programme using SLMAN20.
DISCLAIMER: Features published by SLMan are not intended to treat, diagnose, cure or prevent any disease. Always seek the advice of your GP or another qualified healthcare provider for any questions you have regarding a medical condition, and before undertaking any diet, exercise or other health-related programme.
DISCLAIMER: We endeavour to always credit the correct original source of every image we use. If you think a credit may be incorrect, please contact us at [email protected].