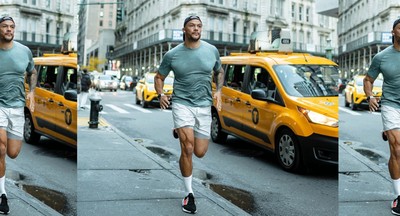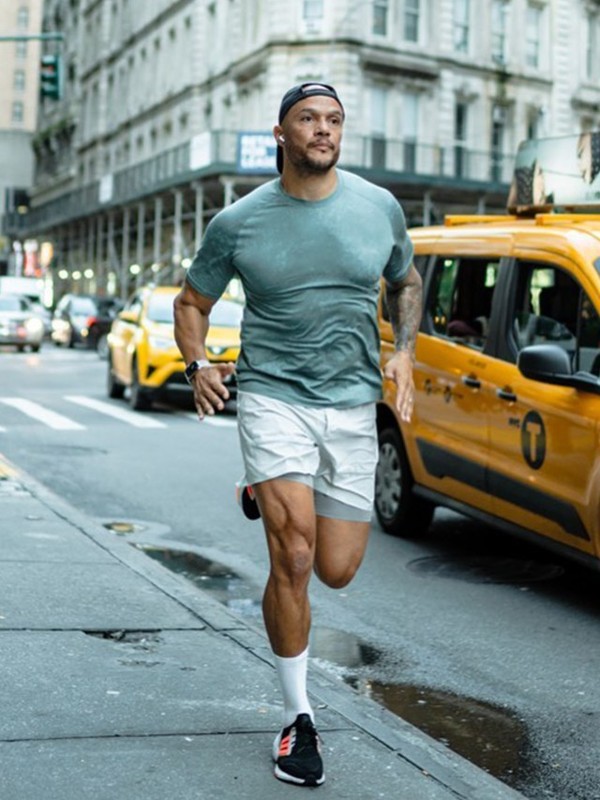 My Fitness Life: Harry Jameson

---
Harry Jameson is a secret weapon for many high-profile clients – the PT who helps FTSE 100 CEOs and A-listers get into shape. As he prepares to open a luxury holistic members club in London this autumn, he took a breather to tell us about his new venture, why stress is the modern epidemic and the importance of recovery.

Photography
@HARRYJAMESONPT
It's been interesting to watch the evolution of my clientele over the years. I started out on Harley Street almost 20 years ago – I've worked with everyone from high-performance CEOs to Chelsea FC. The shift has been fascinating: so many more people now recognise the importance of taking a proactive approach to their health, as opposed to a reactive one when something goes wrong. Ten years ago, clients came to me with purely aesthetic goals – whether it was weight loss or wanting to feel better about their body – but today they appreciate they need mental, physical and emotional strength. You only need to look at the number of successful 30-somethings who have given up alcohol and drugs in the name of their health (this has gone up ten-fold in the last five years). 
Optimising mental health is key. Stress is a significant factor in the modern world, and unless it's under control, you won't be in peak health. Therapy is something I encourage clients to have weekly – in my eyes, it's just as important as nutrition and movement. 
Recovery is king. You've heard the saying before: if you train hard, recover harder. Muscular growth and repair don't happen when we're training, but when we're resting and sleeping. At least one in every four of your sessions should be dedicated to recovery. This will optimise your cellular pathways and decrease inflammation to build you back stronger and fitter. Ice showers, saunas, contrast therapy, compression therapy and low-level cardio are all proven ways to recover more efficiently. A rest day doesn't mean lying on the sofa watching Netflix – recovery must be active. 
"To be strong and resilient, you need to think about how you're moving, how you're nourishing your body and how you recover."
Everyone should have regular physio. If you want to enhance your performance and prevent injury, physio is key. I had a hip replacement in February. I'd suffered with an arthritic hip since my 20s and finally went under the knife to get a replacement. Physio was a huge part of my recovery – along with manual therapy and deep tissue massage – and I'll continue to have weekly sessions for the rest of my life. Taking a preventative approach to both physical and mental wellbeing is important. You might not see the benefits now of having a sports massage once a week, but you'll see the benefits when you're 50, running around after your ten-year-old kid or playing golf. It's about future-proofing your body. I do 20 minutes of mobility work before every workout – it's incredibly important for performance as well as bone and joint health. 
Today I train smarter, not harder. Twenty years ago, I wanted to play every sport under the sun, be first on the podium and put my body through physical rigours. I was more concerned with the number of training sessions I could fit in every week rather than the quality of those workouts. I was lifting heavier than ever before and doing a serious amount of high-intensity work. It wasn't until my mid-30s that I realised this approach wasn't sustainable. Now I train regularly, but only 20% of my week is high-intensity work. Today, I train to feel strong, feel good and prevent injury. If you over-stress a system that's already stressed, you won't see results. Don't be afraid to scale things back – it's about being efficient, not punishing yourself through exercise. 
My week starts with a run. On a Sunday, I'll do a longer, slower run – usually anywhere from 45 minutes to just over an hour. I don't look at my pace or distance and just listen to a podcast. On a Monday, I do a low-intensity session, usually Pilates or a swim, followed by a sauna and a stretch. Then on Tuesday I'll do a full-body weights session. Wednesday is reserved for high-intensity cardio, like a Barry's or boxing class. Thursday is another full-body strength session. On a Friday I'll do a short run or a round of golf. Saturday, I'll take a rest day. I'm all for consistent habits. One or two intense workouts a week alongside active recovery is the secret to results. I take a sauna three or four times a week, take an ice bath twice a week and meditate when I can.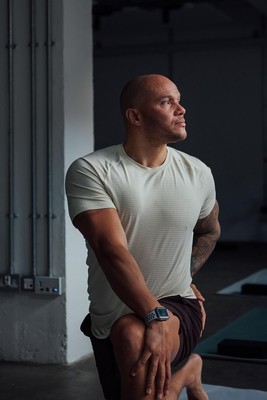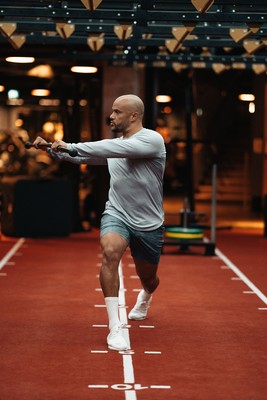 Healthy eating has always come naturally to me. I used to practise intermittent fasting – mainly for the longevity benefits and for the freedom it gave me with food when I wasn't fasting – but today I don't count calories or obsess with meal prep. My mum was a vegetarian and I didn't eat meat until I was about ten, so I genuinely love vegetables and eat a plant-heavy diet. But I'm realistic – at the end of the day, I enjoy good food with friends and a nice glass of red wine. 
My supplement regime is pared back. The only supplement I take consistently is vitamin D. I believe in a bespoke approach to supplementation – consider getting a blood test to check for deficiencies before you take something. I'll sometimes take a nootropic to enhance brain performance – they're an interesting category of herbs – and am also interested in functional mushrooms. I also enjoy a protein smoothie after a hard session.
Fitness trackers have their pros and cons. Tracking your HRV can be a useful way of measuring your stress levels, and trackers like the Whoop Band and Oura Ring make this simple. HRV is the variation in timing between your heartbeats. As such, it captures information not present in heart rate alone and is a more sensitive marker of stress. HRV allows us to better understand how we are responding to training and other stressors. However, there's no point in recording data for the sake of it. Data is fantastic if used correctly, but there's no point stressing out over it. 
"Don't be afraid to scale things back – it's about being efficient, not punishing yourself through exercise."
Blood glucose monitoring is the next big thing in health. Like we now track HRV, I think we'll all be monitoring our blood sugar within the next few years. Knowing how the food you eat influences your blood sugar, and its subsequent effect on mood, energy and concentration is fascinating. 
There's more to being healthy than having a six pack. To be strong and resilient, you need to think about how you're moving, how you're nourishing your body and how you recover. This is the holy grail of wellbeing. Ten years ago, no one was thinking about stress management, sleep or gut health, but those metrics all come together to build a picture of your health. This is the idea behind Pillar Wellbeing – it's all about longevity and daily performance. It's about optimising these facets of your health to give you the opportunity to thrive.
Your health comes down to lifestyle not your genes. The changes you make today will build a stronger, healthier body. Training is, naturally, a large part of the programme, but I'm a huge advocate of targeting longevity and disease prevention. 
Pillar Wellbeing will be opening at Raffles in London in October – memberships are available now at PillarWellbeing.com
For more from Harry, follow @HarryJamesonPT on Instagram
DISCLAIMER: We endeavour to always credit the correct original source of every image we use. If you think a credit may be incorrect, please contact us at [email protected].