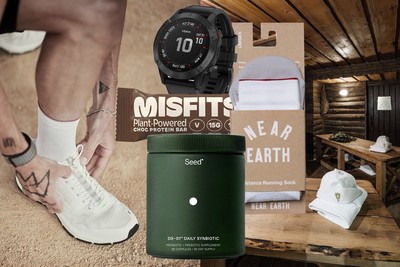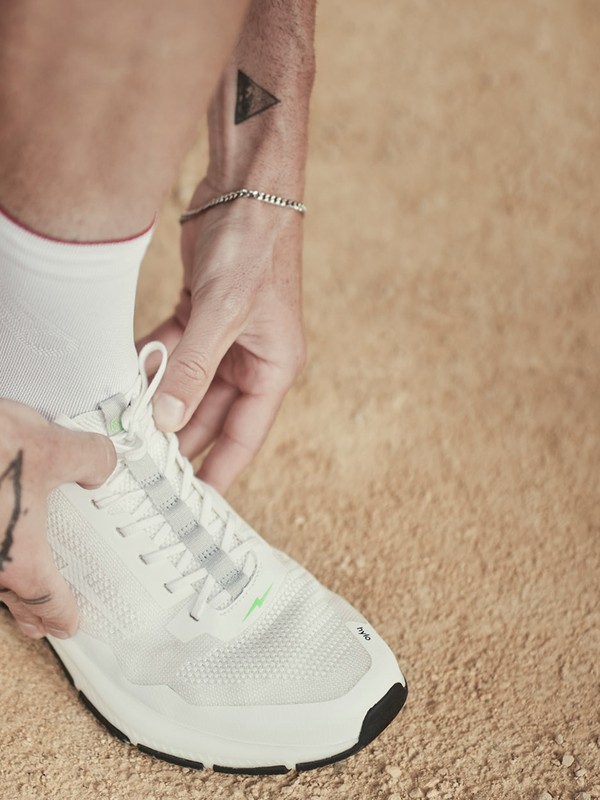 My Health & Fitness Rules: Michael Doughty

---
As a Premier League footballer and now as a sustainable sportswear brand founder, Michael Doughty has lived health and fitness for a long time. From morning rituals to ice baths, these are the health rules that have helped the 'Wiltshire Pirlo' – as Swindon fans used to call him – scale the heights…

Photography
@HYLOATHLETICS; @BANYA.IN.BELGRAVIA
I start every morning with a run. Some days it's just 1km – other days it's 10km. But starting the day by moving my body is the key to a positive mindset. I live in Rye, so am spoilt for choice when it comes to running routes and diverse landscapes. On the weekend, I'll end up at the beach for a cold-water dip. It's deeply cleansing and helps me rebalance after a hectic week.
I need to do more strength training, especially as I get older. I know guys love lifting weights, but I find it a bit boring as I don't care how my body looks on the outside. At the same time, I recognise that being strong is essential to enjoy a full life and to be capable of certain tasks – like carrying a two-year-old. I am also determined to crack my aversion to stretching. I have never – even as a professional footballer – enjoyed stretching, but it's vital for injury prevention, especially as a runner. 
My attitude to exercise has changed over the years. I used to get paid to compete, so exercise always felt much more important than it was. Truthfully, I lost the connection with why I loved it. Today, my exercise mantra is 'chase the feeling' – this reminds me that it's irrelevant how fast I run or how much weight I lift. It's all about the feeling I have during and after exercise, and that's what keeps me coming back. 
Near Earth is one of my favourite brands. I love its sustainable ethos and its content makes me want to get outside and run. Its running socks are made in Italy by some of the best garment manufacturers on the planet. Finisterre – another great brand and personal favourite – is also doing a great job in terms of its community and raising awareness of ocean protection. It makes great underwear, too. 
Breathwork supports my brain. I learnt breathwork from my friend Jordan Turner, a breathwork practitioner and coach. We recently completed four ultra-marathons in four days together, totalling 200km of running. Through that experience, he taught me the value of conscious breathing and how to manage your heart and nervous systems through the breath. Most mornings, I put on Wim Hof's 11-minute beginner's breathwork practice on YouTube. It's my way of calming the mind and creating a solid foundation for the day ahead.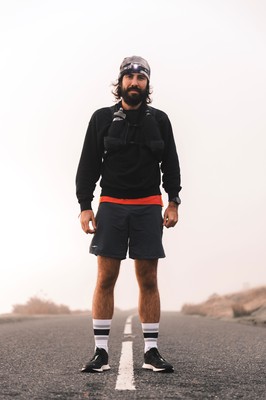 "I start every morning with a run. Some days it's just 1km – other days it's 10km."
Intermittent fasting keeps my energy levels up. I tend to skip breakfast and have a large lunch at midday. Fasting doesn't work for everyone but I find it a great and simple way to increase energy levels. It also allows me more time in the morning to focus on exercise and routine. 
I eat a plant-based diet. I used to be very strict when it came to diet – I was fully vegan and would never eat gluten or dairy. Over the years, I've relaxed and now eat a bit of whatever my body tells me it needs, but never meat or gluten. I find the label of 'vegan' restrictive and unnecessary. We should be able to experiment with our food based on how we feel and what our body is telling us we need. Open my fridge and you'll always find oat milk, avocados and bananas, and a loaf of good sourdough in the kitchen – those are weekly staples. I also have a weak spot for Misfits protein bars – they're low in sugar and high in plant-based protein.
Supplements keep me on track. I take vitamins B, C and D daily, as well as a high-strength probiotic and chlorella, a green superfood which keeps your body in an alkaline state.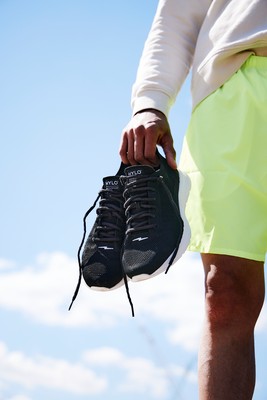 When I'm stressed, staying in a routine helps. It may sound simple, but if I have a lot going on, I'll stick to a strict routine – this gives me structure and stops me from stressing about where I need to be or what I need to do. I find that if I get up an hour earlier than the rest of the household and head out for a run and do some breathwork, once the world wakes up I'm feeling strong, present and able to attack the day. My gym has a sauna, which I try to get to twice a week. It's a great way to unwind. For a treat, I'll book into a Russian banya in London – it doesn't get better than that. I also try to have a sports massage once a month. 
Cold-water therapy is powerful. I have an ice bath at home and try to have one every week. I also include a minute of cold water in my morning shower. Combining hot and cold therapy is an incredible way to recover and relax. It not only calms the nervous system but also stimulates blood flow to aid muscle recovery. 
I'll unwind in the evening with a podcast. The Rich Roll podcast is my go-to as it combines spiritual aspects of personal development with fitness stories from various contributors. I particularly enjoyed the episode with Sanjay Rawal, a filmmaker and philanthropist. Sanjay became a devoted student of an Indian spiritual teacher and is the director of 3100: Run and Become, which follows a 52-day, 3,100-mile race. The podcast explores the spirituality of running, how it transcends exercise and how it can allow you to see life from an entirely different lens.
For more from Michael and to learn about his sustainable sportswear brand Hylo, head to HyloAthletics.com
---
SHOP MICHAEL'S EDIT HERE...
All products on this page have been selected by our editorial team, however we may make commission on some products.
DISCLAIMER: We endeavour to always credit the correct original source of every image we use. If you think a credit may be incorrect, please contact us at [email protected].