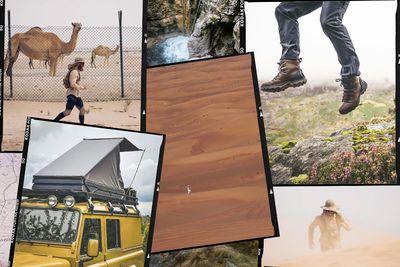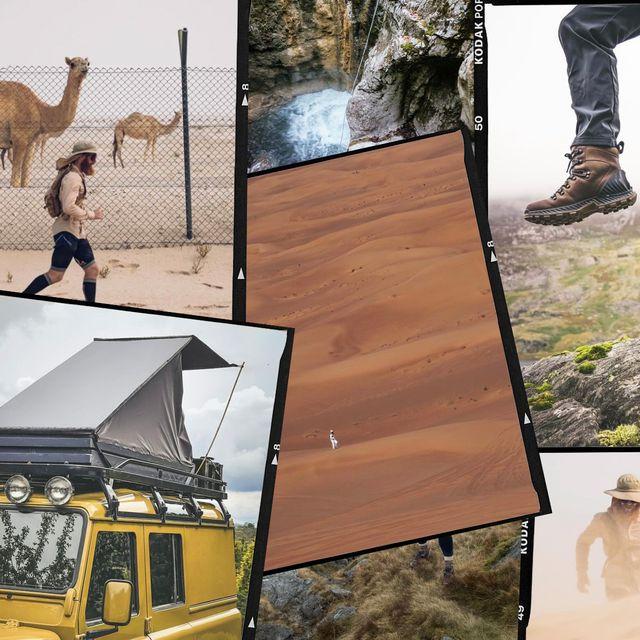 SLMan Meets… Athlete Adventurer Sean Conway

---
A decade ago, Sean Conway sold his photography business for £1 to pursue a dream of breaking a round-the-world cycling record. Since then, the Zimbabwe-born athlete adventurer has become the first person in history to swim the length of Great Britain, completed the Ultimate British Triathlon from John O'Groats to Land's End without formal training, and most recently set a record for cycling unsupported across Europe. As he prepares for his next record attempt, he sat down with SLMan to talk training, resilience and 'Colonel Mustard' – his beloved Camel Trophy Land Rover Defender…
Photography @SEANCONWAYADVENTURE
What I do is a mixture of adventure and sport. I'm not just an explorer, which is all adventure, and I'm not an Olympian, which is all sport. I have to be both: I couldn't just explore and I don't think I could be an Olympian as I need an element of adventure within whichever sport I'm doing, whether that's swimming, cycling or running.
My African upbringing certainly prepared me for an adventurous life. We had elephants drinking all the water out of my paddling pool in the garden when I was a child, hyenas would come into the house at night if we accidentally left the gate open, and there were snakes everywhere. Life was pretty adventurous as a kid – but there was no sport at all.
Growing up in South Africa, it was all about rugby, rugby, rugby. I'm very short, and if you weren't 6ft by the age of 12, you just weren't looked at as having any sporting credentials. So I just thought, 'Oh well, sports is not for me.' But I was wrong, and if I could turn back time I would have tried to pursue something along the lines of what I do now in my late teens. I'm light, I'm short and I'm built well for endurance sport, but I only found this out in my 30s.
I didn't do my 20s very well from a decision-making and ambition point of view. But weirdly that's become the fuel for the fire now, so I can't regret it too much. I moved from South Africa to England with £100 in my wallet – I didn't have any family over here to guide me. But I was headstrong and determined to make it on my own. I worked in a salad factory up in Cambridgeshire, making premixed bagged salads. My job was to cut off all the bad leaves and hard bits, and throw the good bits into a machine. I landed at 7am on 11th February 2002 and I was in the massive fridge warehouse cutting lettuce by 3pm. I did that for a few months until I had enough money to get me a month in London, where I ended up living in a small, seven-person bedsit.
At the time, I was working as a photographer. I needed to earn money to buy food and pay rent, so I just started saying yes to everything. Next thing I know, it's 10 years later and I'm doing photography gigs I'm not interested in. As a kid in Africa, my dream was to be an adventure photographer working for National Geographic, but as an actual young photographer I had bills to pay. It was a slippery slope to misery.
"Growing up in South Africa, it was all about rugby, rugby, rugby. If you weren't 6ft by the age of 12, you just weren't looked at as having any sporting credentials."
In your 20s, you think turning 30 is the end of your life. When I turned 30, I remember thinking 'I'm not travelling the world like I wanted to, I'm just a school portrait photographer.' So I sold the business to my business partner for £1. There was no real plan to get into the world of adventure – I'd got as far as taking a year off to find myself and go abroad. But I didn't have any savings, so I scratched my head to work out how I could go travelling for a year with no money and came up with, 'What if I try and break some world records?' I'd seen people go to the Poles and climb Everest and row oceans, and they all seemed to have logos of different brands on them. I decided I needed to get sponsored.
I only got into this world because I was broke! I started thinking outside the box for a challenge that involved a lot of travel that someone else could fund. That's when I discovered there was a record for cycling around the world, which Mark Beaumont held at the time. I looked at the maths and I thought, 'Well, that's totally doable – it's only about 110 miles a day'. It gave me the chance to travel and, if I was lucky, I'd get a sponsorship, come back and then have a go at adventure photography again.
My first official challenge was to be the fastest person to cycle around the world in 2012. Unfortunately, I got run over in America and suffered a fractured spine and whiplash. I don't remember anything – I just woke up in hospital the next day. That was the end of the world record attempt, but I carried on the challenge for charity. Once back, I moved in with my mum and struggled to get work because I didn't have any A-levels and hadn't gone to university. It seemed like the right time to look for another challenge, as it had sort of worked the first time and I'd been sponsored. That's when I thought of swimming the length of Britain in 2013. When I finished that swim, my life changed overnight.
The next day I was getting book deals, TV deals, managers, agents and sponsorship opportunities. It was just crazy – and I've sort of ridden that wave ever since. Sometimes I have to pinch myself that this is my job. Don't get me wrong, there have been good times and bad times – I might fail at something and it's always difficult to get back on the horse – but that first world record has allowed me to be able to do all these things. It turns out I'm good at training, good at sport and good at being resilient and level headed, so I'll keep doing it until my body falls apart.
Breaking any world record is great, but there have been some highlights. I had this goal to break the three Fs of endurance – the world's first, furthest and fastest. I completed the third of the three in 2018: I was the first person to swim the length of Britain; I broke the record for the furthest triathlon ever done (4,200 miles); then I was the fastest person to cycle across Europe. Achieving this big crazy goal was pretty amazing – but I finished it 10 years quicker than I thought I would. It was meant to be a lifelong goal and I managed to do it in 10 years instead of 20, so it's been annoying trying to find something else to do!
"As a kid in Africa, my dream was to be an adventure photographer working for National Geographic but as a 20-year-old photographer in London, I had bills to pay. It was a slippery slope to misery."
There have been some challenges along the way. As well as getting run over while cycling around the world, I was followed by gangsters and had to get a police escort for two days. Swimming the length of Britain, I kept getting stung in the face by jellyfish while having to avoid whirlpools and big storms. I cycled across the whole of Ukraine and 1,100 miles into Russia, dealing with pretty terrible roads and lots of drunk drivers. I've slept in drainpipes under the road, which I could see foxes and bears had also slept in – every time I do something, I put my family under a lot of stress.
I have a good mechanism for dealing with the mental toll. I have two sides to my character: the monkey and the terrier. They both complement each other. Sometimes I get to choose whether I want to be a monkey or terrier, but often it's just given to me. If I'm in monkey mode, his presence will keep me going it's like having a mascot on my handlebars, I'll have great conversations with him, or try to make up my own language – weird little things my brain does to keep itself entertained during long stretches. When the terrier's involved, he just wants to chase something. 
I'm constantly thinking about the six pistons of endurance. They are planning, food, water, sleep, muscle management and motivation. I need to get all of those nailed every day. I'm self-supported, so I need to know where I'm going to get food, what time things are open, whether it's a Sunday which means everything's closed, where I'm going to sleep that night, how long I have to sleep for so I strike the balance between being on schedule and taking enough time for my body to recover, what's motivating me, what's keeping me going, what the wind's doing… All these things are spinning in my head as I try to come up with the ideal possible scenario to give myself the best chance of breaking a record. Everything can be perfect, but if you oversleep by 4-5 hours, that's the record gone. Considering I only sleep for five hours a night, I could easily sleep for eight or nine hours by mistake. If things are going badly, that's when the terrier will come out saying, 'Right, mate – let's sort this shit out'. When things are good, the monkey comes out in support.
"As well as getting run over while cycling around the world, I was followed by gangsters and had to get a police escort. Then, swimming the length of Britain, I kept getting stung in the face by jellyfish."
My training regime changes depending on what my next challenge is. At the moment I'm trying to get the world record for the greatest number of consecutive Ironman triathlons, which is 102. Every week I'm doing three swims, three bike rides, three runs and two gym sessions, then loads of rehab like saunas, ice baths, stretching and using a massage gun. It all comes in at about 20 hours a week. I love training, I love seeing my progress, the terrier in me loves seeing all the numbers and then the monkey likes the variety, which is why I've never stuck to one sport.
I used to overtrain, but now I'm good at knowing when to take it easy. Non-alcoholic beer is now a big part of my training programme, because I still want to enjoy life and for this to be a fun experience. The non-alcoholic beer game has really changed that for a lot of endurance sports people – before, just one beer could ruin the next day's programme. A few years back, if you ordered a non-alcoholic beer in the pub, people would call you a weirdo; now it's totally normal to the point where pretty much everyone's like 'Yeah, me too'. I think Athletic Brewing makes the best-tasting non-alcoholic beers by a long way – and I'm not just saying that because they're one of my sponsors. I've got hundreds of cans in my cupboard. Whenever someone comes over, I get them to try one and they're always so surprised, because unfortunately the market was crap for so long.
My diet doesn't have to be too regimented because I don't crave all those typically 'bad' things. I don't need sugary things, I don't have caffeine in my life and I'm not into chocolate or sweets. The one thing I'm doing at the moment is making sure the meat I eat is almost entirely wild game, because it's less processed and I generally don't trust what they give farmed animals to make them grow quicker. I supplement with hemp and spirulina powder, and Optimum Nutrition do these different proteins that I like to use to help with recovery, but I can sort of eat anything because I burn so many calories. Because the challenges I do are so long, I'm not weight-watching like I might have to if I was an ultra-trail runner who needs to be at 67kg for race day.
"When I was 19, my mum gave me a Camel Trophy leather wallet. I still have it and I've used it for 24 years – and likewise, my Camel Defender's going to be with me for life."
I love using my Garmin watch to monitor my sleep. I'm finding it quite useful because sometimes I wake up thinking I've had a good night's sleep, but actually I've not – and it's accurate, as I'll then feel tired later on! I also love the Ordnance Survey app on my phone, because it's a million times better than Google Maps. Once you learn how to map read, you can do a lot of exploring as you'll find lots of interesting hidden footpaths.
I also recommend getting your salt loss and sweat rate tested. I went through a stage of feeling really dehydrated all the time even though I was drinking loads of water. So I went for a test and they gave me stats that said at 30ºC I was sweating a litre an hour, so if I'm pushing it harder than that any other day when it's not so hot, I probably need to drink at least 500-700ml an hour. Within that, I'd lose 3.4g of salt, so if I do a three-hour run, I now know I need nearly 10g of salt – which is really interesting, seeing as the UK recommended allowance is 6g. Now, I try to have some sea salt in a glass of water before the day starts. Sodium, potassium and magnesium are good for your brain function as well as your hydration, so it sets me up for the day nicely because you lose almost a pint of water overnight just by breathing.
Growing up in Zimbabwe and South Africa, my dad was massively into Land Rovers. Aged 10, I was into the Camel Trophy competition, which was this paid-for expedition you could do as a race in different parts of the world, such as the jungles of Peru, using Land Rover Defenders kitted up to the hilt in this sort-of-yellow colour. Back then, I saw my camera as my passport to travelling the world and I remember seeing these Defenders thinking, 'Wow, if I just had a camera and one of those I could go anywhere and do anything.' Fast-forward to my mid-30s, and I found a company up in North Yorkshire called Twisted, who built me a modern-day version of the Camel Defender that I can use daily – you wouldn't dare drive from London to Wales in one of the originals. Mine's called Colonel Mustard and we've gone all over the place since 2016 – I'll probably be buried in it. When I was 19, my mum gave me a Camel Trophy leather wallet. I still have it and I've used it for 24 years – and likewise, my Defender's going to be with me for life.
The UK has so many good dedicated trails and footpaths. Some of the most accessible ones are the West Highland Way in Scotland, which is great for a four or five-day hike with mates, or you could do the Coast to Coast Walk, following Hadrian's Wall through the Lake District and Yorkshire Dales. The South West Coast Path is 600 miles, but you could do bits of it through Devon and Cornwall. I also rate Offa's Dyke Trail, which is the length of Wales. It takes about a week and follows the wall the English made to keep the Welsh out. I also like the 'Big Three' Rounds which you can do in a few days, which takes in the Paddy Buckley Round in Wales, the Bob Graham Round in England and the Charlie Ramsay Round in Scotland. They're meant to be run, but can be hiked too. Otherwise, just buy a map of where you live and you'll see just how many footpaths there are.
My Ironman 102 challenge begins in April – so watch this space. I'll have a calendar day to complete each one, so there's no averaging and you can't do two on one day then rest the next day. I'm looking forward to it – if I can just stay injury free, job's a good 'un.
Follow Sean's adventures at @SeanConwayAdventure and buy Athletic Brewing's non-alcoholic beers at AthleticBrewing.com.
DISCLAIMER: We endeavour to always credit the correct original source of every image we use. If you think a credit may be incorrect, please contact us at [email protected].