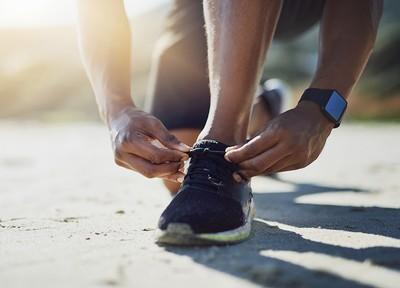 Thinking Of Running A Marathon?

---
So you want to run 26.2 miles? You need a training plan. Luckily, fitness coach and super-trainer Luke Worthington is here with some guidance on how to train and what to eat in order to be at your best on the day itself.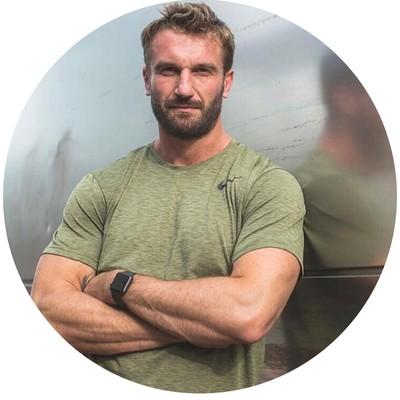 First of all, how long do you need to prepare properly for a marathon?
Sixteen weeks is my recommendation.
And where do you start?
You'll need to get assessed, have a plan – and stick to it! Simply adding miles on your run each week will eventually lead to you breaking down. A structured running plan will include sessions focusing on endurance, speed and technique – and you will need to include all of these at varying intensity and duration. To get started, you need to first get a professional assessment with either a suitably qualified and experienced personal trainer with a biomechanics background, or a running coach.
Is there any special equipment you'll need? 
You'll need at least three sets of running gear to ensure you're always training in clean dry kit. This is important: training in sweaty kit can lead to some very unpleasant fungal skin conditions that are very hard to shake off. Get a couple of pairs of running shoes that you can rotate, so you're always in dry shoes. Also, you will need a set of clothes for your gym sessions (you will need to do them!) and ideally a separate pair of shoes for the gym, so that you don't bring in mud and to ensure you've got the right shoes for the right job. Gym shoes are firm and supportive; running shoes are cushioned and bouncy.
"Simply adding miles on your run each week will eventually lead to you breaking down."
What are the best trainers to buy?
For running, the Nike Zoom Pegasus Turbo is a hands-down winner. If you're running in the rain, there is a Gore-Tex waterproof version. For the gym, the Nike Free X Metcon is the perfect mix of stability and mobility. There are more sturdy shoes available for heavier lifting, but for distance-running training these are great.
Speaking of distances, how far should you be running each week?
It varies week to week, and depends on the individual. Typically, I have clients do their longest run – which is 20 miles – three weeks before race-day.  
What pace should you be running at?
Nine-minute miles will give you a sub-four-hour marathon. Your longer training runs should be at this pace so you learn what it feels like. However, you will need to do faster and slower runs at different intensities as part of your preparation.
Is there a good app or gadget to help track your progress?
Apple Watch Series 5 has an excellent running app that gives speed, rolling mile pace, and also tracks your health data. You can pair this with the Nike Running Club app to plan your routes.
What should you be eating and drinking during marathon training?
This is a complex subject and it varies enormously between individuals. I can say that you need to make sure you're refuelling enough. It's also worth saying that investing in electrolytes is useful. Also, if you're using gels or similar, try them out on some training runs first, as they can cause an upset stomach.
How much rest do you need in between training days?
Again, this varies too much to give a blanket answer. Better to say that rest is important and that, even in your hardest weeks, you need at least one full day off per week.
How do you avoid injuries when training for a marathon?
As I mentioned, the most common injuries that occur from suddenly ramping up your running programme are overuse injuries. This is when your connective tissues (ligaments, tendons) become inflamed because they are unprepared for such repetitive activity – mechanically speaking, running is the same movement several thousand times over. Avoiding those injuries is a case of making sure you are strong to run. I often describe it as getting fit to run, not running to get fit. If we consider that running is propelling yourself from one foot to the next, that is a lot of force you have to exert into the ground - and then even more force to absorb as you land. This means strengthening the muscles involved to ensure they can cope with these demands and not rely on the elastic properties of your ligaments and tendons.
So strength training should be a part of the plan?
It's a huge part of your training. Running involves producing force into the ground to propel you forwards, then absorbing force as your foot strikes the road on every step. And, over the course of your training and your race, you will take a lot of steps! Your strength plan should be based around the fundamental movement patterns of squat, hinge, vertical push and pull, and horizontal push and pull, as well as lunges.
"A marathon is as much a mental challenge as a physical one. You have to condition both for what is to come."
How do you mentally prepare for a marathon? 
A marathon is as much a mental challenge as a physical one. You have to condition both for what is to come. Having the discipline to diligently follow a tough plan goes some way towards giving you the confidence of knowing you can complete 26 miles. Just keep in mind that the adrenaline of the occasion is a double-edged sword: on the plus side, the occasion, the crowds and your friends and family at the finish line can pull you through the last few miles; but they can also cause you to go off too quickly. Pace judgement is a key skill.
What should you do on the morning of race day?
Nothing that you haven't done before! It is not the time to be trying new things – whether that's food or footwear. It's a common mistake to buy a new pair of running shoes for the big day, but you really don't want to be contending with blisters. If you want new shoes, buy them two weeks before.
Finally, what are the best marathon plans out there?
Mine!
For training plans and more expert advice, visit LukeWorthington.com and follow Luke on Instagram: @LukeWTraining
DISCLAIMER: We endeavour to always credit the correct original source of every image we use. If you think a credit may be incorrect, please contact us at [email protected].