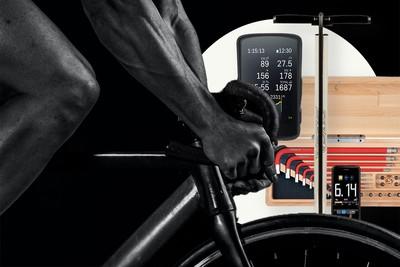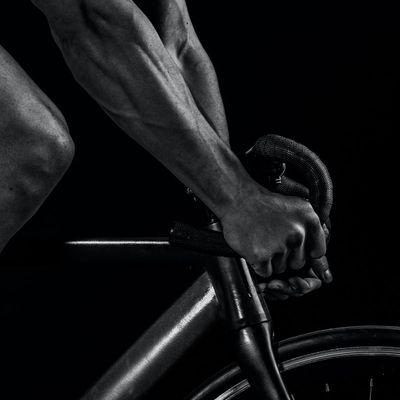 What's New In Cycling & How To Improve Your Skills

---
We've reached that time of year when men across the country are dusting down their lycra and preparing to come out of cycling hibernation. From the latest high-performance gear to new off-road adventures, here's what's changed since you were last in the saddle – plus we've got a few tips from some top coaches for taking your riding to the next level…
Photography JOSH NUTTALL/UNSPLASH
Recently voted the best gadget for cyclists of all levels, the Karoo 2 is the world's most advanced cycling computer, combining cutting-edge technology with maps, navigation and training inspiration. Made for road, gravel and mountain bike use (it's even been seen on the handlebars of four-time Tour de France winner Chris Froome) it has a three-inch screen, live turn-by-turn GPS navigation and a 12-hour battery life. You'll also enjoy the full-colour global maps, which display all the details you need when riding, including elevation and roadway differentiation – and perhaps the option to turn off notifications of incoming calls and messages.
Visit UK.Hammerhead.io
Go off grid to explore the UK and beyond with a Glorious Gravel trip. Suitable for mountain bikers as well as gravel bikers and riders of all abilities, its events – which include some of the best gravel routes on the planet – are fully signposted with checkpoints every 35km, where you'll find mechanics, food and drinks. There are also rider support vans for any problems and, crucially, you'll be greeted at the finish line with a cold beer. For a challenging but rewarding ride, book in for the North Wales Gravel X on 15th April – the route takes in forests, rolling back roads and gravel tracks around the region's reservoirs.
Visit GloriousGravel.com
Dura is Europe's leading garage interior company. It creates bespoke cabinets, wall storage, flooring and accessories to transform your space into a cycling haven. Its design experts can help those who take their cycling seriously – or anyone in need of an indoor training space to make event training more convenient. The options are endless: keep bulky items off the floor with wall-mounted panels; secure expensive tools and equipment in lockable cabinets; organise smaller pieces of kit in hard-wearing back panels and storage bins; you get the picture.
Visit DuraGarages.com
Gran Fondo Col De La Loze
The Col de la Loze climb is on the 17th stage of this year's Tour de France – and you can ride it before the pros. The event kicks off on 15th July, timed to dovetail with the arrival of the Tour de France peloton three days later. Within Les Trois Vallées – the largest ski area in the world – the routes takes you on roads with epic views, and look out for a new man-made cycle track at the top of the climb. There are various challenges to cater for all and e-bikes are permitted on certain routes. The weekend will finish with an outdoor party in the village of Brides-les-Bains.  
Visit ColDeLaLozeByBLB.com
Ties Carlier founded e-bike brand VanMoof back in 2009. It's now one of the market leaders and recently opened an outpost at Battersea Power Station where you can see its S3 bike in action. The new model has an updated motor with electronic gear shifting for a smoother ride and a turbo boost system that lets you travel at up to 15.5mph. Even better, there's an in-built anti-theft mode that connects to your phone. VanMoof's dedicated Bike Hunter Squad will recover your bike if it ever gets stolen – and if they can't find it, it'll be replaced for free. 
Visit VanMoof.com
Making indoor riding better than ever, Rouvy allows you to cycle in some of the world's most scenic locations – no passport required. With more than 3,000 geolocated routes with synchronised videos, multi-rider mode for group rides, workouts and online races, Rouvy is perfect for those looking to mix up their training. You just need a compatible indoor smart bike. Got a triathlon on the horizon? Sign up to the Triathlon Training Camp, which will give you access to event-specific workouts, challenges and group rides, as well as the chance to try some of the world's most iconic triathlon routes virtually before the real deal.
Visit Rouvy.com
One of the oldest and most innovative brands in the world of cycling, Silca was the first to put gauges on pumps, the first to create a high-pressure frame pump, and the first to develop a CO2 regulator. Today, it offers a range of pumps – considered the best on the market – alongside compact and stylish CO2 inflation devices. Its latest pump, the Terra, doesn't disappoint, and is particularly beneficial for those that ride more than one type of bike. At £180, it's also more affordable than other models. 
Visit Silca.cc
Personalise your bike beyond factory specs with Wolf Tooth's top-tier cycling components. After riding and racing in a range of conditions – from dusty summers to freezing Minneapolis winters – the team have created a line-up of cycling products that are either pure innovation or take existing bike components to a whole new level. Think chainrings that eliminate the risk of dropped chains; a multi-tool that helps you make a host of repairs and adjustments on the move; and its cult Chain Lube, which cleans and protects chains. 
Visit WolfToothComponents.com
---
Whether you're a novice rider or on the cusp of putting yourself forward for the Tour de France, these pointers will help you ride – and train – more efficiently…
"One of the most important factors in cycling is a proper bike fit. This ensures you are comfortable on the bike and that your body is in the best position for optimal power output. If your bike isn't fitted properly, you may experience pain or discomfort. Find your local bike shop and book in for a professional fitting – the investment to ensure your bike is suitable set up will pay dividends." – William Pearson, co-founder of Pearson 1860 
"To ride more efficiently, focus on having a smooth and consistent pedal stroke. Avoid pushing down hard on the pedals in a jerky motion as if you are simply stepping on each side, and instead aim for a fluid motion as if you are spinning your pedals in a more circular manner. When using clipless pedal systems, the correct set-up of cleats should allow for well-aligned and balanced pedal strokes. This will help you conserve energy and maintain your speed for extended periods." – William
"Cycling is good on your own, but even more fun with others. Join a local cycling group or club to meet other riders and find new routes. Not only will you have a support system for comradery, but the competition will help improve your skills and fitness. You'll also have someone to share a post-ride drink with." – William
"As a cyclist, you spend every second of your ride using your feet. Investing in quality shoes for road, gravel or mountain biking, or even just commuting, will make huge improvements to your riding in terms of power transfer. QUOC is my go-to brand." – Beau Markson, cycling expert & Hammerhead ambassador
"Looking for a new challenge? Try gravel riding. It takes the best bits of road cycling and mountain biking and creates the perfect balance of being lost in the woods but with the speed of a road bike. Off-road terrain is also more challenging, allowing you to push your fitness limits in a different way. If you want to try gravel riding, look up Moloko Cycling – it rents out gravel bikes and organises incredible rides and tours, locally and overseas." – Beau
"One of the key ways to improve your fitness on the bike is to structure your training so you can see measurable improvements. Get yourself on Training Peaks – you'll find a vast array of amazing coaches who offer reasonably priced training plans to fit your lifestyle and budget." – Beau
"If you don't look after your bike, it won't look after you. Regular cleaning and maintenance are key, and the same goes for your kit. Don't use fabric conditioner when washing your cycling gear – instead, add Zoflora into your wash, which kills bacteria, makes lycra smell good and prolongs its wardrobe life." – Sam Morgan, founder of Paria
"Time trialling is a great way to improve performance, with events happening across the country through the spring and summer months. Solo riders are set off at intervals – usually every minute – and it's an individual race against the clock to see how quickly you can cover a certain distance. Many local cycling clubs host midweek evening events, with entry typically costing between £4 and £6. With a number pinned on your back, you tend to dig much deeper than you would do normally, making for an effective hard training session – and it's a great way to meet other members in the local cycling community, exploring roads you might not normally ride." – Kate Allan, Cycling Time Trials ambassador
DISCLAIMER: Features published by SheerLuxe are not intended to treat, diagnose, cure or prevent any disease. Always seek the advice of your GP or another qualified healthcare provider for any questions you have regarding a medical condition, and before undertaking any diet, exercise or other health-related programme.
DISCLAIMER: We endeavour to always credit the correct original source of every image we use. If you think a credit may be incorrect, please contact us at [email protected].