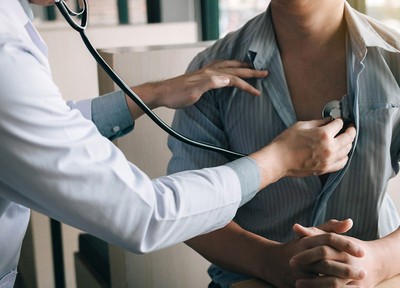 The Health Checks You Should Be Having

---
Few of us relish a trip to the doctor, but it seems men are particularly hesitant to book an appointment with 24% less likely than women to have visited a doctor within the past year. With this in mind, we spoke to TV's Dr Oscar Duke about what health checks you should be getting – and when.

"Self-examination is so important and very easy to include in a morning bath or shower routine."
So it's a fact, on the whole men are bad at going to the doctor?
Stereotypically yes, especially if the issue is sexual in nature, i.e. it involves their testicles. Often, if a guy comes in with a lump, he will have found it a few weeks prior, but will have only just built up the courage to come in for an appointment.
What are the regular health checks men should be having?
20s-30s:
At this stage you don't necessarily need to be having a regular health check as there are a lot of things you can do yourself at home. The most common type of cancer for men in this age bracket is testicular cancer, so it is really important to be checking yourself monthly for lumps and bumps. Especially if it runs in your family history. Self-examination is so important and easy to include in a morning bath or shower routine. Get to know your body, so that you immediately notice if something is not right, or a lump is somewhere it shouldn't be. Maintaining a healthy and active lifestyle in your 20s is an important way to avoid later issues with high cholesterol, diabetes and obesity.
30s-40s: 
Many men may become a father at this time of life and along with job and other social pressures this is a key time to regularly check in on your mental health. Anxiety, depression and even post-natal depression are increasingly common in this age group and can be effectively managed with accurate diagnosis and rapid help from your doctor. This is another area where men often put off getting the help they need and people should remember doctors are there to discuss mental ill health just as much as physical health issues. Do not suffer in silence because of macho fears of shame or embarrassment.   
40s-50s:
The risk of heart attacks and strokes increases with age and, while there is no way of telling when they might crop up, there are ways to reduce the risk. The NHS offers a free health check for men once they turn 40. This looks at the contributing factors behind cardiovascular issues, from blood pressure checks to blood cholesterol levels. It is also worth having an ECG – a tracing of the heart – to rule out any potential heart issues. If you are still smoking, get help to quit as it is the biggest contributing factor to these health issues and there's also the obvious link to cancer. You're three times more likely to successfully quit smoking if you have professional support and use nicotine replacement therapy.
 
50s and onwards:
Health checks develop a little more in terms of complexity. You should be thinking about the cancers that particularly affect men, such as prostate cancer – especially if there is a family history. You can have a blood test from the age of 55 on the NHS called a prostate specific antigen (PSA) which will give you an idea of what is going on in the prostate. There are risks and benefits associated with the test, as with any screening treatment, but it is worth it to identify any potential issues that might need further examination. If the NHS offers you a screening, you must have one.  Telescope (camera) testing for bowel cancer is a new service that is also offered at 55. As one of the most common cancers in the UK, it is also worth having if your local NHS provider offers it.
Whilst you have to be a specific age to qualify for these free health checks on the NHS, you can have any of them privately at any age. Or some insurance companies offer these as a part of their policy (e.g. BUPA, AXA PPP). If you can afford to have a private health check, it's worth it, but take careful advice from your doctor as to which tests are most appropriate given your age, personal and family health history. 
Talk us through at-home health checks…
It's hard to give a one-size-fits-all method. The best advice is to really get to know your body so you can tell when something new comes along. Regularly check yourself – in the bath, in the shower or when you're getting dressed – and if you find something, get it seen to immediately. Don't feel embarrassed about seeing a doctor for a health check on your genitals - we've seen it all before.
"Don't feel embarrassed about seeing a doctor for a health check on your genitals."
Finally, are there any health symptoms you shouldn't ignore?
Lumps and bumps again. If you find one, go to see your GP. Also, blood coming from places it shouldn't be is something that should never be ignored, especially if it lasts for longer than a week. Haemorrhoids (or 'piles') are quite common in men and small amounts of blood in the loo or on wiping may be the result of these – especially if you are big gym goer, straining quite a lot and doing lots of weights. We have seen a rise in haemorrhoids since the advent of the smartphone because guys sit for way too long on the loo scrolling; by doing so, they relax all the muscles around the anus, making the blood vessels enlarge, which can then become itchy and start to bleed. You can get over-the-counter creams to treat haemorrhoids, but if the bleeding persists, you should see a doctor as it could be something more serious.
For more information, visit NHS.uk
Disclaimer: It's important to seek medical advice or even the advice of your pharmacist if you feel unwell and before taking any medication.
DISCLAIMER: We endeavour to always credit the correct original source of every image we use. If you think a credit may be incorrect, please contact us at [email protected].