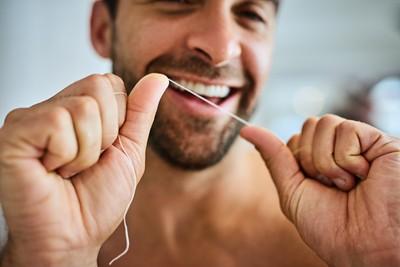 How To Get A Better Smile

---
A great smile can make or break your appearance – and your confidence. Next-gen whitening treatments and Botox injections have changed the landscape of cosmetic dentistry recently, so we caught up with a pair of industry leaders for their latest advice on achieving a better, brighter smile.

Photography PEOPLEIMAGES/ISTOCK
Start By Stepping Up Your Oral Hygiene
While cosmetic dentistry can make a significant difference to your smile, you need to think about the basics before you get going. "There are several common mistakes I see guys making with their oral hygiene, all of which can be easily avoided for an instantly healthier smile," says Dr Rhona Eskander, cosmetic dentist and owner of Chelsea Dental Clinic. "Men tend to skimp on brushing time and many still don't use an electric toothbrush. You should be brushing twice a day, every day, with an electric toothbrush. If you're using a manual toothbrush and only brushing for 30 seconds, it's time to switch things up."
 
Dr Wiktor Pietraszewski, dental surgeon at White & Co, says interdental cleaning is also non-negotiable. "Interdental brushes have small, bristled heads designed to get between your teeth, keeping your mouth as clean as possible. Investing in these brushes will make your cleaning routine more effective and will drastically improve your oral health." In the market for an electric toothbrush? The latest models sync with an app on your phone to tell you where your brushing routine may be falling short. Both the Oral-B Genius X and Philips Sonicare FlexCare Platinum Connected use motion sensors to analyse brushing technique and report back on areas where improvement is needed.
 
Get Rid Of Stains
"The trifecta for a great smile is alignment, whitening and bonding or veneers," says Dr Rhona. "You'd need all three to get the dream smile, but if you do one thing, consider whitening – having straight teeth is great, but you're unlikely to be happy if they're yellow." Whitening treatments are more popular than ever, but it pays to do them professionally. "Don't waste your time with over-the-counter kits, which don't contain nearly enough active ingredients to be effective," warns Dr Rhona. "Instead, look to a boutique offering, such as Philips Zoom. With these treatments, your dentist will make you bespoke moulds, which you fill with whitening gels. You then sleep with these moulds in for two weeks. Teeth can go up to ten shades whiter."
 
If you have an event coming up and don't have two weeks, speak to your dentist about an in-office treatment, which can be done using LED light and is done in 45 minutes. These treatments are done with a 6% hydrogen peroxide gel – the maximum legal strength a dentist can sell and use.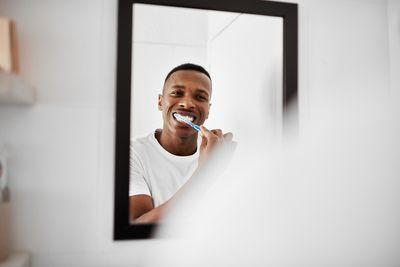 PEOPLEIMAGES/ISTOCK
Consider Invisalign For A Straighter Smile
When it comes to improving your teeth, straightening is up there, says Dr Rhona, and it's Invisalign – the clear retainer system that can be popped in and out of the mouth – that's leading the way. "Things have moved on from train tracks," she tells SLMan. "Invisalign doesn't use metal wires and is virtually invisible when being worn. Special trays are custom made for your teeth, and every few weeks you wear a new tray, designed to eventually straighten your teeth. It is discreet, easy to use and very effective. You just need to remember to wear them – 22 hours per day is the recommended amount for the best results, leaving time for meals."
 
Fixed braces are also an option, and they can be placed on the front or backs of your teeth. Yes, they're less discreet, but they're a better option for those needing extensive treatment. "Invisalign is best suited to those with mild to moderate tooth malposition, while fixed braces are better for those with more severe correctional issues," adds Dr Wiktor.
 
Don't Be Lured By Imitation Brands
If you've come across brands that look like they're offering Invisalign on Instagram, steer clear, warns Rhona. "These 'do it yourself' braces may look appealing and are often teamed with enticing before-and-after photos, but they're not recognised by orthodontic companies such as Invisalign. These types of braces don't require any physical interaction with a dentist, which is concerning. Moving teeth is a complex business, so allowing a person that has zero experience with teeth to treat themselves at home doesn't sit well with me."
 
Dr Wiktor is also sceptical: "These brands are a total scam and should be avoided at all costs. Your dental and oral health is never checked prior to starting a treatment, which can cause serious problems. I've had many patients that proceeded with these cheaper treatments and now have to pay more to fix the issues that they've created. During your Invisalign journey, you should see your dentist every four to six weeks."
Men tend to skimp on brushing time and many still don't use an electric toothbrush. You should be brushing twice a day, every day, with an electric toothbrush. If you're using a manual toothbrush and only brushing for 30 seconds, it's time to switch things up.
Try Bonding For Instant Results
If you don't have the time for fixed braces and are in need of speedy improvement, consider composite bonding, a 'tweakment' which is surging in popularity. Bonding is when resin is added to the edges of the teeth to make them look straighter, but it can also be used to make teeth look longer, to close gaps between teeth, or to improve the appearance of a discoloured or chipped tooth. And as a drill isn't required to secure the resin – unlike veneers – the treatment can be done in one sitting and it's pain-free.
 
However, bonding isn't suitable for those whose teeth aren't in good alignment. And if you drink a lot of coffee, tea or red wine, keep in mind that composite will pick up stains. "Bonding can also chip and stain," says Dr Rhona. "The technique is very sensitive. If not placed well, it can look poor, so do your research and ensure you're seeing the best people. You'll also need to ensure you're seeing the dentist and hygienist regularly to make sure your bonding is cleaned and free of any plaque build-up, resulting in longer-lasting bonding that won't chip prematurely." Every dentist has their own fees, but the starting cost can be anywhere from £150 to £600.
 
Consider Veneers For A Teeth Transformation
Veneers may have a bad rap for looking fake, but Dr Rhona says they're increasingly popular, including among men. "There have been some incredible developments in the world of veneers, meaning they can now be made ultra-thin for an even more natural result," she tells SLMan. "When people think of veneers, they often think of Simon Cowell but this isn't the case anymore. It's all about the dentist you see, the technician who makes the veneers and the materials used."
 
When it comes to materials, your options are either porcelain or composite veneers. Porcelain is a type of ceramic made in a lab, while composite veneers are hand-crafted from an acrylic resin directly onto the tooth. Porcelain is very durable and the material itself will last up to 12 years – they maintain a high polish and are stronger than composite veneers, which last five to seven years and tend to pick up more stains and chip more easily. Composite veneers can be applied in one appointment, while porcelain veneers require a longer process. Naturally, there's also a price difference. If you're going for the whole set, you're looking at around £20,000 for porcelain and at least £6,000 for composite. "Porcelain veneers are the gold standard," adds Dr Wiktor. "But composite veneers can look amazing and natural if done well."
When people think of veneers, they often think of Simon Cowell but this isn't the case anymore. It's all about the dentist you see, the technician who makes the veneers and the materials used.
Keep An Eye Out For New Treatments
"If you are plagued with white spots on your teeth, look out for a dentist offering ICON, a brand-new treatment that treats these spots with impressive results. It's minimally invasive and highly effective," says Dr Wiktor. Dr Rhona also speaks highly of cosmetic gum treatments. "There is an exact formula on how gums should look," she says. "Recession can have an impact, making the teeth look too long, while too much gum can impact the overall balance and harmony of your smile. Botox can be placed in your gums to reduce the effect of a 'gummy smile'. If you are doing this with other treatments, it's usually done after orthodontics and before bonding or veneers."
 
If you're intrigued by what your teeth could look like with braces or bonding, ask your dentist about digital smile planning services, which use digital photographs of your smile and a short video of yourself speaking and smiling to work out which treatments would work best for your teeth. This can be incredibly useful for those unsure about committing to extensive dental work.
 
Find The Right Dentist
Believe it or not, any UK dentist can complete orthodontic treatment. They don't need to have special training aside from a one or two-day course post-university. However, a practice limited to orthodontics means those dentists have often spent years training. "Word-of-mouth recommendations are worth their weight in gold," says Dr Wiktor. "You can also ask your dentist for a recommendation. The top tier of dental professionals proudly showcase their work on social media and most have an Instagram profile where you can look at their work. Look out for the quality of the photos – if they are blurry, out of focus or clearly taken with a phone, this says a lot of about their artistic flare, which will reflect in their work." The right dentist should be able to give you plenty of options and not only do one type of tweakment, whether it's bonding or braces.
For more information, head to WhiteandCoDental.co.uk and DrRhonaEskander.com.
DISCLAIMER: Features published by SLMan are not intended to treat, diagnose, cure or prevent any disease. Always seek the advice of your GP or another qualified healthcare provider for any questions
DISCLAIMER: We endeavour to always credit the correct original source of every image we use. If you think a credit may be incorrect, please contact us at [email protected].