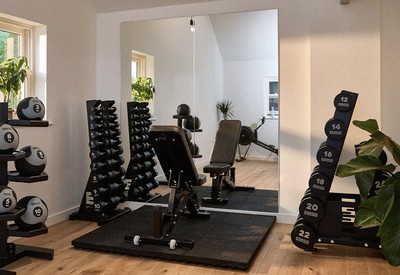 How To Set Up A Home Gym

---
An at-home gym is a game-changer – if only because it means you don't have to leave the house. And it doesn't have to take up a huge amount of space. From the best flooring to the must-have equipment, three experts told us how to build one…

Photography MOTIVE8; MICHAEL BLANN
All products on this page have been selected by our editorial team, however we may make commission on some products.
CHOOSE THE SPACE CAREFULLY
Whether you're converting a spare bedroom, basement or garage, consider what you'll be using the room for and what equipment you want to prioritise. "Make sure you have enough room to do your go-to workouts," says PT Josh Davies. "You probably want to be on the ground floor so if you drop any weights or do heaving lifting, you don't make too much noise or cause any damage. That said, a good rubber floor should prevent that happening. It will give it enough softness to cushion any weights hitting the floor, and it's also sturdy enough for cardio-based exercises." Heavy-duty sprung or cork tiles are a great option, as are interlocking floor guards which can be put away after each session. "Whatever you put on the floor, make sure it's easy to clean," advises Rob Clarke, director of home gym company Motive8. "You need to be able to clear up sweat after each session, particularly under bikes and rowing machines. Your local hardware shop or garden centre should stock different floor options."
If your home gym is inside, ensure you have good ventilation. A powerful fan will help disperse the air around the room, helping to regulate its temperature, while a dehumidifier and time-release air freshener should stop it smelling. If you have a garage gym, watch out for the temperature and dampness, explains Josh. "They often don't have the same insulation as a house or flat, so you may need to think about getting a heating system in there. Even if your body heats up during a warm-up or workout, the damp from outside can damage your equipment, which is the last thing you want if you've invested money in it. If you want to go all out, hire a professional to install proper insulation to keep it dry and warm."
Choose one solid piece of kit, advises Josh. "If I could only have one thing, I'd go for a set of adjustable dumbbells. They take up minimal space and you can do everything from strength work to conditioning-based workouts with them. The adjustable weights allow you to progress in your lifting too, reducing the chance of injury." Elliott would go for a rowing machine: "It's a piece of cardio kit that will give you the best full-body workout. I have a client who has a Hydrow at home. It's a class piece of equipment – think Peloton but for rowing – and if your budget can stretch, it's definitely worth the investment. Alternatively, if your main goal is to build muscle, a half rack with Olympic bars will target all the muscle groups."
Ideally, you don't want to be without dumbbells and kettlebells, says PT Elliott Upton. "Invest in a moderately heavy kettlebell – 24kg or so. There is so much you can do with it in terms of putting together a good workout that will help build muscle and burn fat. If you have a decent budget, buy yourself either a small rack of dumbbells (5kg to 30kg) or a small set of kettlebells (12kg to 32kg). That will set you up with everything you need and give you plenty of scope to vary your workouts and progressively lift heavier and heavier weights. If your budget allows, invest in a barbell with a rack, weight plates and a dual-adjustable pulley – this is as much as you're ever going to need from a gym."
 
BE CAREFUL WITH FOLDABLES
It might look like a tempting way to optimise your space, but foldable equipment isn't always reliable or sturdy, says Rob. "A standard treadmill will always be better than a foldable one. With foldable equipment, it's like any large purchase – you get what you pay for. Spending a couple of hundred pounds on a folding treadmill for example will give you something which feels unsteady underfoot and probably won't last very long."
"Every at-home gym should have a pull-up bar," says Josh. "I like to call it the 'squat of the upper body' – it has so many benefits and works a large amount of muscles such as lats, shoulders, core and arms. You can also perform other exercises with it like hanging knees and leg raises." Most pull-up bars are detachable, so you don't need to keep them in once place – ideal for training indoors in the winter, then moving outside when the weather warms up.
"Get some good resistance bands," says Josh. "People think bands are a waste of time but they're not. You can do countless exercises with them, and they come at a fraction of the price of any other piece of equipment. Decathlon is my go-to." Foam rollers are also important, says Rob. "They're great for stretching out post-workout, and can help reduce back pain, shoulder knots and other aches."
Whether it's a set of weights or a big piece of equipment, make sure you invest where you can, says Josh. "Rogue Europe has a great selection of equipment, as does Decathlon. Don't just buy the cheapest thing you see on Amazon, as it probably won't last. For gym inspo, a number of the CrossFit athletes have awesome home gyms – follow Rich Froning and Matt Fraser who regularly recommend great equipment and tech."
Feeling Inspired? Shop Our Edit Of At-Home Equipment Below…
DISCLAIMER: We endeavour to always credit the correct original source of every image we use. If you think a credit may be incorrect, please contact us at [email protected].