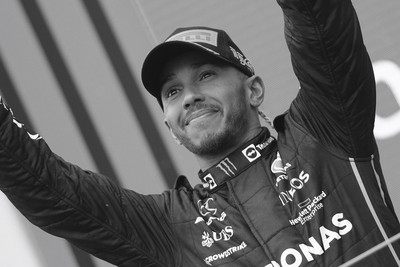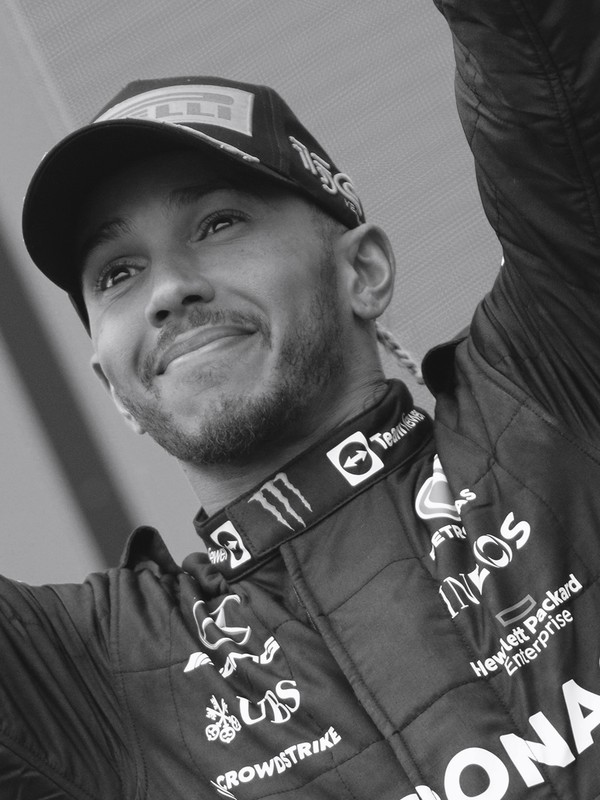 Lewis Hamilton's Health & Wellness Rules

---
Seven world titles. More than 100 Grand Prix wins. Lewis Hamilton is the most successful F1 driver of all time. He slowed down just long enough for us to talk health and fitness with him. So here it is: a man at the top of his game on what his daily routine looks like, how the pandemic changed his outlook – and why human beings really are capable of anything.

Photography
THILL ARTHUR/ATP/SPP/SHUTTERSTOCK
Staying fit and healthy is incredibly important to me. When I wake up, the first thing I do before I even get out of bed is drink a big glass of water. I then wash my face and do some yoga for about 20 minutes, alongside some general stretches. I'll also try to fit in a seven or 10-minute meditation each morning. Then I take a shower, or maybe I'll go on a run.
I try to train at least once a day – most of the time I can manage two sessions in a day. I always do cardio, which also helps me mentally. If I do 20 minutes of high intensity interval training (HIIT), I feel great afterwards, so I try to do that in the morning if my schedule allows. I find it just sets me up so much better for the day and clears my head to be able to focus. 
At Mercedes-AMG Petronas we also work out together as a team. Whether it's going on runs or doing circuit training together, we've found it's a great way to get everyone on a positive path and into a healthier routine. We all try to be a positive influence on each other – which is great, not only from a team perspective, but also because we bond on an individual level and get to know each other better.
Most of the time I follow a plant-based diet. I've noticed a real difference in my body as a result, too. My skin is clear, and I just generally feel better than I did before. I eat lots of vegetables and try to stick to organic when I can. I also don't drink alcohol and avoid junk food as a rule. If there's something I eat at least once a day, it's probably hummus and vegetables. Ultimately, it's all about putting routines and habits in place that can help me perform and be at my best – and diet is such a crucial part of that.
I'm not the best sleeper. I probably get about five hours a night max, which likely comes down to the fact that I don't often get to bed before midnight, and I find it hard to sleep in past 7am. What can I say? It's just the way my body works! To combat the problem, I try to sleep on the go, so for example, if I'm a passenger in a car or on a plane, I sleep. That's actually when I sleep the best – when I was a kid, my mum used to take me on a drive to get me to fall sleep, so it's probably a reflex that's stuck.
I've learnt that life is about balance. So, alongside my work, I look for other opportunities to be creative and let go. For example, I love music. I play the guitar and a bit of the piano – it's something I do to de-stress, and it really works for me. Whenever I can, I take a moment to do the things I love and tap into my creativity. I find it benefits so many other areas of my life.
Self-care is so important – even if that word's a little overused these days. There is so much going on in life and we can find ourselves constantly on our phones or checking emails, so getting away from all those screens is great. I also find that keeping physically and mentally fit allows me to spend more time doing what I love, such as skydiving and surfing, so I'd recommend anyone try as many things as possible to get out there and away from the daily grind. I can't tell you what it will do for your mind.
As humans, I believe we really are capable of anything. It might sound corny, but I feel like we can often limit ourselves – sometimes even subconsciously. With our thought processes, for example, we can get in our own way so easily by telling ourselves we're not good enough, not prepared enough, but if we remove some of the things that get in our way – some physical, some emotional – put good habits in place and create the healthiest routine possible, I honestly think we can achieve anything we want.
Because of my job and lifestyle, good hygiene has always been vital. That's obviously even more the case now, post-pandemic. It's so important to keep the team safe and functioning no matter the circumstances, and we need to keep the good work up to ensure we don't end up back in the same position. At Mercedes-AMG Petronas, we have a huge team that works incredibly closely together – from the drivers to the pit crew – and we need to make sure everybody stays as healthy as possible to achieve the results we all want.
INEOS Hygienics are our partner and support us with the tools to help us stay safe. What I like about them is they back everyone to go beyond the ordinary and live a life that reflects who they are at their best. It's an uplifting message and one that runs through all their products and their 'Limitless' campaign.
When I'm at home, I like to switch off as much as possible. INEOS has just released a new high-performance hand wash range, which is infused with a specific fragrance that helps to combat feelings of stress and fatigue – it's backed by science, so you can trust that it really works. I like all the scents in the range, but especially the White Rose + Neroli. I also love burning candles and incense. I always have those in my home.
If you're looking for a healthier, more proactive life, challenge yourself as much as possible. When we're not challenging ourselves or putting ourselves in uncomfortable positions, we're just standing still. Nothing changes. Ever since I was a child, I've always wanted to be moving. I like being out, getting energised and trying something new that I'm not that good at. 
It's part of the journey to feel like you've conquered something – it's hugely motivating and an impulse that's probably helped me achieve what I have in my career. You don't have to be an expert in something or the healthiest person on the planet to begin with, but I like to make an effort to always say 'yes'. It's a much more positive headspace to be in and now that the world has opened up again, we're seeing more and more people wanting to go beyond what's expected and live their best lives. I totally get that.
DISCLAIMER: We endeavour to always credit the correct original source of every image we use. If you think a credit may be incorrect, please contact us at [email protected].