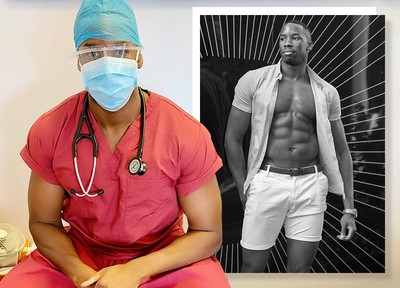 My Health Rules: Dr Emeka Okorocha

---
Dr Emeka Okorocha has spent the last year working on the front line in A&E. When he's not on call, he posts informative content about healthcare and medicine on social media, debunking myths and educating on everything from the Covid vaccine to HIV and bipolar disorder. He was recently named one of TikTok's top ten educators, is a regular on TV and radio, and a passionate spokesperson for the Black community. Here, he shares his health rules…

Medicine is in my blood. My grandfather was a doctor, my father is an obstetrics and gynaecology consultant, and my younger brother and sister are also medical students. As well as growing up with medicine, one of the main reasons I became a doctor was because I have always been fascinated with the human body, both the science and physiology. I've always had an urge to help people and make my mark on the world – I guess I felt medicine was the best way to do that.
Nothing could have prepared us for the events of the last year. I love working in A&E, and always have done, but it can be hectic, and the last year has been no exception. At the beginning of each shift, you're faced with a screen which shows the number of patients you need to see and assess in time and priority order. Patients can come in with any condition, which in normal circumstances is a good challenge, but the pandemic has been a year like no other. It's been testing on all the skills and techniques you learn in medical school, and there are skills you can't prepare yourself for. Breaking bad news, talking to patients' families and being able to work back-to-back shifts and still perform at optimum capacity has been a test. Not to mention the devastating trauma of losing colleagues. At the peak of the pandemic, we were assessing patients in ambulances due to a lack of space in A&E. Thankfully, things are now looking up, but it's been a year none of us will forget.
Staying healthy when working in A&E is a challenge. Shift work definitely makes things more difficult – you can't pop to the gym at lunchtime then pick up a sandwich from Pret. When I'm working in A&E, I can be working from 8am to 8pm, working nights or finishing at 4am. No two weeks are the same, so it's tricky to plan your week and you have to be on top of things if you want to stay well. However tired I am, I make an effort to fit in a quick 15 or 30-minute HIIT session either before or after work, depending on my schedule. A 15-minute workout may not sound like much, but done right it can be effective.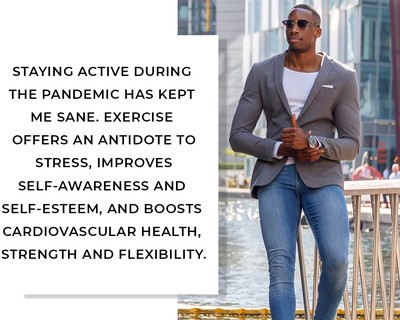 Staying active during the pandemic has kept me sane. Exercise offers an antidote to stress, improves self-awareness and self-esteem, and boosts cardiovascular health, strength and flexibility. To reap these benefits, you don't need to fit in an hour's workout – though that's great if you have the time. Any movement – whether a 15-minute HIIT session or 45 minutes of weight training – releases endorphins that heighten positive feelings in the body. Exercise has also given me control amid the chaos of the last year, and moving your body offers mental clarity. If you struggle to motivate yourself to work out, try the Freeletics app – it's like a PT in your pocket. Its algorithm means your workouts get progressively harder as your fitness and strength increases.
 
Balance is important when it comes to fitness. As much as I love cardio and working up a sweat, I make sure my weeks are balanced with plenty of strength work. Gyms are now open again which is great, but in the last year I've been doing predominantly bodyweight work in the absence of heavier dumbbells and kettlebells. When doing a bodyweight-focused workout, I'll do more reps and focus on bigger muscle groups, such as the chest and legs, for a real burn. Aesthetically, if I want to look more toned, I'll focus more on strength, but if I want to look more defined, I'll factor in more cardio, and include skips and sprints at the end of a strength session.
 
Don't forget about recovery. Staying fit is all well and good but taking a rest day is arguably the single most important part of any training programme. Recovery allows for improved performance, gives your body time to heal in preparation for your next session and reduces your risk of injury. All of these benefits mean you're more likely to set a new PB and reach your goals quicker. So many guys don't stretch enough after a workout – even ten minutes can make all the difference. Bonus points if you use a massage gun, which acts like a supercharged foam roller to ease sore muscles and get rid of excess lactic acid.
Being healthy extends to more than just your physical body. Being healthy means having an all-round balance, giving yourself the permission to grow and get better every day, and mental health plays a big part in this. Working in A&E exposes you to the stark reality that we need more outlets and avenues for men to come forward to talk about their mental health. Help needs to be offered for even the smallest worry, before it develops and people end up in A&E. I see so many men with mental health issues and, when you step back and look at their history, more often than not their issues could have been dealt with earlier if they'd only had the opportunity to come forward.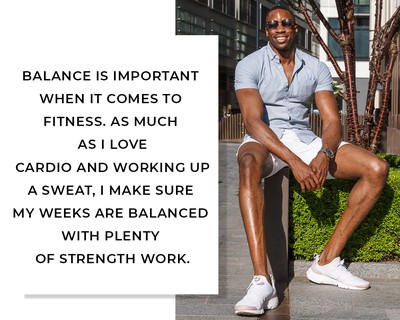 Mindfulness is important. I stay mindful by focusing on positive thoughts, breathing techniques and practising gratitude. Meditation is something I am learning to get better at – I recently started an audio course, which helps me relax and practise different mindfulness techniques. So far, it's proving helpful in particularly stressful or anxious moments. I am also religious and pray a lot, which helps too.
I don't follow a specific eating philosophy. On the whole, I eat as much organic food as I can and try to stay away from too much alcohol, coffee and sugar. I don't believe in very strict diets as they aren't consistent. As a doctor, I know your body will rebound. After you've done a fad diet – or reached your 'ideal' weight – chances are your body will revert back to how it was before. It sounds boring, but it really is all about balance. It's about eating what makes you feel good and what gives you the most energy. I always try to take lunch to work with me – usually some fruit, veg and a meal that contains carbs and protein to keep me going.
Supplements aren't always necessary. I try to avoid taking vitamins and minerals, and instead make sure I'm getting what my body needs through diet instead. If, however, you are looking to give your immune system a helping hand, it could be worth taking a multivitamin. Look for a formula that contains vitamins A, C, D, B12, B6, iodine and zinc. Wellman and Centrium are two brands I rate.
A protein powder can help you reach your goals more quickly. I was never the type of person to take a protein supplement, but I recently discovered that taking protein powder in a smoothie alongside consuming protein from natural sources makes a huge difference in terms of body composition. Protein is your body's building block – it will help you build strength and aid recovery.
Emeka is a brand ambassador to Europe's number one fitness app, Freeletics. For more information visit Freeletics.com and follow Emeka on Instagram
 
 
DISCLAIMER: Features published by SLMan are not intended to treat, diagnose, cure or prevent any disease. Always seek the advice of your GP or another qualified healthcare provider for any questions you have regarding a medical condition, and before undertaking any diet, exercise or other health-related programme.
 
DISCLAIMER: We endeavour to always credit the correct original source of every image we use. If you think a credit may be incorrect, please contact us at [email protected].