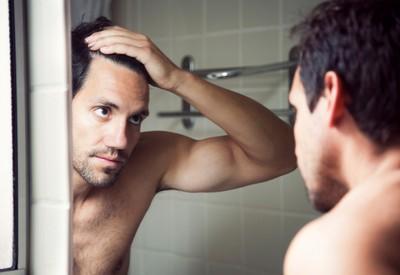 The Science-Backed Solution For A Thicker Head Of Hair

---
Losing your hair? You're not alone. Statistics show 65% of men will suffer significant hair loss by the age of 35. If you've noticed a few extra hairs in the plughole, don't panic. An exciting new treatment from the aesthetics experts at Ouronyx promises to slow hair loss and kickstart your follicles back into action. Here's what you need to know…
CREATED IN PARTNERSHIP WITH OURONYX 
01
Hair Loss Is A Slow Burner
According to the American Hair Loss Association, two-thirds of men will suffer from male-pattern baldness (aka androgenic alopecia) in their lifetime. Studies also suggest 25% of men affected by the condition begin to see the first signs of hair loss before the age of 21. "Losing your hair is a completely normal part of ageing," says Dr Marco Nicoloso, aesthetics expert at Ouronyx. "The condition affects everyone differently, but generally follows a set course, starting with a receding hairline and a thinning at the crown. The temples and the crown are the areas most sensitive to dihydrotestosterone, the hormone that causes male pattern baldness, which is why hair often vanishes there first but is left at the back and sides."
02
A Transplant Isn't The Only Solution
"Losing your hair can lead to panic," says Marco – you might have already thrown cash at shampoos and miracle products that claim to kickstart hair growth. But now some exciting developments mean a thicker head of hair doesn't have to mean painful procedures and foot-long bills. "If your hair is thinning, a hair transplant may seem like the only solution in terms of treatments, but there are other options.  Autologous Micrografting Technology (AMT) is a prime example: it uses regenerated cells extracted from your scalp to stimulate other areas that are losing hair." Worried a hair procedure is the height of vanity? Science suggests it could boost mood and confidence, too. "In a Canadian survey, men identified hair as being the primary link between their youth and attractiveness. Full-haired men tended to be more relaxed and confident. We're unconsciously biased to think that a healthy man has a full head of hair," explains Marco. 
03
Progenitor Stem Cells Are The Name Of The Game
"Hair transplants are invasive. The procedure is long, painful, expensive and requires careful maintenance, but AMT is a technologically advanced and effective new technique that's set to take the grooming scene by storm," says Marco. "It's all down to progenitor stem cells, which are highly specialised cells that help repair tissues in the body. Traditionally, there have been two ways of accessing progenitor stem cells –through bone marrow or fat. AMT, however, works by taking tiny skin grafts from the hair line between the ear and neck. These are placed in a special device and spun to extract the progenitor stem cells before adding them to a saline solution. This mixture is injected back into the scalp where hair is thinning. AMT is based on the premise that this cocktail can slow down hair loss and stimulate existing follicles to grow longer and thicker."
AMT will kickstart existing follicles into gear, so sparse areas on the scalp feel thicker and fuller after just three months.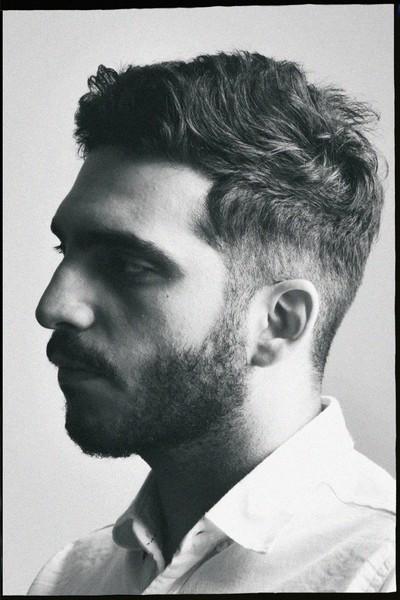 04
You'll Only Need One Treatment
AMT is carried out under local anaesthetic, takes around an hour (the injecting time is only 20 minutes) and considered 100% safe. "AMT is incredibly effective and far less invasive than a hair transplant. Plus, one session is usually all that's needed, although in some cases a second session within 18 months is recommended. AMT won't create new hair, but it kickstarts existing follicles into gear, so sparse areas on the scalp feel thicker and fuller after just three months, making it a cost-effective way to prevent hair loss before the onset of baldness," Marco explains.
05
It All Happens At Ouronyx
Should you book in for a treatment, it will take place at Ouronyx, the aesthetics destination which recently opened its doors on St James's Street. Checking into Ouronyx is like entering a private members club – there's no formal reception desk or waiting room, just a large space with calming minimalist interiors. Taking a fresh approach to aesthetics, the team believes people should feel empowered to invest in themselves, with treatments that make them feel and look healthier and revitalised. Whatever your treatment, you'll have access to state-of-the-art technology. Consultations are carried out in 3D with the most experienced doctors in the field of aesthetics globally, so you're in the best hands. 
Regenera Activa Autologous Micrografting Technology (AMT) costs £2,850 per treatment and is now available at Ouronyx. The team is currently offering complimentary consultations for a limited period and a 20% introductory discount on AMT. For more information, head to Ouronyx.com
DISCLAIMER: We endeavour to always credit the correct original source of every image we use. If you think a credit may be incorrect, please contact us at [email protected].