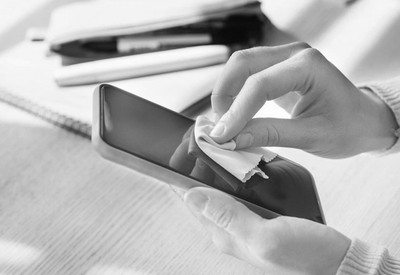 The Tech Gadgets You Need To Clean Now

---
It's pointing out the obvious to say working from home has made us more reliant on technology than ever before. Whether you eat your lunch while typing or have the odd snack at your desk, you'd be pretty shocked to see how unhygienic and dirty most people's keyboards and computers are. If it's been a while since you last gave yours a thorough clean – from the solutions to use to the nifty cloths and sanitising equipment to have on hand – here's what you need to know.

Photography
ISTOCK/FRESHSPLASH
SMARTPHONE & TABLETS
It might seem like an unnecessary expense to splash out on a dedicated cleaning solution for your phone or iPad, but it's important not to use things like window cleaning spray on your screen. Doing so could damage the oleophobic coating (which is what normally helps to stop fingerprints showing up). Instead, start by using an anti-bacterial wet wipe to get any sticky stains or residue off before you start polishing and buffing with a dry microfibre cloth in circular motions. Finally, don't forget to turn your device over and clean your camera lens, too, to avoid blurry pictures. Alternatively, if you don't want to fiddle around with cleaning solutions, swabs and cloths, there are some nifty gadgets on the market these days which sanitise your device using UV rays. Simply pop your device into the container and let it do the hard work for you.
 
LAPTOPS
Just like your phone or iPad, start by using a microfibre cloth to remove built-up dust and dirt from the lid and casing. Using a can of compressed air like this one can help to blow out any dust and crumbs from between the keys, or alternatively, use a small, specially-designed tech-friendly feather duster to get rid of loose debris. When it comes to cleaning the keyboard, use an antibacterial wipe (just make sure it isn't too wet so it doesn't damage the electrics underneath – you can always wring it out before using if you're not sure) or try some keyboard cleaning gel to lift off sticky residue. Bear in mind, however, that some manufacturers like Apple only recommend using a dry microfibre cloth on their products. If you use something else and end up damaging your equipment, you may find you've invalidated your warranty.
 
KEYBOARDS
If you're working off a desktop, a deeper clean of your keyboard – whether it's wireless or not – might be in order. If you're using a wired desktop keyboard, start by unplugging it. Tilt the keyboard upside down and shake it to remove any loose debris (do this outdoors or over a bin bag if you can). If you have a can of compressed air, you can spray it in between the keys as well. Then, dip a cotton swab into some gentle rubbing alcohol (not soapy water) and brush it around each key. If you're unsure of the alcohol's strength, try it on a small area first to make sure it doesn't cause discolour or remove the lettering on the keys. From there, dip a cloth into the alcohol and brush it along the tops of all the keys and surfaces, taking care to scrub heavily used areas (such as the Enter key and spacebar). Finally, use a dry, lint-free cloth to remove dust and polish the keyboard, before plugging it back in.
 
HEADPHONES
Whether you've got in- or over-ear headphones, you need to clean them – especially if you use them for exercise or find yourself on endless Zoom calls day after day. If your headphones have silicone ear tips, gently remove them and use warm soapy water and a clean cloth or a cotton bud to clean them. Leave them to dry properly before refitting them. If the earbuds are made of foam, use a clean, damp cloth (without soap) to wipe them, and let them air dry. Once you've removed the ear buds, or if your headphones don't have any, check the metal grilles on the earpieces. If they're dirty, use a soft, dry toothbrush to dislodge the dirt. Finally, if the cable on the headphones looks like it could do with a clean, dip a cloth in warm soapy water and slide it down.
 
USB & OTHER CABLES
While you're at it, give the rest of your loose cables a going over – whether it be USB ports, chargers or something else. Simply take an antibacterial wipe or alcohol swab (you can often find these as parts of medical first aid kits) and pinch the cable between it, (specifically between your thumb and middle finger). Drag down the length of the cable, as many times as is necessary to clean away the dirt and grime. Follow up with a microfibre cloth to ensure everything is dry before you refit it. 
 
ACTIVITY TRACKER
If you wear your fitness watch regularly, it will probably need cleaning. Just like with headphones, submerge a cloth in warm soapy water and wring it out before sliding it down the strap of your gadget, taking care to avoid the face or tracking element if it's not waterproof. If you've got a buckle with a watch-strap stem, it's worth dipping a cotton bud in warm soapy water and gentle cleaning solution to clean the holes the stem slots into, too. 
 
TELEVISIONS
It's tempting to use the same polish or glass cleaner you might use for the rest of your living space when it comes to wiping down the television screen. But glass cleaners can be corrosive, and many television screens have anti-reflective coatings that are sensitive to different chemicals. Instead, soak a microfibre cloth in water, wring it out and gently go over the television surface, working in circular motions. Don't forget to clean your remote controls, either – they can be crumb-filled or caked in sticky fingerprints and dust. You might even want to try dipping a cotton swab in a gentle alcohol or antibacterial solution and running it around all of the buttons.
 
SPEAKERS
Whether you have the Amazon Echo, an Apple HomePod, Google Home or Sonos, your smart speakers could undoubtedly use some freshening up. For devices with screens, like the Google Nest Hub and Amazon Echo Show 8, go over the screen with a specially designed screen-cleaning wipe and the fabric-covered parts with a plain microfibre cloth. For all-plastic devices like older-generation Amazon Echos, use a slightly dampened microfibre cloth, and if the grilles look dirty, dab them with some gel keyboard cleaner or Blu-Tack first.
 
GAMES CONSOLES/CONTROLLERS
First, dust off the console with a dry microfibre cloth. Then, go over it with another microfibre cloth which has been dampened in a small amount of water. Dip a cotton swab into the water and run it through any crevices. Moving onto the controllers, make a mixture of one-part water to one-part gentle rubbing alcohol and apply it to a microfibre cloth. Wipe down the controller thoroughly, before dipping a cotton swab into the solution and running it around the buttons and crevices. Stay on top of the problem with some antibacterial wipes – especially if members outside of your own household are using them.
 
For more government-approved cleaning advice during coronavirus, click here.
 
Shop Our Must-Have Tech Cleaning Solutions Below…
All products on this page have been selected by our editorial team, however we may make commission on some products.
INSPIRATION CREDITS: ISTOCK/FRESHSPLASH
DISCLAIMER: We endeavour to always credit the correct original source of every image we use. If you think a credit may be incorrect, please contact us at [email protected].