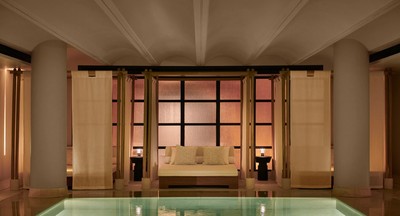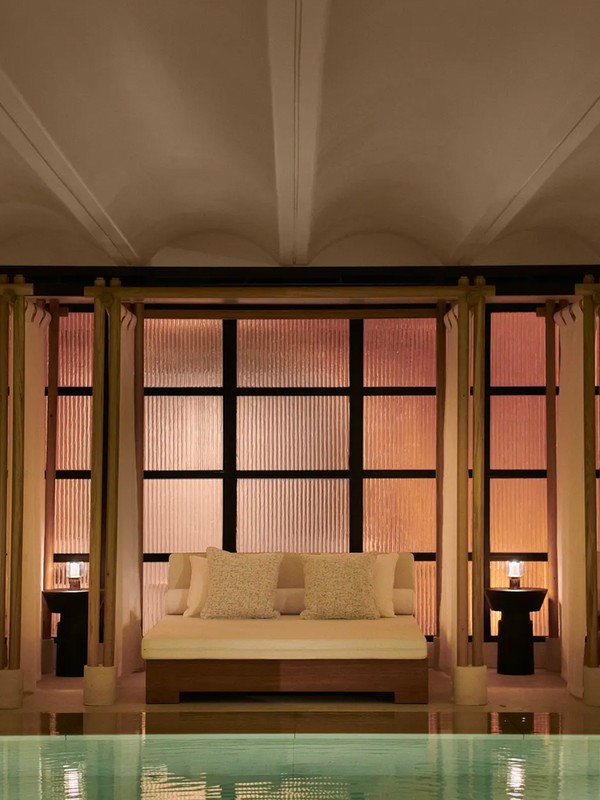 A Top Acupuncturist Shares His Health Rules

---
Ross Barr is one of London's most in-demand acupuncturists. Specialising in stress management, grief support, fertility, addiction and relationship issues, his Chinese medicine-meets-therapy approach is unlike anything else out there. From exercise to supplements, here's how he keeps his own health on track.

Photography
CLARIDGE'S HOTEL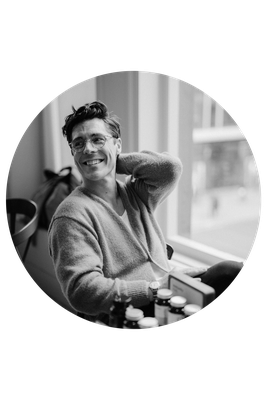 My day always starts with a bowl of porridge. My alarm goes off at 6am and I head downstairs before my two kids wake up to put the kettle on and start making porridge. This usually gives me 20 minutes before the onslaught begins. I do a couple of days of fasting at the start of the week, but thereafter I'm a creature of habit. I'm Scottish and porridge has been consistent in my life – even in the summer. I use it as a canvas to add various things to, especially decent honey. I'm always on the lookout for the best honey I can find – good honey is like medicine. The weekends, however, are made for eggs, sourdough and Marmite. Every week, without fail, I stock up on decent bread, butter, tea, oat milk and honey – I sometimes feel like I'm straight out of the 1940s. 
A cold shower gets my brain into gear. I alternate the hot and cold water for as long as I can stand it, which is anything between ten seconds and two minutes. I always make sure I have at least 30 minutes in the morning before I look at my phone or start thinking about the clinic or work. This way, you don't start the day reacting to external factors that keep your adrenaline pumping for longer. Doing a couple of small things for yourself before reaching for your phone can make a huge difference to you being proactive in your own design making. 
"I love alcohol and coffee but, when you do my job, you see the effects they have on the body, so I don't touch either during the week."
I try to avoid sugar and dairy. I've done this for as long as I can remember, but I've always felt the most peaceful and happy folk I've ever treated adhere to an 80/20 style of eating. I eat well during the week, but on the weekend I'll eat what I want. The 80% provides enough of a stable physiology that the 20% at the weekend won't upset the balance. I love alcohol and coffee but, when you do my job, you see the effects they have on the body, so I don't touch either during the week. Chinese medicine is big on the emotions you feel or express when eating – just as much as what you eat – and eating without guilt is hugely important. 
Boxing and reformer Pilates keep me on track. I do far less exercise than I used to but am happy with the balance I've found. I do a one-on-one boxing session once a week and two reformer Pilates sessions – for me, this is enough to keep me feeling strong and free from injury, and keeps the timber off. I always look forward to exercise. If you look at your diary and dread the exercise you've booked in, you're not doing what you're supposed to.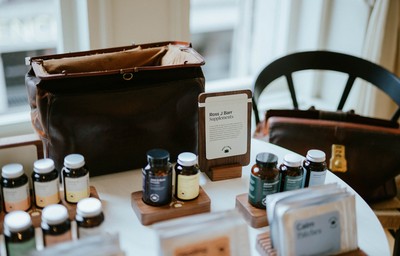 Kris Humphreys Photography
The right supplements should help you physically and emotionally. I specialise in Five Element Acupuncture, which works by stimulating your body's natural ability to heal itself. It believes symptoms aren't just emotional or physical – it's all connected. A physical symptom is just as important as an emotional one. For example, worry will often affect the digestive system. I take a lot of supplements to keep my mind and body on track. In the morning, I swear by my Adrenal Calm Formula and Stomach Support Formula, and then the Advanced Biotic Formula before bed. Alongside these, I'll take a mixture of medicinal mushroom supplements depending on my needs. Mushrooms are incredible – they've always been prominent in Chinese herbal medicine. In the West, we're usually a couple of thousand years behind, but they've been used for centuries.
Looking after your mental health has never been more important. I've always loved the Chinese medicine approach to treatment of the spirit – it's just as important as a good diet or regular exercise. There's a saying that if the spirit is well then the body can heal most ailments. In a nutshell, we must dedicate as much time to nurturing our spirit and having fun as we do with other areas of our health. I've seen so many people become obsessed with being healthy that it becomes its own imbalance and they become miserable. According to Chinese medicine, working with the seasons is a good way to tap into what your body needs. Summer is about getting out there and having fun, while winter is about consolidation and conserving energy.
"Try to avoid looking at your phone for the first hour of the day. This'll keep you from reacting to external factors that keep your adrenaline pumping."
Male fertility is a common problem I see with clients. Sperm rates are dropping at around 1% every year – studies suggest sperm counts are 50% worse than they were in the sixties. I treat a lot of men struggling with their fertility, and the stress and anxiety that goes with that journey. The reasons behind this decline are many – poor soil quality, increased stress and alcohol, over exercising, pollution, steroids, diet, obesity and toxins found in plastics to name a few.
Staying sane in a city like London takes work. It's a hell of a city to try and be healthy in. Any health you have you must create yourself. Do the basics right – eat well, go to bed early, go easy on the alcohol, drugs and coffee. When things are full on, I revert to 1990s methods of relaxation. For example, when we used to watch a film on VHS or DVD it would be the only thing we'd do and we'd commit fully to it, without being distracted by a phone or laptop. As a result, we'd get the full physiological benefit of sitting down and enjoying something for two hours. Meditation is often the gift of the healthy and, when we're up against it, it's often the first thing that goes out of the window and becomes something else to feel guilty about not doing. I try to get patients to find that 1990s middle ground by watching a movie at home with their phone in another room or going to the cinema. Or sit and read some fiction. I've noticed it's a good barometer for patients being well and balanced, when they can find time to read. 
Sleep cures a million ailments. I used to be petrified of the dark as a kid, but as I've gotten older and studied Chinese medicine, I've learned how important the dark is, and the peace that comes with it. It's amazing how many of us will avoid doing the things that make us better. Often, when we're not on good form, we faff and stay up late doing everything we can to avoid an early night. During the week, I go to bed at 10.30pm with a hard copy of a book – always fiction – and pop a couple of Sleep Patches on my temples. 
Nothing beats a spa treatment. I see my acupuncturist every six weeks for an MOT and love a bit of FaceGym. Claridges Spa does the most incredible treatment called Silk & Bone – I highly recommend it. I'm currently working on a partnership with Chenot in Switzerland and am heading out for seven nights in September to try its legendary wellness programme. It'll be the longest time I've spent on my own since my son was born nine years ago. I plan to smash some books, watch a lot of movies, all while they make the decisions for me. 
---
Shop The Expert's Edit...
DISCLAIMER: Features published by SheerLuxe are not intended to treat, diagnose, cure or prevent any disease. Always seek the advice of your GP or another qualified healthcare provider for any questions you have regarding a medical condition, and before undertaking any diet, exercise or other health-related programme.
All products on this page have been selected by our editorial team, however we may make commission on some products.
DISCLAIMER: We endeavour to always credit the correct original source of every image we use. If you think a credit may be incorrect, please contact us at [email protected].