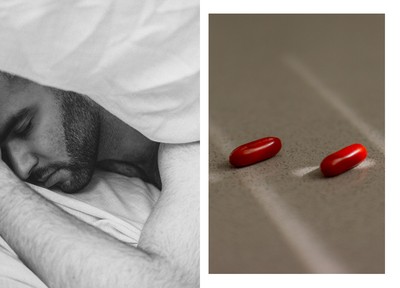 Two Natural Supplements For Better Sleep & More Energy

---
If you struggle to get a good night's sleep and feel sluggish during the day, supplement specialist Lumity can help. The British brand has recently expanded its product range, adding new booster formulas that work at both ends of the spectrum – supercharging your daytime brain power then helping you sleep well at night. Here's why Lumity is already a cult product and what sets its new offerings apart…

Photography
PHOTO BY 'MISTER MISTER' FROM PEXELS
CREATED IN PARTNERSHIP WITH LUMITY
Lumity Is A First-Of-Its-Kind Supplement
Founded by a Cambridge-educated PhD and research scientist who became fascinated with finding a solution to waning energy levels and ageing skin in her mid-thirties, Lumity has Morning and Night supplements that are industry-renowned. The result of years of scientific research, Lumity's hero product is a powerhouse of vitamins, minerals and botanicals designed to support skin health from the deepest level. Unlike your average supplement, Lumity supports your body round the clock: working as a two-step team (taken morning and night), the vitamin-rich formula delivers 24-hour repair and protection to your skin and immune system. The intelligent formula also repairs oxidative damage and supports strong bones, joints and teeth, while boosting mood and energy levels. The male version of the supplement contains additional ingredients to enhance men's health, endurance and vitality. These include L-citrulline for energy, pumpkin seed oil for prostate health, and taurine.
"A great addition to my supplement regimen. Definitely slept better and woke refreshed."
It Makes Staying On Top Of Your Health Easy
There are myriad supplements out there, but Lumity's hero formula stands out for its simplicity. You just need to take one supplement (in a two-step formula every morning and evening) for noticeable results in your skin, hair and nails as well as energy levels and mood. 
Meet The New Additions…
Lumity's new booster formulas – Power On and Restful Nights – follow in the original product's footsteps. Concentrated with high-quality functional nutrients for those days when life is stressful and you need a helping hand, the new pair will slot seamlessly into your current routine. Once again, Lumity has done the hard work for you, making boosting your health and mood easier than ever.
Restful Nights, £37
If stress levels are getting between you and a good night's sleep, Restful Nights is the booster to try. A scientifically calibrated combination of powerhouse ingredients – including magnesium, renowned for its anxiety-reducing properties, and Holy Basil, an adaptogen used for centuries to help the body better deal with stress – this intelligent formula will leave you feeling rested come morning. Added manganese supports the nervous system and psychological function, helping you feel calmer and in a better frame of mind the following day. As ever with Lumity, this formula is backed by science: in a four-week consumer trial of 60 subjects, 83%* agreed they fell asleep more easily, and 79%* said they had a deeper sleep. This one's rated by users too. One said: "This product results in deeper sleep and less tiredness during the day. It just seems to contribute to my overall wellbeing. I feel better in a way that's hard to describe."
*Based on a four-week consumer trial of 60 subjects.
Power On, £37
A sure-fire way to kick-start flagging energy levels, the new Power On Booster is ideal for those days when you need something extra. A unique blend of vitamins (B6, B12 and C, plus riboflavin, niacin, pantothenic acid, folic acid and iron) it will provide a gentle supply of energy throughout the day, reducing tiredness and improving mood. Did you know stress saps your energy levels? This genius supplement counteracts that, leaving you in a better and more balanced frame of mind, and also contains coenzyme Q10 and panax ginseng, both of which are prized for their fatigue-fighting powers. One user said: "For the first time in weeks, I have woken before my alarm goes off feeling refreshed and ready for the day." Another said it was the extra boost they'd been looking for, helping them feel calmer and more measured.
Why you Should Give Them A Go:
The new boosters are quite literally 'boosters' formulated to give you an extra edge when you need it. They're designed to be taken alongside Lumity's hero formula so take all three together and you'll have more energy and an enhanced focus to do the things you love, with no more afternoon slumps and better sleep at night.
 
For more information, visit LumityLife.co.uk
 
DISCLAIMER: We endeavour to always credit the correct original source of every image we use. If you think a credit may be incorrect, please contact us at [email protected].