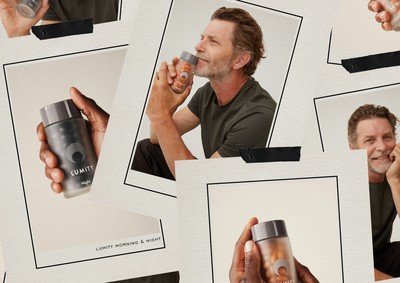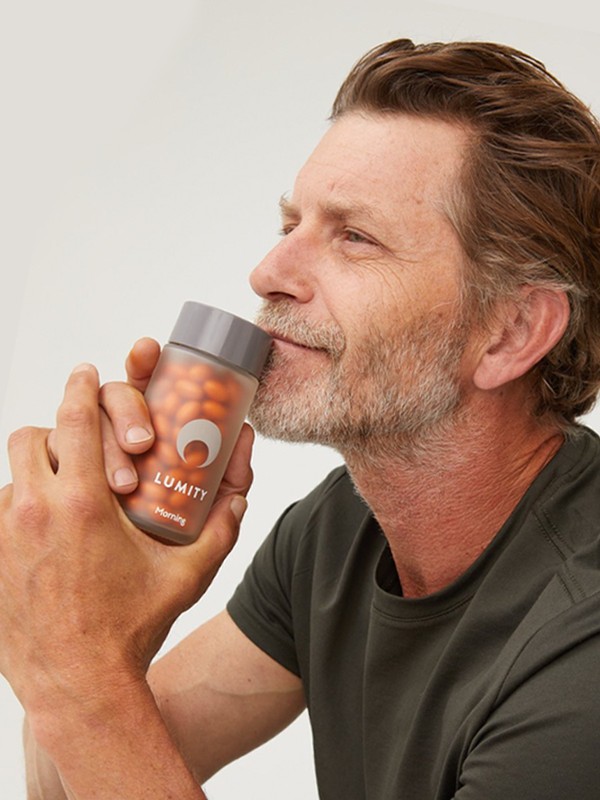 The Ultimate Supplement For The Modern Man

---
A supplement that supports immunity, improves energy levels, enhances metabolism and boosts the condition of your skin, muscles and bones may sound too good to be true, but that's exactly what Lumity does. Developed by a Cambridge University scientist, it's unlike anything else out there. Here's why…

Created in partnership with Lumity
Tell us more about Lumity…
Founded in 2016 by Cambridge PhD scientist Dr Sara Palmer Hussey, Lumity is the result of years of scientific research. Dr Palmer Hussey became fascinated with finding a solution to waning energy levels and ageing skin, and soon discovered that a lack of sleep, a busy schedule, and factors like too much caffeine and sugar, were all speeding up the ageing process. Lumity's hero supplement – the Morning & Night Male Supplement – is a first-of-its-kind blend of vitamins, minerals and botanicals designed to support health from all angles and slow the ageing process, helping you feel and look better. 
So, what's in it?
Lumity's Morning & Night supplement goes above and beyond with two separate sets of ingredients to support your body at different times of the day. A team of 29 powerful vitamins, minerals, omega-3s and amino acids, the science-backed formula delivers real results. The morning softgels contain a powerhouse blend of ingredients that help reduce fatigue; support strong muscles and joints; keep your skin healthy; enhance brain power; and boost your body's resilience to stress. The night softgels, meanwhile, give your body the support it needs while you sleep. As the body rests, nutrients in the night softgels support your body's natural repair processes, which in layman's terms translates to benefits like clearer skin, less brain fog, and more resilience to colds and viruses.
What's the science behind it?
The magic lies in the dual formula, which supplies the body with the right nutrients at the right time, in line with your circadian rhythm, for optimum health. This means more energy and increased focus to do the things you love during the day, and better rest and recovery at night. The statistics speak for themselves – in an independent clinical trial, 92% of participants noticed a significant improvement in the condition of their skin, hair and nails, while 84% felt more energetic, and 84% saw higher immunity and improved emotional balance.
How quickly will you see results?
Recommended by leading nutritionists and skincare specialists, Lumity really does work. Clinically tested to deliver tangible results, the benefits can be seen and felt quickly. In the first four weeks, you can expect better energy, improved sleep and enhanced mental performance, including focus and clarity, and by the 12-week mark, your skin, hair and nails will look better, while stamina, hormonal balance and immune strength will also be markedly improved. With continued use, the benefits of Morning & Night are sustained. 
How do you take it?
It's simple – take four softgels in the morning with a glass of water to enable the day formulation to support your body whilst in active mode, and then take four night softgels at the end of the day to support the repair process. Plus, each softgel is suspended in oil, not only meaning maximum absorptions but also that they can be taken on an empty stomach.
"Amazing products. I feel significantly less tired and have a constant flow of energy throughout the day."
- Jamie, Lumity Morning & Night Customer
Who's it for?
Whether you're in need of a winter immunity boost, are looking to support an active lifestyle, or you burn the candle at both ends and are in need of a 360° solution to your health, Lumity is for you. Plus, with thousands of five-star reviews, a celebrity following (Jamie Redknapp is a fan) and the backing of leading scientists, rest assured it delivers.
Anything else?
Lumity is good for you, and the planet. The formula is free from any nasties, making it a natural and science-backed way to improve your health. Plus, investing in a long-term approach is key for the best results, it's available as a subscription, so you'll never miss your daily dose. Your first order comes with reusable glass bottles which can then be topped up with plastic-free refill pouches.
Start your Lumity journey today and get 20% OFF when you subscribe. Use STRENGTH20 at checkout. Visit LumityLife.co.uk.
DISCLAIMER: Features published by SLMan are not intended to treat, diagnose, cure or prevent any disease. Always seek the advice of your GP or another qualified healthcare provider for any questions you have regarding a medical condition, and before undertaking any diet, exercise or other health-related programme.
DISCLAIMER: We endeavour to always credit the correct original source of every image we use. If you think a credit may be incorrect, please contact us at [email protected].