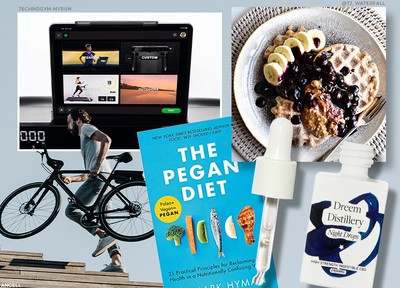 What's New In Health & Fitness This Month

---
From supplements that supercharge cognitive function to the world's first silent treadmill, here are the products changing the world of health and fitness in March…

Dreem Distillery
Dreem Distillery is the first CBD company in the UK to focus exclusively on sleep. Its CBD Night Drops come highly recommended. Two years in the making, the 2,400mg broad-spectrum formula contains a unique form of CBD that has been shown to reduce anxiety, provide relief to a restless mind and create a sleep-inducing effect. Unlike other CBD tinctures on the market, these drops have a subtle peppermint flavour, making them easy to take without an earthy aftertaste.
Visit DreemDistillery.co.uk
TJ Waterfall
If The Game Changers, Netflix's controversial documentary about the connection between plant-based eating and performance, still weighs on your mind, TJ Waterfall is worth a follow. A sports nutritionist for world-class plant-based athletes (think Team GB Olympians, Premier League footballers and endurance athletes), his message is simple: eat less meat and more plants to excel in your training. Head over to TJ's Instagram and you'll find plenty of recipe inspiration and top tips for better health, while his book, The Plant-Based Power Plan, is a fascinating read. TJ is also available for online consultations if healthier living is your goal.
Follow @TJ_Waterfall
The Pegan Diet
Mark Hyman is a bestselling author and thought leader in the health world. His latest book discusses the power of using food as medicine to overcome chronic disease. The Pegan regime – its name reflects the elements it takes from both vegan and Paleo diets – claims to be the answer to optimal health and longevity. Featuring recipes and plenty of information, Hyman dives deeper into the diet in an easy-to-follow, fad-free way.
Visit Amazon.co.uk
Angell
Dubbed one of the smartest bikes in the world, Angell's high-tech e-bike has been built with the city dweller's needs in mind. Weighing less than 16kg and rechargeable in just two hours, it's light for an electric bike, and designed for safety, offering a fall detector and alert system. Boasting speeds of up to 25 kph as well as three riding modes – free ride, navigation and sport – and an automatic lock-up, visual alarm signal, geolocation and motion detectors, no detail has been left behind.
Visit Angell.Bike
Indi
Indi is cutting through the health noise with a forward-thinking supplement range inspired by indigenous foods that are prized for their phytonutrients, vitamins and minerals. In a curated line-up of four supplements, each formula is made from 100% plant-based, real-food ingredients to ensure they're recognised by your body for optimal uptake. We can't get enough of Mind, a cocoa and berry-flavoured powder brimming with nootropics to boost blood flow, improve alertness and working memory, while Build, with 18g of pea and chickpea-based protein, has been designed to speed up post-workout recovery.
Visit IndiSupplements.com
Technogym MYRUN
There's a lot to love about Technogym's latest piece of kit, the intelligent MYRUN. From a clever running surface that adapts to the way you run to shield your joints, to studio-worthy workouts displayed via your console, to silent technology that'll keep the whole house happy, it's the ultimate piece of kit for your gym. Plus, it's the only treadmill in its category with low environmental impact – thanks to a stand-by mode that reduces power consumption.
Visit Technogym.com
Tweakd
Like your own personal nutritionist, Tweakd delivers macro-balanced meals direct to your doorstep. They'll be aligned with your goals, whether you're looking to enhance recovery, build muscle or support optimal immunity. With meals curated by an elite sport chef and a nutritionist, expect the likes of massaman duck curry, falafel bowls and chicken satay. Meals arrive frozen for optimal freshness, and each dish comes with a freshly made juice for a nutrient boost. Prices start from £9.50 a meal.
Visit Tweakd.uk
Tent Nutrition
The brainchild of a team of grooming, nutrition, fitness and pharmacology experts, Tent supplements aim to boost health from the inside out. With formulas designed to improve hair strength, skin quality and sleep, there's something for everyone and the ingredients are second to none. HAIR, for example, is concentrated with a unique blend of vitamins and minerals to reduce hair loss, thicken hair and promote a healthier scalp. Made in small vegan-friendly batches that are free from bulking agents, sugar and gluten, you can rest assured you're getting the best quality.
Visit TentNutrition.com
T2 Iso-Trainer
Still not managed to get your hands on a TRX? This clever piece of kit is the alternative to know. More than just a suspension trainer, the Iso-Trainer uses isokinetics (i.e. a constant level of resistance no matter the effort) and isometrics (fixed-position muscle tension) to deliver an impressive range of exercise options. The steel buckle in the middle adjusts the amount of force you can apply, meaning both beginners and fitness pros can get a decent workout. Use this all-in-one solution for everything from plyometric training to mobility work. 
Visit T2IsoTrainer.com
DISCLAIMER: Features published by SheerLuxe are not intended to treat, diagnose, cure or prevent any disease. Always seek the advice of your GP or another qualified healthcare provider for any questions you have regarding a medical condition, and before undertaking any diet, exercise or other health-related programme.
All products on this page have been selected by our editorial team, however we may make commission on some products.
DISCLAIMER: We endeavour to always credit the correct original source of every image we use. If you think a credit may be incorrect, please contact us at [email protected].