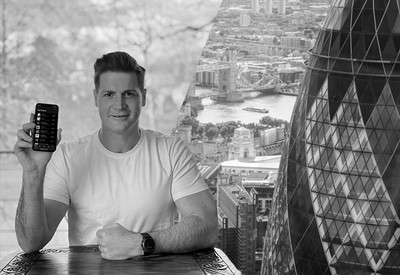 11 Business Lessons From The Founder of Zilch

---
Philip Belamant is co-founder and CEO of Zilch, a fintech start-up that recently achieved 'double unicorn' status when a round of funding valued it at $2bn. Here, Philip shares the business lessons he's learnt so far.

Photography
MOONSTONE IMAGES/ISTOCK
We're a buy now, pay later (BNPL) provider like Klarna or AfterPay, but we're different because we're a direct-to-consumer proposition. Our customer is not the retailer – it's the consumer. That means we can more closely align ourselves with the goals of consumers, not companies. It helps us lend more responsibly because we don't have retail companies demanding we approve more people at the checkout.
02
Know Your Target Audience
Our target audience is something we're acutely in tune with. Typically, they're millennials or Gen-Zs, aged 25-35, and they are some of the most well-informed people on the planet – regardless of what people want to say about this age group. They refuse to overpay for anything. That's why we've built a model we believe is the most affordable way to defer payments that the world's ever seen.  
We've never been interested in setting up a copycat company. At the beginning, the question was: how can we disrupt the entrenched incumbents in the BNPL spaces who have signed up lots of retailers already? There were two possible answers to this. The first was to build our own network in a niche category to encroach on the bigger players – like Airbnb going after Booking.com. The second was to try to make the existing network null and void overnight – like what's happened to Skype as a result of Zoom. We decided to go down the second route.
Our target audience is something we're acutely in tune with. Typically, they're millennials or Gen-Zs, aged 25-35, and they are some of the most well-informed people on the planet.
We still essentially make our money from retailers though, because we don't want to charge the customer. We've built a very sophisticated platform which helps our customers spend at the retailer of their choice without changing anything on the retailer's side, but we earn a proportion of revenue from that sale. It works very similarly to a scaled-up version of affiliate links, which influencers have used for many years now.
It takes a huge amount of energy to raise money and the past couple of years hasn't made this any easier – believe me! At the beginning of 2020, we started talking to a couple of venture capital firms about series A funding. It wasn't our preferred route because these firms can be quite aggressive and, once you've agreed terms, you end up working for them. In the end, we had a reputable firm write us a term sheet in February 2020, but they reneged on the deal when Covid hit. Needless to say, that re-energised us to look for an alternative route. We decided to fund ourselves for longer and look at the market again in the middle of 2020. We had to do the whole thing on Zoom – it was probably more than 250 calls in total, sometimes ten a day – and went out to a couple of smaller, family-run businesses to raise the money and get a couple of venture capital firms on board too, with very simple terms on the table.
06
Get Ahead Of Potential Problems
We got our consumer credit licence two years ago. That means Zilch is one of the only BNPL providers in the UK with a consumer credit licence – because so far, it's not a regulatory requirement, it's just something we thought was a smart decision and worth doing. It's the kind of approach we find resonates far better with customers – they want to work with a company that did something because it knew it was the right thing to do, not because the regulator told it to.
Yes, we've come up with a compelling proposition for the BNPL market, but there has also been an enormous amount of luck involved too. I think that's necessary for any growing business – we've caught a fantastic tailwind in the way the market's grown in the last few years. It's what helped us double the numbers we promised our investors from the series A fundraising and helped move us onto a series B. The two things – trends and performance – have dovetailed nicely, and that's often the key to success. Our series B round was substantially oversubscribed and some major players came into the business, like Goldman Sachs. It felt like a moment when something changed for us as a business and helped us move towards series C, which we just closed at the end of 2021.
There has also been an enormous amount of luck involved too – something that's necessary for any growing business – and we've caught a fantastic tailwind in the way the market's grown in the last few years.
It can be tempting to get ahead of yourself when you see numbers growing as fast as ours. In the UK, we've signed up more than 2m customers in the space of 13 months. That's not just faster than competitors like Klarna; it's faster than challenger banks like Revolut. We're now going to double down our focus on the UK to make our customer support the best it can be. Our Trustpilot reviews go back to the whole company in real time, so we know we're working on the right things. From there, we want to really focus on expansion into the US, but we're not naïve about how challenging that could be. Others have tried and failed, and it's an incredibly competitive market. The last fundraising was all about solidifying our work in the UK and giving us headroom to pursue growth in the US. Our US office will be in Miami, but London will always be our HQ.
Every single member of our team is an owner of the business. Once each employee completes probation, they are offered shares in the company so that whenever the share price appreciates or we close a funding round, everyone benefits. It's one way to really incentivise your workforce – the business is theirs as well, so they don't worry about answering their phone on a Saturday. There's a lot of lip service given to building healthy work environments these days, but not many companies introduce meaningful measures that help motivate their employees.
I have started previous businesses as a sole founder and that has brought a lot of pressure. At Zilch, I have a co-founder who contributes at just the level I need them to. Entrepreneurship can be really lonely – no one ever says thank you to you, it's always you thanking the team – but having someone there when things are going a bit wrong means the weight is on someone else's shoulders too.
 
At the end of the day, a lot of success comes down to attrition. It's about putting the time – the famous 10,000 hours – into knowing more than anyone else in the room. I don't mean get up at 4am to accomplish everything in one day, but the business has to be your main focus all the time – at the weekend, on holiday – so you have to enjoy it. Luck will still play a part, but if you're not putting in the effort, it will all be a matter of luck – which probably won't work out. The more you put into it, I find the luckier you get.  
DISCLAIMER: We endeavour to always credit the correct original source of every image we use. If you think a credit may be incorrect, please contact us at [email protected].