12 BBQ Recipes For The Bank Holiday

---
It's a bank holiday week, so we asked some of our favourite chefs for their best BBQ recipes. From Indian lamb chops and veggie hot dogs to Tom Aikens' ultimate BBQ sauce, here are 12 ways to raise your BBQ bar this weekend.
Sameer Taneja, Benares
BBQ Indian Lamb Chops (Serves 2)
INGREDIENTS
For the marinade:
20g of red chillis
20g of ginger
20g of garlic paste
15ml of oil
10ml of lemon juice
7g of papaya paste
15g of roasted gram flour
5g of garam masala
5g of kashmiri red chilli powder
3g of turmeric powder
3g of salt
3g of chaat masala
METHOD
Make a paste with the marinade ingredients and mix with the lamb cutlets. Marinate for at least two hours.
Cook the lamb chops on the barbecue for 2-3 minutes each side.
Rest the meat and baste with butter and chaat masala before serving.
Visit BenaresRestaurant.com
 
Adam Byatt, Trinity
BBQ Leg of Lamb (Serves 4-5)
INGREDIENTS
1.5kg of butterflied leg of lamb
1 bunch of mint
1 bunch of flat-leaf parsley
2 garlic cloves
2 unwaxed lemons
4 canned salted anchovy fillets
Olive oil
Sea salt
METHOD
Pick the leaves from the mint and parsley. Peel the garlic. Grate the zest of the lemons and squeeze the juice.
Place all these ingredients in a mortar and pestle, although you can also use a blender. Grind or blend them together with the anchovies, a good glug of olive oil and some salt.
Rub the mix vigorously into the lamb, on both the meat and skin sides. You can cook the lamb straight away, but ideally you should cover and marinate it in the fridge overnight. If you choose to leave the lamb overnight, make sure you bring it to room temperature for about 30 minutes before cooking.
Get the BBQ going at full capacity, then place the lamb (marinade and all) skin-side down on the grid and cook for 12 minutes until golden brown.
Turn the lamb over and cook on the other side until this is also golden brown, which should take another 10 minutes.
Pull the lamb to a cooler part of the barbecue and cook for a further 10 minutes.
Remove and allow to rest for 10 minutes.
Slice the lamb into 10-12 pieces across the width of the meat and serve with a minted new potato salad. Alternatively, a simple and light salad of tomatoes and olives will work well. 
Visit AdamByatt.co.uk
 
Sabrina Ghayour
Spring Onions With Hazelnuts, Lime & Honey Dressing
INGREDIENTS
12 spring onions
30g of blanched hazelnuts
For the dressing:
1.5 tbsp of olive oil
Juice of half a fat lime
1 tbsp of clear honey
Maldon sea salt flakes and freshly ground black pepper
To garnish:
2 pinches of pul biber chilli flakes
Zest of 1/2 an unwaxed lime, finely grated 
METHOD
I love spring onions – in everything, on everything and with everything. Traditionally we eat them raw with bread and feta cheese as staple fare of the Persian table. Griddling or BBQ-ing them mellows out the oniony flavour and intense charring works beautifully with the sweetness of cooked onion flesh. Chargrilling them on a BBQ is ideal, but you can also cook them easily on the hob in a griddle pan.
The dressing for this delicious salad combines well with the grilled onion, and the toasted hazelnuts add a satisfying crunch. This dish is great served alone or as an accompaniment at any time of year. Simply mix all the dressing ingredients together and drizzle over the charred onions. Top with the hazelnuts, zest and chilli flakes.
Visit SabrinaGhayour.com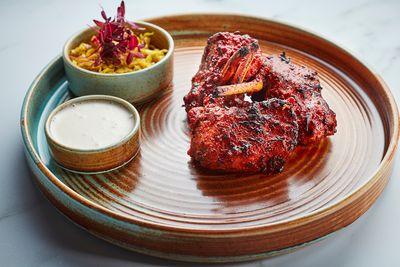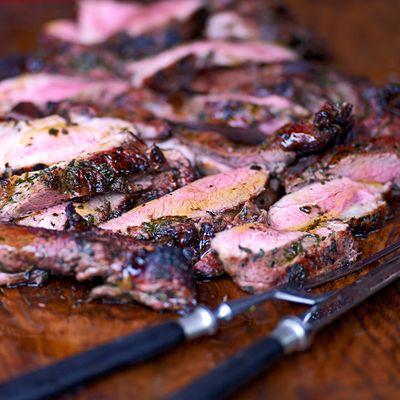 Justine Murphy, Mymuybueno
Prawns With Chilli, Ginger & Garlic Butter (Serves 4)
INGREDIENTS
100g of unsalted butter, chopped and softened
2 cloves of garlic, peeled and grated
1cm of ginger, peeled and grated
1/2 red bird's eye chilli, finely chopped
1/2 tsp of flaked sea salt
1-2 tbsp of fresh parsley, finely chopped
1 tbsp of sunflower oil
16 large raw prawns, deveined with shells on
Grind of black pepper
1 lemon, cut into wedges
METHOD
Place the butter, garlic, ginger, chilli and salt in a small saucepan over a medium heat until the butter has melted and is bubbling. Remove the pan from the heat and stir in 1 tbsp of chopped parsley.
Heat a BBQ or griddle pan and, using a silicone brush, brush the grill rack or pan with the sunflower oil.
Thread the prawns onto 16 metal skewers from the tail, so the heads are at the top of the skewer. Place each prawn skewer on the heat and cook for 3 minutes on each side, until they are pink and you can see some charring. Brush the prawns while cooking with your flavoured butter. If they are really large prawns, you can cook them for a little longer, but it's better to undercook fresh prawns –the residual heat will finish the process – than to overcook them, making them hard and dry. 
Place the cooked prawn skewers onto a platter and pour over the remaining flavoured butter. Top with parsley, a pinch of salt and a grind of black pepper.
Serve with the lemon wedges. These are delicious peeled and dipped in aioli. Have a finger bowl and lots of kitchen paper available.
DJ BBQ
Plant-Based Chilli Dogs (Makes 6)
INGREDIENTS
400g of Meatless Farm mince
1 pack of Meatless Farm sausages
Olive oil
1 medium onion
1 bunch of fresh coriander
1 fresh red chilli, deseeded
2 cloves of garlic, peeled
1 tbsp of tomato puree
1 tbsp of ground cumin
1/2 tbsp of ground coriander
1/2 tbsp of cayenne pepper
2 x 400g tins of chopped tomatoes
Soy sauce
Salt & black pepper
Soured cream
Cheese
6 sausage buns
METHOD
Place a cast-iron casserole pan on the BBQ and add a good drizzle of oil to the pan. When it's heated, fry the plant-based mince for 8-10 minutes and set aside. 
Finely chop the onions and fry for about 5 minutes in the pan, or until soft. Meanwhile, finely chop the coriander, chilli and garlic. Add it all to the pan and fry for a further 2 minutes, then add all the spices and mix everything together.
Add the cooked mince and give it a good stir. Then add the chopped tomatoes and a splash of soy sauce (if you have it) and stir. Cover the pan and allow to simmer for 20 minutes to 1 hour (chilli is best cooked low and slow), stirring occasionally and adding a bit more water if it's drying out too quickly.
While the chilli is cooking, place the sausages on the grill and allow to cook for 8-10 minutes, placing the BBQ lid down and turning occasionally to allow for a good char.
Place the cooked sausages in the buns. Season the chilli to taste and cover the sausages. Sprinkle cheese and extra coriander or try a dollop of soured cream. Play Johnny Cash's 'Ring of Fire' and enjoy your fine creation. 
Visit DJBBQ.com
 
Ben Tish, The Stafford & Norma
Wild Garlic & Mustard Oil BBQ Flatbread
INGREDIENTS
250g of spelt or strong white flour, plus a little extra for dusting and mixing
1 tsp of salt
1 tbsp of full fat yogurt
20ml of mustard oil, plus extra to finish (or use extra virgin olive oil)
175ml of warm water
1 packet of instant yeast
150g of wild garlic leaves, washed and roughly chopped
15g of yellow or black mustard seeds, lightly toasted
METHOD
Bread making is incredibly therapeutic and calming. It's something you do when you've got time on your hands, which at the moment we have. The recipe has a nice warmth to it from the mustard oil and seeds. The wild garlic is optional but do try to track some down – it's bang in season and utterly delicious. This goes great with sweet dishes, summery BBQ salads and BBQ-ed meats and veggies.
Mix all the ingredients together in a bowl and give it a knead on a lightly floured surface for a few minutes, until smooth and springy. You may need to add a bit more than the 250g flour (just a dusting) as the wild garlic adds more moisture. You want a smooth, springy dough.
Leave the dough in a warm place for an hour or so until it has roughly doubled in size. 
Knock back the dough and divide into 4 pieces. Roll the dough balls flat (about 0.5cm) and cook for 2-3 minutes on the hot embers until browned on each side. They will start to puff up when ready. 
Serve drizzled with more mustard oil, wild garlic, mustard seeds and sea salt on top.
Visit TheStaffordLondon.com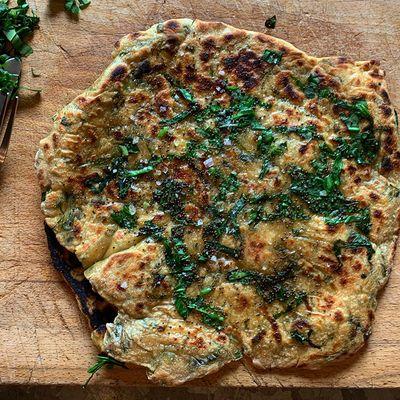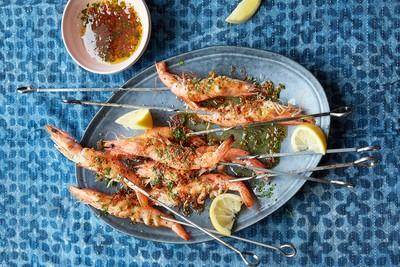 Theo Randall, Theo Randall at the Intercontinental
Spiedino Of Sausages (Serves 2)
INGREDIENTS
2 sturdy sticks of rosemary, 20cm long
6 x 2cm cubes of sourdough bread
6 slices of pancetta
4 Tuscan sausages, each cut across into 4 pieces (Use fat, well-seasoned Tuscan sausages, which are made with a combination of cured and fresh meat. You can get them from most Italian delis.)
4 plum tomatoes, cut into quarters
For the cannellini bean salad:
1 x 400g tin of cooked cannellini beans, drained and rinsed
1/2 large radicchio, leaves separated
1 bunch of dandelion, washed and trimmed
1 head of romaine lettuce, cut into 2cm slices
1 tbsp of coarsely chopped mint
1 tbsp of balsamic vinegar
3 tbsp of extra virgin olive oil
1 chopped red chilli, seeds removed.
METHOD
Light your BBQ an hour before cooking the spiedinos. 
Remove the leaves from the rosemary sticks, except for the leafy top.
Wrap each cube of bread in a slice of pancetta. Thread the pieces of sausage, pancetta-wrapped bread and tomato quarters onto the rosemary sticks, alternating the ingredients and dividing them equally between the sticks.
Lay the rosemary skewers on the outsides of a hot BBQ and cook slowly on both sides, making sure the sausage and bread do not burn.
Meanwhile, make the cannellini bean salad. Combine the cannellini beans, dandelion heart of romaine slices, radicchio leaves and mint in a salad bowl. Dress with the balsamic vinegar, olive oil and seasoning.
Serve the skewers hot with the salad on the side. Add some chopped fresh chilli and a drizzle of olive oil.
 
Visit TheoRandall.com
 
Ioannis Grammenos, Heliot's Steak House
BBQ Steak (Serves 2) 
INGREDIENTS
2 x 300g steaks
1 tsp of dried oregano
1 tsp of dried thyme
1 crushed clove of garlic
A little fresh rosemary
Sea salt
Peppercorns
METHOD
Get your steaks out of the fridge two hours before cooking to bring them to room temperature. This will help them to cook faster and stay juicy.
Sprinkle your steaks with salt, oregano and thyme on both sides (the dried herbs will give them a delicious smoky flavour), lightly pressing to ensure the herbs stick to the steak. Drizzle with a little olive oil. If possible, leave them to marinate for 30 minutes or so before cooking.
When preparing your BBQ, spread the charcoals to ensure they cover the same amount of space as your steaks will on the grill – this will ensure an even cooking. The BBQ is ready to use when you can feel the heat as you pass your hand above the grill rack.
Put your steaks on the grill. Sprinkle over the garlic, rosemary, salt and a few peppercorns, and let them cook for 2 minutes. You will see the side of the steak that is fireside will be caramelising nicely. After 2 minutes, turn your steaks 90º and cook for a further 2 minutes. 
Next, flip the steaks over and repeat this process (cooking for around 4 minutes in total). When the juices start to run, this is a good sign that your steaks are ready. Transfer them to a metal rack and let them rest, just as you would if pan-frying them.
While your steaks are resting, grill some fresh vegetables to make the most of the residual heat. Enjoy everything with a nice bottle of red.
 
Visit HippodromeCasino.com
 
Tara Smyth, The Duke's Head, Sussex 
Whole Mackerel, Fennel & Red Onion Salad
INGREDIENTS
For the mackerel:
1 whole mackerel per person, scaled and gutted
Fennel tops, leftover from the salad
Parsley stalks, leftover from the salad
1 garlic clove
Slice of lemon
Rapeseed/vegetable oil (not olive)
Sea salt and pepper, to taste 
For the fennel & red onion salad (serves 4):
1 fennel
1 red onion
Juice of 1/2 lemon
White wine vinegar, to taste
Rapeseed oil, to taste
Sea salt, to taste
For the salsa verde:
1-2 cloves of garlic
2 big handfuls of fresh flat-leaf parsley, picked off the stalks
1 small handful of fresh basil, picked off the stalks
1 small handful of capers
1 small handful of cornichons
4 quality anchovy fillets
1 tbsp of dijon mustard
3 tbsp of red wine vinegar
8 tbsp of quality extra virgin olive oil
Sea salt (if needed)
 METHOD
First, make the fennel and red onion salad. Finely slice the fennel and red onion, using a mandolin if available. Season with sea salt and mix through, scrunching the vegetables lightly as you go. Add the fresh lemon juice and dress lightly with the vinegar and oil as you would a leaf salad. Taste and adjust the seasoning and sharpness as required.
To make the salsa verde, chop everything as finely as possible and mix together. Salsa verde can also be made with a high-powered liquidiser or with a stick-blender (a low-powered one will just bruise the herbs, turning your salsa verde brown). Add all your wet ingredients to the liquidiser/bowl, then gradually add your dry ingredients.
Lightly score the flesh of the fish 3-4 times on either side. Stuff the cavity with rosemary, fennel tops, parsley stalks, garlic and lemon. 
Brush lightly with oil and season with salt and pepper. Grill on each side for approximately 3-4 minutes depending on the size.
Serve with some new potatoes dressed in butter and a little salsa verde.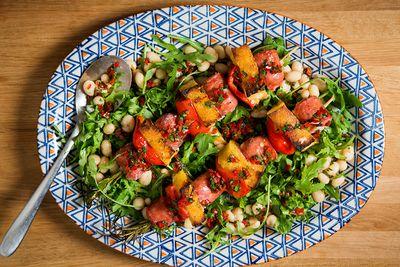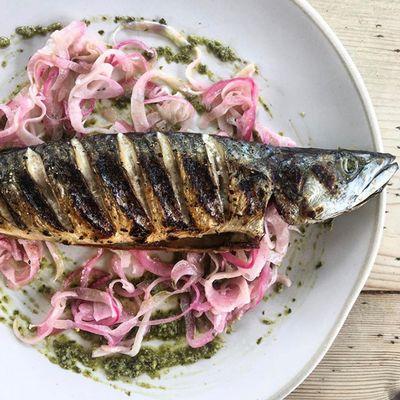 James Cochran, 12:51
BBQ Spatchcock Chicken 
INGREDIENTS
1 spatchcock chicken (I like HG Walters who – as well as being high quality and organic – will spatchcock it ready for you)
2 scotch bonnets
100ml of dark rum
200g of honey
Salt
Half a pineapple
Coriander
100g of toasted flaked almonds
METHOD
Season the chicken with salt and pepper. Place straight on the BBQ and get some really nice charred burnt tinges.
Move to a slow gentle heat on the BBQ.
Put the scotch bonnet in a food processor or finely chop with a knife and mix with the rum and honey. Brush liberally and douse the chicken in the glaze until it caramelises.
Repeat, then rest the chicken once cooked for 20 minutes. 
While resting, dice the pineapple and toast the almonds. Use to dress all over the top of the chicken and serve.
Whole Roasted Cauliflower
INGREDIENTS
1 whole cauliflower
1 tub of sour cream
2 red chillies
A bunch of mint
150g of dry roasted peanuts
1 clove of garlic
1 pomegranate
1 bottle of pomegranate molasses
METHOD
Brush vegetable oil over your cauliflower and season with salt. BBQ slowly over the coals until cooked and a knife can be inserted easily.
Season the sour cream and dress over the cauliflower with minced garlic, salt and pepper. 
Drizzle the cauliflower with pomegranate molasses, pomegranate seeds, chopped mint, sliced chillies and peanuts. Serve with flat breads, toasted on the BBQ.
Visit 1251.com
Tom Aikens, Muse By Tom Aikens
BBQ Sauce
INGREDIENTS
4 onions, cut into small pieces
10 garlic cloves, cut in half
5 tomatoes cut into quarters
2 bay leaves
200g of light brown sugar
12 drops of Tabasco sauce
200g of molasses
200g of HP Sauce
300ml of Worcestershire sauce
300ml of cider vinegar
50g of french mustard
300g of Heinz tomato ketchup
10g of salt
4 good-sized pinches of black pepper
2 tsp of chilli powder
3 tbsp of tamarind paste
50ml of lemon juice
METHOD
Sweat the onion, then add the garlic followed with the dry ingredients.
Add the rest of the ingredients and slowly bring to a simmer for approximately 2 hours until thickened, stirring now and again. Remove the bay leaf and purée until smooth.
Visit MuseByTomAikens.com
 
DISCLAIMER: We endeavour to always credit the correct original source of every image we use. If you think a credit may be incorrect, please contact us at [email protected].