4 Espresso Martini Recipes With A Twist

---
In the early 80s, a supermodel asked legendary London bartender Dick Bradsell for a drink that would "wake her up and mess her up". So he invented the espresso martini. His creation has stood the test of time and now makes a fine post-dinner digestif. But how do you make a really good one for your guests? We asked four master mixologists for their take on this modern classic – each one suits a slightly different palate…

THE COCKATIEL CLUB'S COLD BREW EsPRESSO MARTINI
Get experimental with your serve wear and don't feel like you have to drink from a traditional martini glass if you don't have one to hand. A tea cup is just as fun and works just as well. To really step up your flavours, cold brew your coffee the day before. Mix one part water with eight parts coffee (our favourite is London's Flying Horse Coffee). Leave this water and coffee mix in a sterilised, airtight jar in the fridge for 24 hours. It makes for a sweeter smoother brew. You'll thank us later.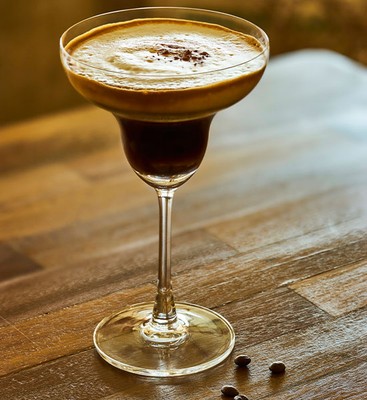 INGREDIENTS
25ml of Zubrowka vodka
35ml of Tia Maria
35ml of fresh coffee
6 or 7 large ice cubes
Coffee beans, to garnish
EQUIPMENT
Boston cocktail shaker or a sports bottle or a large jam jar – or even Tupperware works because you can use the lid to strain out the ice
A glass or cup
METHOD
Chill your glass in the fridge for 10-15 minutes beforehand to ensure an ice-cold serving vessel. Combine the vodka, Tia Maria and fresh coffee in your chosen cocktail shaker, with as many ice cubes as you can fit. Shake for about 30 seconds. It's important to do this with style – it makes it taste better! Strain and pour into your chilled glass to serve. Garnish with three coffee beans.
 
KETEL ONE'S KETEL ESPRESSO
This chocolate and chilli cocktail was created to be made at home. Keep the ends of fresh chillies not used in cooking or ones that are turning and you would normally throw in the bin. Leave them in ground coffee powder for a minimum of two or three days to infuse, then go about making coffee as you normally would in a cafetiere. Choose a good bitter-tasting dark chocolate and grate over the glass at the end to garnish for an extra hit of flavour.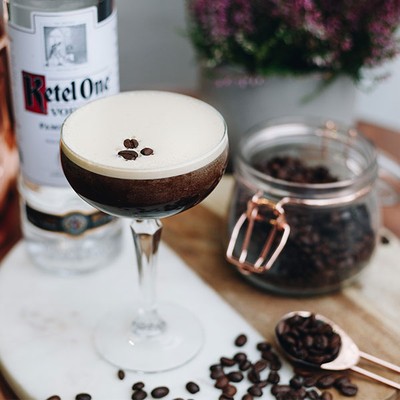 INGREDIENTS
35ml of Ketel One vodka
35ml of French press/cafetiere-infused coffee
25ml of Mr Black Cold Brew coffee liqueur
2 ice cubes
Dark chocolate flakes, grated for garnish
EQUIPMENT
Cafetiere
Jam jar with a lid
Standard kitchen sieve
METHOD
Take your infused coffee powder and make a cafetiere of coffee. Leave to cool completely, otherwise the warm coffee will dilute your cocktail. Combine all ingredients in a jam jar with the ice. Shake well and strain using the sieve or the lid of the jam jar. Serve it in any glass you like – a tumbler works just as well as a stemmed glass. Garnish with grated chocolate.
 
"An espresso martini is the perfect cocktail for this time of year with festivities and parties galore."
THE COURTYARD'S FORREST GUMP
This is a wintery cocktail with woody notes thanks to the rum addition. Expect a hit of warmth from the Monkey Shoulder and a final sweet note from the chocolate. This is a palate-tingling drink best served at a dinner party with friends. When choosing your coffee, make sure to choose one with balanced flavours or one with chocolate notes – Lavazza is a great brand for this.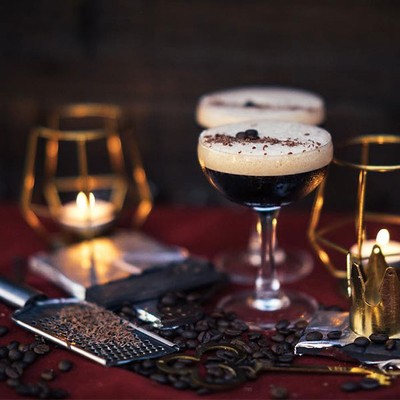 INGREDIENTS
20ml of Wood's rum
20ml of Monkey Shoulder whisky
20ml of Tia Maria
30ml of Lavazza Espresso coffee
15ml of chocolate syrup
A couple of cubes of dark organic chocolate, grated for garnish
Ice
EQUIPMENT
Cocktail shaker or sports bottle
Martini glass or long-stemmed champagne flute
METHOD
Combine all the ingredients in a cocktail shaker or sports bottle. Make sure your chosen mixing vessel is full of ice. Shake the ingredients very hard for about 12 seconds – this is what creates the perfect foam of the cocktail. Strain and serve. Grate some dark chocolate on top as a garnish.
 
KAVKA'S HAZELNUT LATTE MARTINI
A simple and delicious twist on an espresso martini: elegant, full of flavour, and wows as an accompaniment to dessert. The choice of vodka here is key. Kavka is made using a blend of rye and wheat spirits to which small amounts of aged apple and plum spirits are added. The resulting liquid bucks the trend of multi-filtered, neutral-tasting vodka in favour of celebrating flavour and true character.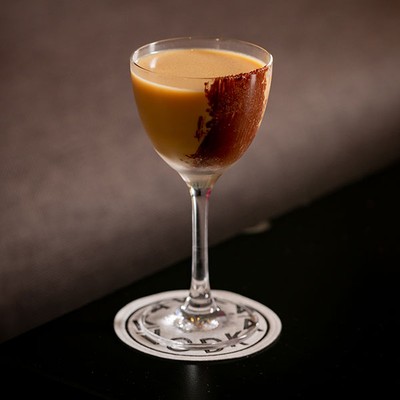 INGREDIENTS
30ml of Kavka vodka
30ml of Soplica hazelnut vodka
30ml of Maestro Café liqueur
10ml of vanilla syrup
1 scoop of vanilla ice cream
Hazelnut spread
Ice
EQUIPMENT
Nick & Nora glass
Strainer or colander
Cocktail shaker
METHOD
Combine all ingredients together. Shake together over ice. Paint the inside of a glass with a stroke of chocolate hazelnut spread. Strain the drink into the painted glass. Enjoy!
 
DISCLAIMER: We endeavour to always credit the correct original source of every image we use. If you think a credit may be incorrect, please contact us at [email protected].