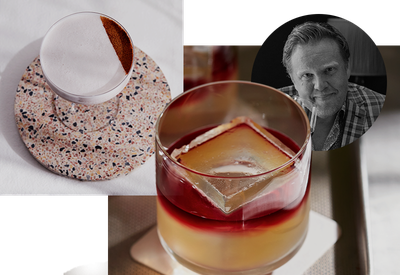 4 Winter Cocktails To Try This Season

---
If there's one man who knows what goes into a good drink, it's Saturday Kitchen's resident guru Olly Smith. For his new Home Cocktail Bible, he's put together a collection of easy recipes – all using spirits you'll find in any self-respecting drinks cabinet. In time for the festivities ahead, he gave us four showstoppers to serve this season.

Cocktails instantly invoke a sense of occasion. They're sweet or sharp, spicy or scented; they can be creamy, sparkling or pure and invigorating as a mountain brook. Your preference should always take the lead in picking the perfect drink. On a hot day, quenching is key; in the frosts of winter something a little more comforting is called for. And, most importantly, what bottles have you got to hand?
The spirit of the cocktail is key. From the juniper jolt of gin to the warmth of whisky, my new book is divided by headline bottles to build a range of flavours from the base drink up. The simplest decision of which spirit you're in the mood for will always guide you to the right cocktail. And, of course, how inventive you're feeling will inform whether you want to keep things quick and simple or try something a little more adventurous.
Truly great cocktails should be simple to make, look fabulous and taste extraordinary. Perfect every time and with minimum fuss, the recipes below are designed to make every moment feel magical.
Like the greatest adventures, celebrations begin with small ideas. Let the following recipes be the springboard to smashing times at home, with your cocktail creations flowing like the best conversation. With these recipes under your belt, you're only ever a few moments from stratospheric levels of enjoyment
Inspired? Here Are Four Of Olly's Wintry Cocktails To Make At Home…
Glacier Mint
Green crème de menthe lurks around the fringes of acceptability with After Eights and Wrigley's Doublemint – and I'm not sure why. If it's down to the lurid colour, this cocktail is off the hook as I'm using white crème de menthe, which is great to have in your back pocket for things like quick mojitos too.
 Serves: 1
Total Time: 5 Minutes
INGREDIENTS
45ml of vodka

15ml of white crème de cacao

15ml of white crème de menthe

Ice, cubed

Mint sprig, to garnish
METHOD
Fill a shaker with ice.

Add all the ingredients.

Shake vigorously to chill.

Strain into a chilled glass.

Garnish with a mint sprig.
Silk Stocking
The watchwords here are silky and smooth. This is a cocktail to unwind with, the balm after a hectic day. It's also a sleeper of a classic – when you first make it for your friends, they'll be impressed and unexpectedly delighted. If you don't have tequila blanco, reposado is a decent substitute. Though I do prefer the lighter touch of blanco (unoaked) as it helps keep this drink curiously light.
Serves: 1
Total Time: 5 Minutes
INGREDIENTS
60ml of tequila blanco
22.5ml of white crème de cacao
22.5ml of single cream
7.5ml of grenadine
Ice, cubed
Chocolate and cinnamon powder, to garnish
METHOD
Fill a shaker with ice.
Add all the ingredients.
Shake vigorously to chill.
Strain into a chilled glass.
Garnish with a sprinkle of chocolate and cinnamon powder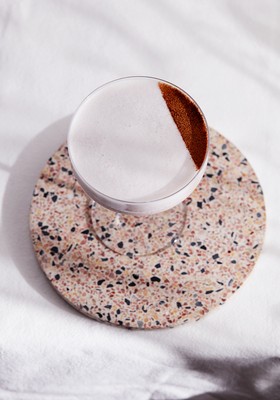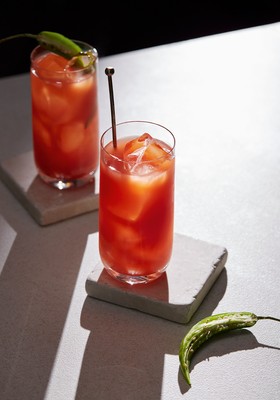 Bloody Maria
This riff on the Bloody Mary is a liquid firecracker. The red wine syrup adds a depth and richness which combines with the sharp spiciness of the sangrita, a heady blend with a kick. It's a 24/7 recipe, all year round – and, of course, having one at brunch is a no-brainer.
Serves: 1
Total Time: 30 Minutes
 
INGREDIENTS
45ml of tequila reposado
120ml of sangrita (see below)
15ml of red wine syrup (see below)
Ice, cubed
Jalapeño pepper, to garnish
FOR THE RED WINE SYRUP
100g of caster sugar
100ml of red wine
FOR THE SANGRITA
300ml of tomato juice
100ml of grapefruit juice
100ml of orange juice
1 jalapeño pepper, including seeds, halved
METHOD
To make the syrup, add the ingredients to a pan and stir well. Heat gently to a simmer (do not boil). Keep stirring until the sugar has fully dissolved.
Remove from the heat.
Leave to cool before using a funnel to pour the mixture into a clean glass bottle. You can store the syrup in the fridge for up to a month.
To make the sangrita, combine all the ingredients in a large jug along with the halved jalapeño pepper.
Chill in the fridge.
When you're ready to serve, fill a glass with ice.
Add all the ingredients.
Stir gently to combine.
Garnish with half a jalapeño pepper
New York Sour
Apart from drinking it pure, this is the best use of red wine in the world. While some cocktails are named after boroughs of New York – Manhattan, for instance – this cocktail takes the whole city and owns it. The triple titillation of a classic sour recipe – citrus with spirit and sugar – stretches back to 1862 with Jerry Thomas's famous Bartenders Guide. The coolest things about this particular sour are its simplicity and knockout looks. It's fabulous to behold, delicious and takes minimal time and effort.
Serves: 1
Total Time: 5 Minutes
 
INGREDIENTS
60ml of bourbon
22.5ml of lemon juice
15ml of sugar syrup
15ml of red wine
Ice, cubed
METHOD
Fill a shaker with ice.
Add all the ingredients except the wine and shake vigorously to chill.
Strain into a glass filled with ice.
Gently pour the wine into the drink over the back of a bar spoon so the wine floats on top.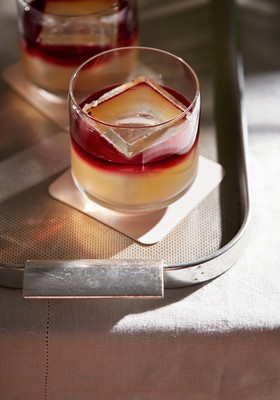 Home Cocktail Bible by Olly Smith is published by Quadrille on 4th December and is available to pre-order here.
DISCLAIMER: We endeavour to always credit the correct original source of every image we use. If you think a credit may be incorrect, please contact us at [email protected].