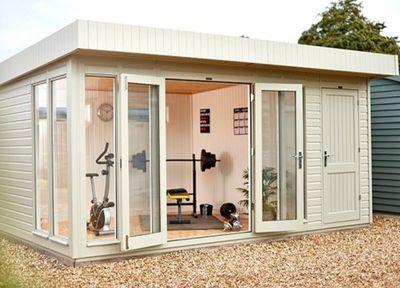 5 Ways To Transform A Garden Shed

---
Over the last year or so many of us have learnt the value of utilising all the space you possibly can. And, if you're not currently making the most of the bottom of your garden, now's a good time to put that right. Whether you want a home gym, office space or your very own bar, the design team at Rudolph Diesel ran us through your options and told us what you need to think about.

Photography CRANE GARDEN BUILDINGS
HOME GYM
If you're time poor and struggle to squeeze a workout into your day, a dedicated space is ideal. You need to review how much space you have and need, and consider what you want to get out of the room. First, think about putting in a power source for lighting and electricity – speak to an electrician and have floor sockets fitted so you can power up your equipment. You're going to need wi-fi and speakers if you want to do online classes or listen to music. Heating and insulation is also key, as is flooring – avoid tiles and install soft rubber flooring instead. You could even go one step further and add in a small sauna, if space allows.
 
OFFICE SPACE
Even before the pandemic, this was the most sought-after option. People today want the option to work from home but without the associated distractions. As well as electricity mains, lighting is the most important thing to consider. Have as much natural light as possible, and don't go for lighting under 2,300 kelvin – the light will be too yellow. You also need to consider how strong your wi-fi is, how many sockets you need, and where you want your desk to be. Also, think about window treatments – bi-folding doors are great for opening the space while retaining privacy when needed. Heating is also key: you'll need insulation and some kind of heater during the winter months, as is flooring – go for something sturdy to support the weight of the equipment.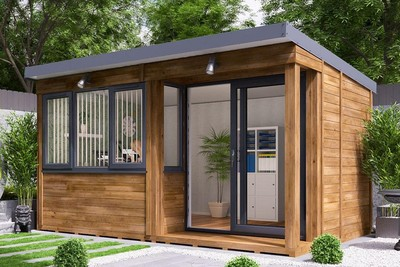 DUNSTER HOUSE
CINEMA ROOM
A cinema room is a great choice for families. If you're working with limited space, be sure to sound-proof the shed and add in adequate insulation. I would also add dimmable spotlights, plus a ceiling-mounted projector, rather than a TV screen, as they are portable and less likely to be stolen. Another important element is seating. Sofas and comfy chairs are a good idea, but beanbags and foldaway chairs are more practical for making the most of the space. You might also want a mini bar for drinks and snacks. 
HOBBY ROOM/MAN CAVE
Whatever your hobby, a shed is a great place to store your equipment. Ensure you have as much natural light as possible and consider adding in a water source so you can stay there for hours at a time – could be a water cooler or a sink. Think about shelving and other forms of storage, like boxes or cabinets to keep your things in. A power source is likely to be crucial, as is good insulation so you can enjoy it year-round.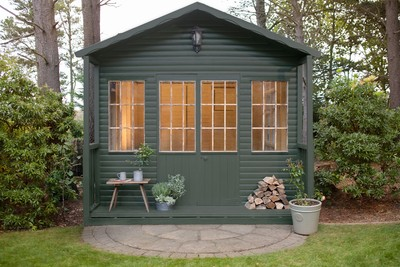 RONSEAL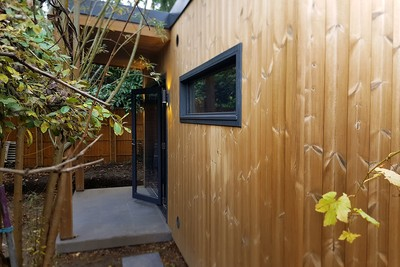 FINN MARK
PUB
After the last 18 months, there are definitely advantages to having your own pub in the comfort of your garden. Along with the obvious considerations like heating, insulation, lighting and flooring, you're going to need a bar. Buy one from your local hardware store or have a bespoke one made to fit the space exactly. Once you've sorted the fundamentals, you can add the exciting bits – dart board? – and of course the booze. Security is important if you're renovating your shed into any type of room, but it's especially important if you're going to store a significant amount of alcohol, glassware and electricals in one place, so don't scrimp on kitting it out with adequate locks.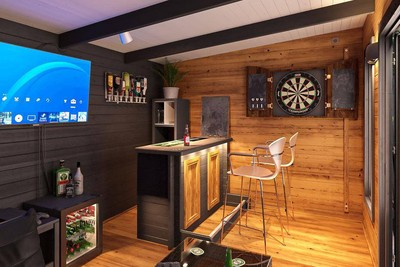 DUNSTER HOUSE
 Step 1: Think about what you want to use the structure for and make sure you futureproof it. You don't want to create something that can only ever be used for one thing only – ultimately, you probably want to add value to your property.
Step 2: Do your research. Find out what parts you can do yourself and where you need help from builders and other professionals. Look around for a decent company and ask to see examples of their previous work – don't just go for the first or cheapest option.
Step 3: Set a realistic budget. If you're going to spend a considerable amount of time in the space, there's no point doing it on the cheap. Think of the work as a long-term investment, like you would any other room in your home, and allow an extra 10% of the budget for any miscellaneous costs. 
Step 4: Think about planning permission. If you're adding in electricals and potentially changing the structure, get permission from your local council before you start any work. Also, think about the impact it might have on your neighbours.
Step 5: Think about security. If you're investing a considerable amount of money, you must safeguard it with adequate security measures. A padlock and a key won't cut it, so speak to specialists who can provide a top-notch service. 
DISCLAIMER: We endeavour to always credit the correct original source of every image we use. If you think a credit may be incorrect, please contact us at [email protected].