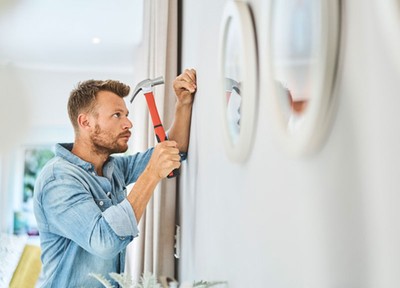 9 Items Every Man Should Have In His Toolkit

---
Your first tool kit is a rite of passage – you're not a fully fledged grown-up until you own one. If you need a steer on its essential components, Andrew Georgious from hardware specialist Robert Dyas has put together this definitive list of the items that will fulfil all your basic DIY needs.

It's basic, but it's also one of the most used items in any tool kit. A tape measure is essential for making sure you get your measurements right, especially when buying new furniture or tiles. It's worth getting both a retractable one and a fabric one. Retractable ones are less fiddly, but their stiffness can make them difficult to use in awkward or small spaces.
There are different types of hammers for different jobs. Smaller models – like a pin hammer – are great for hammering nails when putting up picture frames. At the other end of the spectrum, huge sledgehammers are what you need for breaking concrete. Claw hammers are effectively a two-in-one tool as they both hammer in and pull out nails – Draper is a well -espected brand, as is Stanley. Both are reliable and well priced. Just make sure you opt for a hammer with a rubber grip for added comfort and safety.
When it comes to screwdrivers, you've got a choice: single screwdriver; screwdriver set; or a ratchet screwdriver with a variety of heads (e.g. slotted, Phillips and Pozi). Different-sized heads will be needed for different jobs. Not sure what you need? Invest in a set as you know you'll be covered. Prices start at £2.49 for a single screwdriver.
This is a must-have for helping you hang your wall art or TV brackets straight. Most spirit levels will be too long to fit in an actual toolbox, but they are essential for anyone tackling DIY jobs around the house. Some come in carry cases or pouches, so you can easily tidy them away after use. Prices start at under £10 and can reach up to £60 depending on brand and size. You can also get models with laser pens where, once you've mounted it to the wall, the spirit level will project a line for you to follow in order to ensure what you're hanging is straight.
Knives are essential for cutting and trimming different materials. It's best to get a snap-off knife as well as a retractable knife. Snap-offs are pre-scored, so once the top of the knife is blunt, you simply snap off the blade. Retractable blades keep the cutting edge sharp when it's not being used, meaning you don't need to replace it as often. Both are handy for odd jobs around the house. You could also add in a fixed knife, which is more robust and used for cutting tougher materials like carpet and cardboard. Prices start from £3.49 for a snap-off knife and £4.49 for a retractable knife. 
Pliers tend to be crucial in any electrical or plumbing task. Just like hammers, there are different types for different jobs. It's worth keeping the trio of combination pliers, side cutters and a long-nose set in your kit. Combination pliers are the most versatile – they can grip and cut multiple materials. Long-nose pliers are best for tackling small or fiddly items, particularly in relation to electronics. Side cutters are specifically for wires or cables. With all three, opt for models with soft grip, non-slip handles for added comfort and support.
It's worth having a hacksaw, otherwise known as a junior hacksaw, in your toolbox, as they are extremely versatile and will happily slice through a number of materials. They feature a very slim, fine-toothed blade that can be used on wood, metal and plastic. Price depends on size, but the majority of models come in at under £10. Make sure the handle feels secure before using. Panel saws are the step up: bigger and studier, they are good for timber or if you're trying your hand at carpentry. You can also get heavy-duty hacksaws which tackle tougher materials.
Pretty straightforward really: they keep you safe. Goggles come in slimline styles or wider options which cover more of your face. With gloves, it may be worth getting a pair with cushioning and with added grips on the fingers to ensure no tools slip out of your hands mid-use.
You'll need a sturdy toolbox to house your equipment. Choose between a bag and a standard box with a lid – and there are tool belts if you want to keep things to hand. With all the tools mentioned, it's better to spend a little bit more to ensure nothing needs replacing after just a few uses. Chances are you won't update your toolkit for a while, so splash out now and sit tight knowing you're all sorted.
For all of these items and more, visit RobertDyas.co.uk
DISCLAIMER: We endeavour to always credit the correct original source of every image we use. If you think a credit may be incorrect, please contact us at [email protected].