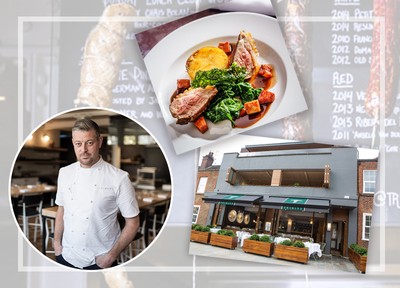 Adam Byatt On Lockdown Life & Easter Lamb

---
What happens when one of London's most esteemed chefs shuts his doors and isolates? Adam Byatt – proprietor of Clapham's Trinity and Bistro Union, and chef-director of Charlie's at Brown's Hotel in Mayfair – explains what he's done with his business, how he's adapting to life at home, and how he is planning a knockout lamb dish on Sunday…

We can't really start with anything other than coronavirus. Have you shut down your restaurants entirely or are you doing any home delivery?
Yes, we closed all three of my sites and Charlie's at Browns Hotel on 20th March after the government guidelines. It was the strangest feeling – anyone who's closed their own restaurant down will know how eerie and unnerving having to lock your door is. We continued to trade in Bistro Union on Abbeville Road as a community shop, with my senior team volunteering, because it was a great opportunity to run down stock, while helping those in need locally. After a successful two weeks, the shop closed as the team began to isolate, on government advice. Delivery is a prospect I've always been interested in for us, but we are just not set up for it at the moment.
How have your staff taken things? 
As disappointing as closing is, they are strong people, so I have trust in their resilience during this trying time.
Is there much financial support as a restaurateur?
The JRS scheme for furloughed workers is very impressive and for many it will be the difference between re-opening or not. The various grants are also very positive – and often very necessary – for the industry. Having said that, those are promises the government must now fulfil.
How do you feel about the future? Are you confident things will return quickly?
As much as I hope for a quick ending to the crisis, it seems to me that we've still got some time before normality returns. Although that seems the most pressing question at the moment, for me it's the extent to which we'll be allowed to open, the phasing period and the notice we'll get that will be the most significant.
"I could potter all day no problem, as long as I have the cooking to keep me focused and on time."
Now you're at home full time, how are you filling your days?
We have routine during the week, which I think is imperative. I exercise daily: running, on the rowing machine (a lockdown purchase) or with kettle bells in the garden. I don't think I'd sleep otherwise. The day is naturally punctuated by what we eat: a nice breakfast (we alternate who makes it); a simple light lunch around 1pm; and dinner at around 7pm – all together as a family, which we don't normally do. I'm very grateful for that.
 
I'm getting lots of bits done like fence painting, gardening, tidying, cleaning cars and all the odd jobs I never get time for. I could potter all day no problem, as long as I have the cooking to keep me focused and on time.
We also have a new weimaraner puppy, Skye, we picked up just before lockdown. She's keeping us well and truly entertained. And wine also helps every so often…
What's on the menu on an average day?
We eat vegetarian for about half the week, with lots of roasted vegetables, lentils, hummus and delicious couscous salads. But the extra time also allows for more time-consuming dishes such as slow-cooked lamb necks and poached chicken. I enjoy having to use everything up, and balance light and healthy with the occasional special dish.
How are you shopping for food? 
I'm using my suppliers to help support them, plus still shopping at Moen & Sons Butchers and Moxon's Fishmongers in Clapham. I'm not living on baked beans – yet.
"The extra time also allows for more time-consuming dishes such as slow-cooked lamb necks and poached chicken."
What does breakfast look like for you? 
Today, it was my day for breakfast, so I went for a porridge with lapsang souchong tea-poached prunes. The tea's smoky flavours combine well with the porridge – with a little salt, it was perfect. My daughter Rosie cooked us all an omelette last week, which was delicious. Boiled eggs are also a favourite and we've made our own granola with plenty of dried fruits and hazelnuts. 
And lunch?
Yesterday, it was an Asian salad of mango, carrot, beans, chilli and herbs, with a healthy load of fish sauce and fried beef trimmings. We've also had sardines on toasted sourdough with tomatoes – super simple. The quality of the dish in this case relies on good-quality sardines. I've also cooked the broccoli dish from Upstairs with anchovy dressing and toasted peanuts. It reminds me of better days – a quality that well-cooked comfort food often has.
And supper?
Dinners can be really simple: a crab pasta dish with breadcrumbs fried with garlic and chilli; or the sardine bolognese pasta dish I cooked on Saturday Kitchen.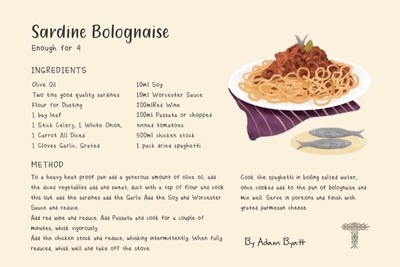 Tonight will be a roast chicken with vegetables, but I'm trying to limit the carbs for us all. The chicken will give me a nice ramen dish from the stock as well as a salad with avocado and cucumber the next day. This means we are able to get three meals from one lovely bird – increasingly important right now.
What's on the menu for Easter weekend?
I am cooking a recipe from Brown's Hotel: lamb racks cooked over potatoes, onions and stock layered together to make a potato Boulanger. It's lovely and really convivial. You seal off the lamb racks (one will serve three people) then place them onto the potatoes to cook in the oven. I serve this with some nice veggies on the side like purple sprouting broccoli.
You wrote a great piece for us on lamb recently but how do you cook it really well?
The cooking degree is crucial with lamb. You should aim for just over medium – still pink but not bloody, and none of that soft texture you get with rare beef. It's best to leave the meat out of the fridge for an hour before cooking and, to enhance the flavour, let it rest as long as it took to cook.
What's the difference between good lamb and amazing lamb?
I tend to go for darker lamb meat, with a thicker covering of fat and firm flesh, as this normally signifies quality. As long as you use a great supplier or high-street butcher, you'll be fine. Lake District Farmers in Cumbria do great lamb.
"I love mint sauce and it's so easy to make."
Do you have any good recipe ideas for leftover lamb?
I'm not a fan of cold lamb, but I will always make a Thai-style curry. Imagine a goat curry resplendent with spices, chili and herbs, just with leftover lamb.
Any mint sauce tips?
I love mint sauce and it's so easy to make. Simply boil 100ml of white vinegar with 100g of sugar and reduce a little, before allowing to cool. Add chopped mint (lots of it!), diced shallots and capers. Mix and serve. 
If you're keen for a more Middle Eastern style lamb with salads, what would you recommend?
I'm a big fan of a couscous salad with preserved lemons, pomegranate and lots of herbs. Perhaps make your own hummus, adding some cashews for variety. You could also try a Mediterranean salad, complete with a nice cucumber, mint and green chilli, all bound with yoghurt.
If you're vegan, is there anything particularly good for Easter? 
Go mad on the asparagus! English asparagus is in season and in abundance. It's delectable roasted or boiled, and adds freshness to almost any dish.
And finally, is it chocolate for pudding?
Chocolate tart is always a winner. This year I'll also make a red velvet cake with my daughter.
As part of Bookblock's new Positive Post campaign to raise money for the NHS, Adam has shared one of his most-loved family recipes, sardine bolognese, to be printed on an illustrated postcard. Harnessing the power of postcards, the campaign aims to spread positivity and keep people in touch with their loved ones during this uncertain time, while raising money for an excellent cause. Every penny raised will go towards NHS Charities Together's Covid-19 Urgent Appeal. You can send Adam's recipe card and donate here.
DISCLAIMER: We endeavour to always credit the correct original source of every image we use. If you think a credit may be incorrect, please contact us at [email protected].