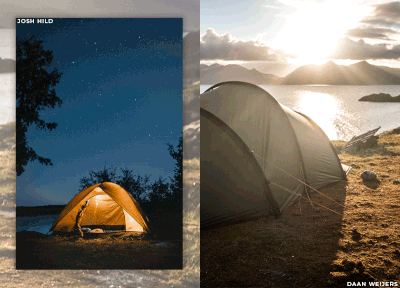 All The Gear You Need To Go Camping

---
If you're planning a camping trip this summer, you won't want to turn up without the right equipment. We asked Dave Addy, who heads up the outdoor living team at specialist retailer Blacks, to talk us through the must-have items and share some top tips on what to consider before purchasing any gear…

Tent
There are quite a few factors to consider here, so ask yourself the following questions...
 
How many people will be sleeping in the tent?
If there's four of you, I'd suggest looking at a six-berth tent to give you a little bit more room and makes it more comfortable. In general, look at a tent two berth sizes up from your party size, then consider how long you're going for. If it's a weekend break, it's not massively important to have huge amounts of living space as you're probably going to be out and about a lot. If it's a longer trip, look for tents that offer lots of internal space, such as an attached sheltered porch to cook under.
 
What's the budget?
Family tents range from under £100 to over £2,000. Price differences are related to the construction of the tent, the quality or thickness of the materials used, and then whether it's a fibreglass-poled, steel-poled or inflatable tent. My personal advice would be to get the most expensive tent you feel comfortable paying for.
 
Pole or air tent?
Over the last eight or so years, the strides that have been made in air tent technology has seen their popularity soar. The Berghaus Air Tent range is the best. Whether you choose a pole or air tent will ultimately come down to budget. A large family air tent is more expensive than a similar-sized fibreglass-poled tent, but many believe the benefit of a fast pitching time outweighs the extra cost. Pitching time for an air tent can be around 10-15 minutes, depending on the size, versus 25-45 minutes for a traditional pole tent.
 
What about style and layout?
Currently, the most popular tents are large three-zone tents. These comprise a covered entrance porch (zone 1), where you can set up your kitchen and store wet gear, a closed-off living space (zone 2) and bedroom pods (zone 3). These types of tents can be anything up 8m x 5m. Other designs include dome tents, Vis a Vis tents (bedrooms at either end of the tent facing each other) and pop-up tents (normally used for garden camping or festivals). My advice is to check out any local tent displays and have a good look around the models on display. If you can't get to a display, have a look on specialist retailers' websites. Specifically, have a look at the internal shots of the tents as they can give you an idea of the size of the living and bedroom areas, and help you make an informed decision.
 
What's the destination?
Are you going wild camping, family camping or high-altitude camping? The answer to this question will determine the style, weight, quality and even colour of what tent you go for. It will also, naturally, affect the amount you may need to spend. If you're going wild camping and will have to walk to your pitch, you'll want a lightweight tent. For family camping, where you're most likely going to pitch up next to your car, a heavier tent would be fine. For reference, a typical two-man adventure tent will weigh 2-3kg. A more expensive, specialist two-man tent, designed for pro campers, can weigh just 1kg.
Chair
There are lots of styles to choose from when it comes to camping chairs such as deck chairs, folding stools, loungers and inflatable chairs. They cost as little as £5 and can go up to £100-plus. I'd advise getting a chair that is made of a durable material and is waterproof. Ideally it will fold up flat and can be easily carried or stored in a roof box. Some camping stools can be clipped under the base of a rucksack, making them easy to carry should you have a long walk to the site or pitch.
Sleeping Bag
A good-quality sleeping bag is essential on any camping trip. You have a choice of either synthetic-filled bags or down-filled bags. Synthetic fill offers great thermal qualities versus cost, but pack sizes and weights are usually high. Down-filled bags offer the best thermal qualities, the best pack size and the best weight, but they are also the priciest option and take a little bit more looking after. For added comfort, go for a sleeping bag that has a cotton or soft-touch fabric on the inside of the bag.
 
You also need to consider the season rating. 1 to 2 season bags are for summer camping, 3 season bags you can use in the autumn when there's a bit of a chill and 4 season bags are specifically for much colder weather. A thicker, warmer bag typically has a bigger pack size, so transport space may influence your decision. Over the last few years, vacuum storage and transit bags have become really popular as they allow you to compress the pack size of your sleeping bag.
 
You could also get a bag with a hood, which is great at keeping your head warm and holding a pillow in place.
Sleeping Mat
Try and go for the most expensive one you can afford. A good night's rest is important and the sleeping mat is crucial to this.
 
You could consider an air mat or air bed. Budget air beds are great value for money, but be warned: they can deflate easily and tend to be cold. This is because your body heat doesn't warm up all the cold air between you and the floor. To counter that, you can put foil-backed mats under the air beds to add insulation. Air mats can be anything from 5cm deep to 15cm deep, often have memory foam on the top, and offer great comfort and thermal qualities, but the pack size and costs are big.
 
Sleep mats or SIMs (self-inflating mats) offer decent comfort and are usually warmer to sleep on. Camp beds are another option and most people use them with a SIM on top. They offer lots of storage space underneath and pack down like folding chairs.
 
Ground Sheet
Most family tents now have a sewn-in groundsheet (SIG). The majority of campers prefer this as it's more insulated and keeps the bugs out. Some tents have a sealed groundsheet in the bedroom pod, then a loose ground sheet in the porch or entrance area. If your tent doesn't have one, I'd recommend buying a separate one. They cost £20-£50 and come with pegs to hold them in place. Tent carpets have been a very popular addition over the last decade as they help keep the heat in. Just remember a tent carpet is another thing to carry.
Cooking Equipment
You'll want a camping stove and gas canister on your camping trip, whether it's just to use for your morning coffee or for a whole meal.
 
For the stove, the best brand is Campingaz. There are lots of different styles to choose from: twin burners, triple burners, a hot plate and burner duo, or a double burner with grill. Nearly all camping stoves run on gas, but you can get electric hotplates, hobs and burners that run from liquid refined fuel (unleaded petrol). A 300g gas canister used for making one to two meals a day should last you a week. You can help stretch the bottle out by using your stove in an area sheltered from the wind, such as the tent porch.
THE EASILY FORGOTTEN STUFF
There are a few things I'd suggest you buy that lots of campers forget about, such as a repair kit. This should include: gaffer tape, seam seal, zip ties, spare pegs and a mallet – all of which are essential should any of your equipment break. Extra tent pegs are useful in case some bend or get lost, plus a fire blanket just in case. Don't forget a torch too!
I'd suggest a Biolite Firepit for some authentic camp cookouts. The firepit is raised off the ground and enclosed, so most sites should allow them, but it pays to check first. It also has a built-in fan you can control via an app. This channels oxygen into the flames and enables it to burn with maximum efficiency and gives you a smokeless campfire. This is an investment, so if you'd rather opt for something a bit more wallet friendly, go for a standard portable BBQ like the Smokey Joe by Weber or Hi-Gear's folding leg model.
 
And Finally...
If you're going wild camping, trekking or high-altitude camping, you need a sturdy and reliable camping rucksack. The best thing to do is to try multiple styles on in a specialist shop so you can see how comfortable they are and test out the straps. Remember that it will be much heavier once you add all your equipment in…
 
Visit Blacks.co.uk
DISCLAIMER: We endeavour to always credit the correct original source of every image we use. If you think a credit may be incorrect, please contact us at [email protected].