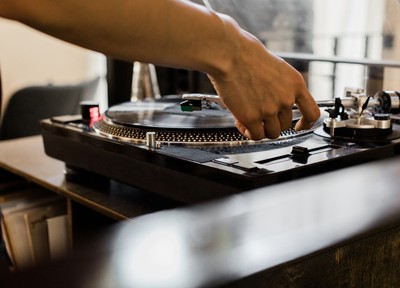 All You Need To Know About Buying A Turntable

---
Music lovers from across the generations are going old school in their droves. With the latest figures showing UK vinyl sales went up for the 12th consecutive year in 2019, we grabbed Neil White of specialist retailer Richer Sounds for the lowdown on the hardware you need to make the most of the vinyl revival.

What's the story, Neil? Why are turntables back?
There are a few reasons. In the last three or four years, a new generation of music lovers has got into vinyl for the first time. This younger crowd seems to like the physical nature of the album covers – they actually use them as art in their homes. A lot of artists are now re-releasing albums on record and also adding vinyl alongside CD and streaming platforms as part of their new release plans. This has helped turn a lot of older music lovers back onto vinyl.
The sound of vinyl can be pretty special too, right?
Vinyl has a much warmer sound than any other format – smoother vocals and a warmer, richer bass response. There are also the nice crackles and pops, which people love listening for on certain tracks. On a good system, vinyl will give you a much wider sound stage, meaning you should be able to pick out certain vocals and instruments in certain places of the room, just as the artist or band will have recorded in the studio. This is really what makes vinyl the preferred choice of music purists.
You mentioned the importance of a good system… Is there a difference between a record player and a turntable?
A record player is usually an all-in-one system that incorporates amp and speakers as a plug-and-play solution. The sound isn't always the best on these, but the Teac LPR550 USB Mk2 is a good example.
If space is an issue, there are also Bluetooth-enabled decks that can be connected to a Bluetooth speaker for a very neat solution. For example, you could match the Bluetooth-enabled Audio Technica LP60XBT to something like the Audio Pro Addon T3 portable speaker.
A turntable is simply the deck itself. It requires speakers, cables and an amp – plus a pre-amp if one isn't built in. With these in place, it will deliver a much better sound.
As a novice or casual user, how much should you be prepared to spend on a turntable?
I'd recommend spending £250 to £300 for a good-quality, entry-level deck. Below that, poor build and cheap components tend to have a massive impact on sound quality.
What extra features could you pick up at the high end of the market?
The deck itself will be made from higher-quality materials that make it much more stable. It will have a higher-end platter, which the record sits on, as well as a better tone arm, cartridge and stylus – all of which make a huge difference to sound quality and performance. Turntables are prone to picking up interference and resonance, and these components are key to eliminating them as much as possible.
Anything else you need to look out for before buying?
​For starters, I think that's it. The biggest wins for better performance are a good-quality tone arm, cartridge and stylus, so that's what to keep an eye on.
NEIL'S RECOMMENDED TURNTABLES
Budget
Audio Technica LP60XUSB, £119 (USB)
Audio Technica LP60XBT, £149 (Bluetooth)
Audio Technica is the star player at this end of the market. The Japanese brand's LP60X is fully automatic, so it will set records to play, stop the turntable at the end of a side, and even return the tone arm to its resting place. The USB version makes recording your vinyl to MP3 easy – just connect to your PC/Mac.
Bestseller
Denon DP300, £249
This classic all-rounder is an easy-to-use deck that uses an aluminium platter to ensure better sound than you'd get from plastic alternatives. A rigid, high-density plinth keeps distortion to a minimum, while a black gloss finish makes it easy on the eye as well as the ear.
 
Bang For Your Buck
Pro-Ject Debut Carbon Esprit, £449
Materials are the key differentiator here. This Pro-Ject turntable takes your listening experience to the next level with an acrylic platter and carbon-fibre tone arm. Records will sound tighter, punchier and more detailed. Choose a red or white finish if you're also looking to make a visual statement.
Big Spender
Technics SL1500c, £899
Based on a DJ's club turntable, this silver fox is built to last. It delivers a true, lifelike sound and, thanks to an armoury of anti-distortion mechanisms, you won't miss a detail. Count on a studio-level listening experience – in your front room.
Blow The Budget
Audio Consulting R-evolution Meteor, £140,000
Yes, the price is right. This Swiss-made machine is made from 'one entire tree' that has been dried for at least 20 years. With an 'active anti-vibration system', it promises 'incredible silence between the notes'. And you can order it in whatever colour you like.
 
DISCLAIMER: We endeavour to always credit the correct original source of every image we use. If you think a credit may be incorrect, please contact us at [email protected].