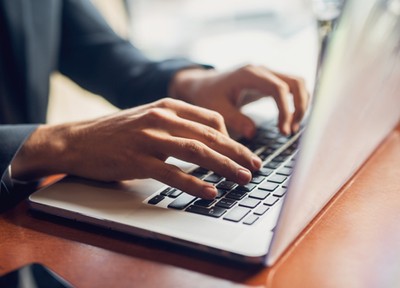 The Bad Email Habits To Break Now

---
Whether you're back in the office or still working from home, one thing's for sure: we've never been more reliant on email than we are right now. So it's entirely possible you've slipped into some bad habits. Whether it's replying in anger, or forgetting to proofread, this is what the professionals want you to stop doing.

Not Reading Things Twice
It's the golden rule: don't be sloppy and check for typos. Forgetting to proofread an email can result in a litter of unprofessional mistakes – or worse, prose that simply doesn't make sense. Take the time to do a quick scan to make sure everything is in order (including any attachments) and try not to rely on spellcheck to pick things up. "Saying your words out loud helps reveal the statements most likely to cause confusion among readers," advises proofreading expert John Esperian. "If a sentence sounds clumsy when you say it to yourself, you need to change it."
Deleting The Email Thread
Picture this: you want to keep things organised, so you delete everything below your current message. But what if someone references something that's been said, or you're asked to follow up on a previous point? The good news is, there are ways to manage your email threads, including muting ones you don't think need your immediate input. If you're a Gmail user, open your inbox and select the message you want to mute. Click the 'More' button towards the top of your inbox and select the 'Mute' option at the bottom of the pop-up menu so the conversation is removed from the Primary tab of your inbox. It's just as easy to unmute the conversation, too. Click the 'More' option on the left of your inbox. Next, click the 'All Mail' option. All messages will appear, including those that are in the draft folder and those that have been muted. Select the message you want to unmute and click the 'More' button. Next, select the 'Unmute' option at the bottom of the pop-up menu. This conversation will show in your inbox the next time a message is added to it.
CC-ing Unnecessary People
Closely related to the extensive email thread is that of copying in too many recipients – especially if the majority of those people won't be involved in any final decisions. Choose wisely: once you become known as the person who adds everybody into an email thread, people will start dreading seeing your name in their inbox. "Hitting 'reply all' too much can cause serious email overload for everyone involved," warn the experts at Sane Box. "When sending an email, analyse who needs to read the message. Then, only include those individuals in your reply. Still unsure? Ask yourself if you would call someone to share the information in the email. If not, simply exclude them from the thread."
Not Prioritising Answers
You probably have your own system and timeframe within which you like to respond to emails. However, everyone needs some kind of system, or it will all get lost in the shuffle. But what if you know your system is regularly holding up others from moving on with their work? A good rule of thumb is to respond to small queries right away before you forget, and add larger requests to your to-do list. It's also worth clarifying the protocol with your team once in a while. Make sure they (and you) are clear about things like the appropriate amount of time to wait for a response, and when you should be marking emails urgent. 
Emailing After Hours
We've all done it – replied to or sent an email late at night so it's at the top of someone's inbox for the next morning. The danger is, if someone has notifications, they might think you need their response immediately – unleashing a vicious cycle of late-night emails. "Although your intention may be to send out late night emails that won't be read until the next business day, many of us have trouble resisting the urge to check (and check again) at all hours of the night and day," explains etiquette expert Diane Gottsman. "If your company uses Gmail, take advantage of the email scheduling feature through the Boomerang plugin, so long as your message isn't time-sensitive. Or, save your (non-urgent) weekend and late-night messages as drafts, making a habit of sending them out first thing the next morning."
Confusing Subject Lines
Subject lines introduce your message and help the recipient decide how urgent it is, so where possible, try to make it concise, and avoid using too many details. "It's not a sentence. It's a sound bite," says Diane. With that in mind, try to keep it to five words or less, including keywords where possible and marking if something is urgent or a 'must-read'. In the current times, company-wide emails which start with obvious phrases like 'Coronavirus Update' or 'A Message From Our CEO' are bound to be read. 
Responding When You're Upset
Let's admit it – sometimes there's nothing more satisfying than sending a scathing reply, immediately. But it's worth bearing in mind that a snarky response will be remembered. If you're angry or stressed, you'd do well to sit on your response, and wait before sending it— even sleep on it if that gives you some perspective. "If you say something you regret, own it and apologise right away," says Diane. "Say something like, 'I re-read what I wrote, and I think it may have seemed harsh. I apologise."
Forwarding Jokes
When it comes to forwarding jokes (or even links to external sites and articles) around the office, it pays to think twice about whether your work email is really the place to do it – especially if the content could be interpreted as offensive, sexist or racist. "There's also risk because recipients don't know whether or not it's safe to open some attachments," warns Diane. "If you think it's funny, great, your brother might love it, too, and it's fine to send to him. But most people simply don't have the time to read everything, so be a courteous sender and just don't do it." If you're friendly with your colleagues and think they might appreciate a laugh, try setting up a WhatsApp group instead, which is encrypted and far away from HR's prying eyes.
Not Including A Proper Sign Off 
Internally, it might be perfectly acceptable to sign off with an initial, or indeed, nothing at all if it's something short and sweet. But when it comes to emailing outside of your organisation, the way you finish counts. "The way you close an email is more important than you think," agrees Diane. "It's important to determine what message you are attempting to convey. To choose an appropriate closing you must take into consideration the nature of the email, as well as the connection you share with the recipient. Your email signature is also another opportunity to share your logo, links to your social media profiles, or even recent articles or interviews."
  
For more information on email habits and behaviour, visit DianeGottsman.com, Espirian.co.uk or SaneBox.com.
DISCLAIMER: We endeavour to always credit the correct original source of every image we use. If you think a credit may be incorrect, please contact us at [email protected].