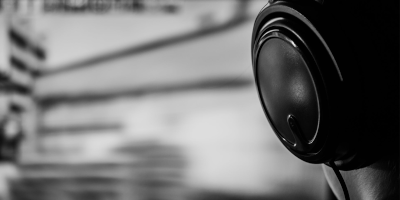 The Best Headphones To Buy This Year

---
You can't put a price on a good pair of headphones. They allow us to catch up with podcasts on our commute, listen to motivational workout tracks at the gym or simply save us from awkward interactions with strangers. But which are the ones to choose? From the best in-ear buds, to the pair that'll stay on during a run, here are our favourite headphones to try this year.

BEST FOR: Running
Beats by Dre Powerbeats Pro
It can be hard to find good headphones for running. The best exercise headphones will have a combination of good sound quality, good fit, and, ideally, will be wireless. Powerbeats Pro have all these coveted features. Extremely comfortable on the ears, it's almost impossible for them to fall out whilst you're running. And the sound is decent – there's no in-ear pressure distorting the sound that you get with other wireless headphones. On each of the earbuds there's a playback button where the Beats logo is, plus volume controls, so it's really easy to control your music using either hand. If you have Siri enabled, you can use voice command to change the volume and track. And with a nine-hour battery life – that's one long run.
Price: £219.95
Visit BeatsByDre.com
 
BEST FOR: In-Ear
Flare Audio Jet 3
For the most comfortable in-ear bud around, it's got to be handed to Flare Audio – their in-ear headphones come at a range of price points, but all have one thing in common: great sound quality. Technology reviewers T3 voted their Flare Pro 2HD the best in-ear headphones, mainly for top-notch sound quality, but coming in at roughly £300 they're not in everyone's price range. The Flares Jet, however, are only £49 and have a sound quality that is just as great as the more expensive version.
Price: £49
Visit FlareAudio.com
BEST FOR: Over-Ear
1MORE Triple Driver Over-Ear
For great headphones that don't break the bank, try 1MORE's version, which have superb sound and a great bassy quality – they've even been developed by Grammys award-winning recording engineer Luca Bignardi to create that hi-res sound. Plus, they don't feel too heavy on your head; the adjustable strap means you can set the headphones to fit and they refuse to slip off. These just plug straight into your phone, with the sound controls via your screen. But while these are one of the best over-ears for sound quality, they are quite clunky (as over-ears tend to be) – if you're looking for something a little sleeker, try the Audio-Technica ATH-SR5BT, which are smaller and lighter, and have a 40-hour battery life.
Price: £168.73
Visit Amazon.co.uk
BEST FOR: Wireless
Sony WH-1000XM3
To listen to music and podcasts on the go without that pesky wire getting in the way (because let's be honest, how many of us have accidently got our arm caught in that wire and had our headphones flung off in public?), the Sony WH-1000XM3 have been consistently voted the best wireless headphones of 2019. These Bluetooth bad boys have a 30-hour battery life (even 10 minutes of charge can give you five hours' worth of battery) and noise-cancelling properties, and are very, very comfortable. And the sound? Superb. What Hi Fi said, "They produce an open, spacious sound that gives every instrument, effect and vocal room to breathe." Plus, these are 20% lighter than its predecessor, so you can kiss that sore neck goodbye.
Price: £279
Visit Amazon.co.uk
BEST FOR: Price
Taotronics TT-BH07 Bluetooth Headphones
All of the headphones we've featured are rather pricey, but what if you're desperate for some good headphones before payday hits? We know we couldn't last an hour on public transport without a good pair of noise-cancelling headphones. Taotronics are a great brand for budget headphones that last. Their lightweight TT-BH07 Bluetooth sports headphones feature a nine-hour battery life, a waterproof coat and an internal nano coating for even the sweatiest of workouts. They're also noise cancelling and pair incredibly quickly with your phone. And if that wasn't enough? With over 12,000 reviews on Amazon, they have an average of four stars – not bad for under £20.
Price: £18.99
Visit Amazon.co.uk
BEST FOR: Sleeping
Bose Noise Masking Sleepbuds
Whether you have a partner who snores or just like a bit of ambient noise to get yourself to sleep, these could change the way you sleep for good. The Bose Sleepbuds don't play music, but are uniquely engineered to drown out disturbing noise to help you get to sleep. And their super-tiny earbuds stay comfortably in place, without pushing the bud into your ear – even if you sleep on your side. They work with the Bose Sleep app so you can customise the sounds, volume, length of time and when you want your alarm to go off. At over £200 they're not the cheapest, but you can't put a price on a good night's sleep.
Price: £229.95
Visit Bose.co.uk
BEST FOR: Swimming
Finis Duo
When you're swimming lengths, it can get a bit dull. Wouldn't it be great to have a bit of music to pass the time? If you're willing to splash out then underwater headphones could be the answer to quelling your boredom. The Finis Duo are specifically made to be used in water (i.e. you can't use actually them on land) and use conduction technology to transmit sound underwater via your cheekbones. Impressive, right? So you don't actually have to mess around putting them in your ears, and the big control buttons mean there's no fiddling about to distract you from your stroke. Plus, the sound is actually quite decent.
Price: £94.90
Visit Amazon.co.uk
 
DISCLAIMER: We endeavour to always credit the correct original source of every image we use. If you think a credit may be incorrect, please contact us at [email protected].