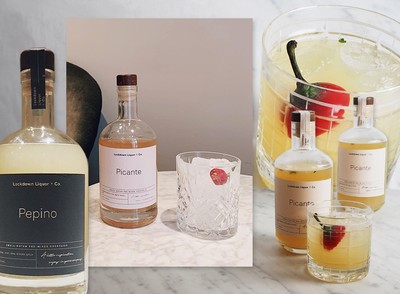 The Best £25 You'll Spend On A Night In

---
With over 40 employees and myriad high profile clients, Tash and Jack Durling – founders of travel, events and lifestyle agency Total Management Group (TMG) – hardly had spare time on their hands when lockdown hit. That said, entrepreneurial flair and creative spark rarely take a day off. Combine this with a love for cocktails and the desire to do something good, and Lockdown Liquor & Co was born. If you're in the market for a treat, or you know someone in need of one, look no further. This is one of the most satisfying ways to spend £25 on a night in right now...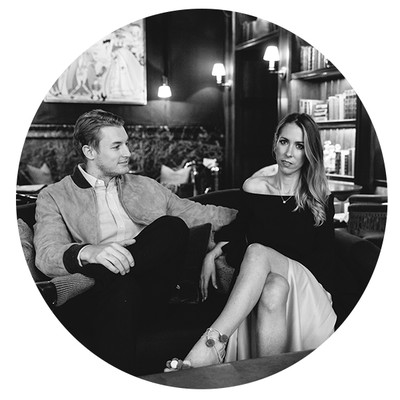 Let's start with the basics. Have you always been into cocktails?
We've always had a real love for cocktails and, in particular, a good tequila. Having spent quite a bit of time in Baja, California, we appreciate what a good one tastes like. On one trip we were introduced to Enrique Silva (a well-known chef and restaurateur in Mexico) and he invited us to his restaurant (the aptly named Tequila). We probably tasted more than 30 different variations that night. It was a real Mexican welcome.
Where did the idea for Lockdown Liquor & Co come from?
In the lead up to the Easter weekend, we had a Zoom call planned with friends, and thought it would be nice to send them one of our favourite pre-mixed tequila cocktails so we could all have a drink together. The idea to put some on the doorsteps of our neighbours to bring them some joy at this difficult time soon followed. From there, we had lots messages asking if they could pay us to make more, so we thought why not open it out and donate the profits to the NHS. It has spread like wildfire, not only within our local London community, but also across the UK and Ireland.
You're obviously creative, but what's your day job? 
We own and run TMG, which is a travel, events and experiences agency. We work with some of the biggest technology companies on their events, travel and creative initiatives so, by default, we've become very creative with everything we do. It gets built into you. We both bring different attributes to the table. Tash is very much about the financial and operational side, whereas Jack is focused on branding and design.
How did you come up with the branding?
Jack has always been the design guru within our main business. He's just got this natural ability to make something simple look cool. We've had so many people contact us, asking who did our branding. We have a design agency under our umbrella at TMG, which Jack heads up, so we had the process covered. With Lockdown Liquor & Co, we wanted to keep the look and feel very subtle. We used a clean, refined font combined with a script font to compliment the handmade nature of the cocktails. We've long been fans of using colour to differentiate between products – a strategy we replicated for the different mixes by using colours that complement each other, but aren't too similar.
Where did you source the bottles and labels? 
We sourced the bottles ourselves, and created and printed the labels at our offices. That said, it might be something which has to change in the near future to make sure it's fully efficient and scalable.
Have you struggled to get the ingredients? 
We've been very lucky to have had such great support. For both of the current mixes, we require a huge quantity of limes, which we've managed to get through a local fruit and veg store. They order from their wholesaler the night before, and we take collection the next morning, so we don't have to overbuy. We also need a lot of agave nectar, which has been more of a struggle to find. Thankfully, we've now found a few suppliers that can help us out. The frustration is getting the ingredients in time to meet demand, because delivery is often curtailed by Covid-19 constraints. For instance, this week's tequila was sponsored by the Bagatelle restaurant group, who have been so supportive. We know the owner and after reaching out, he had tequila in a van on its way to us within half an hour.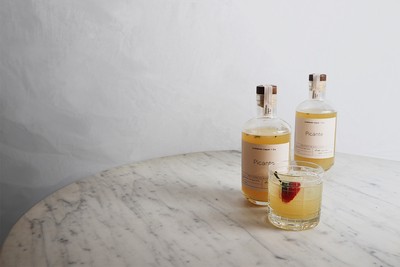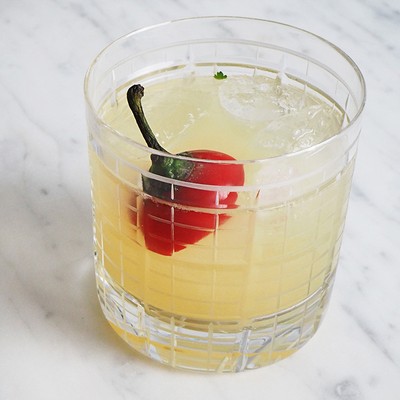 How are you meeting the demand? 
Fortunately we have an incredible team who work with us at TMG. So many of them have come forward to ask if they can help. Right now, we're scaling the team to meet the demand to ensure we have everything covered. At the moment, we're finding that if customers place their order by Tuesday, we can send it out on Thursday in time for the weekend. 
Tell us about the two cocktails you're currently offering?
Right now, we're offering the Picante which is a tequila-based cocktail with a sweet and spicy finish. Even if you don't like tequila, we'd challenge anyone to try this and not love it. Our second mix is the Pepino, which is a refreshing cocktail with gin-laced cucumber, fresh lime and mint. It's the ideal weekend drink for summer. As for what comes next, Jack is working on something really special which we're hoping to release in the coming weeks. We're also getting great feedback and suggestions from customers on what they would like to see.
What's the long-term plan? 
When we started this, it was just a fun passion project. But it has picked up speed quickly so we now see a real future for Lockdown Liquor & Co. Whatever happens, our plan is always to support the NHS in some capacity. It was a company born out of the crisis, so it'll always be a reminder of what we've all been through. Given the level of interest, it's hard not to feel that, just maybe, we've created something really special.
What has launching this taught you? 
The main thing the project has shown us is the meaning of community spirit. It's also taught us that something small can actually make a difference in people's lives. We've had so many customers message us to say thank you for bringing them a bit of joy. Many people have sent our cocktails to their friends and families, so it's been quite touching to write all of the personal notes. People often ask us how we run a business together. It's shown us that no matter what happens, if you stick together, anything is possible.
Finally, have you had much sleep?!
We've always been super busy, so nothing has really changed in that respect! With three kids, TMG and now Lockdown Liquor & Co, sleep is definitely taking a back seat. But we wouldn't have it any other way.
Visit Lockdown-Liquor.com or follow @lockdownliquorco
DISCLAIMER: We endeavour to always credit the correct original source of every image we use. If you think a credit may be incorrect, please contact us at [email protected].