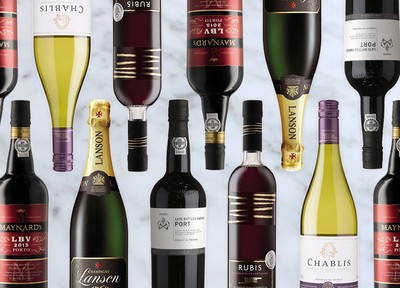 The Best Supermarket Wines For Christmas

---
While we often spend hours, if not days, putting together the perfect Christmas lunch, it can be hard to dedicate the same care and attention to the wines that will accompany it. So let SL take the strain: we asked a Master of Wine for the best supermarket bottles to pair with each course.

There's under a week to go, everyone's busy and there's little to no time to shop around for wines to drink over Christmas. Supermarkets offer the convenience of an extensive selection under one roof, but navigating so many choices can bring its own issues. That's why we asked Lydia Harrison of the Wine & Spirit Education Trust for some pointers.
"I've recently become a Master of Wine so I'll still be celebrating with plenty of Champagne throughout the day. I'm generally quite traditional at Christmas but I've just come back from a study trip to Chile and have been converted to the Pisco Sour cocktail, so I'll definitely be mixing a few of those as well."
When it comes to storing and serving your wine, Lydia says preparation is key. "At this time of year, red wine should be served at room temperature. At the Wine & Spirit Education Trust, we classify 18ºC as room temperature but a lot of households are warmer than this. If this is the case, cool your wine for a few minutes outside before serving. Whatever you do, don't warm your wine on the cooker or radiator as this will overheat it and make the alcohol seem much more potent."
If you end up with anything left over, consider the following: "Most young, fruity wines will keep for three to four days, as long as you pump out the air before recorking the bottle and storing in the fridge. Older, more mature and delicate wines deteriorate quickly, so it's best to drink them within two days."
Below, Lydia gives us her tips for food pairings. We also spoke to the supermarkets, who gave their recommendations as well as some alternative suggestions of what to have when. So whether you prefer red or white with your turkey, fizz or port with your afternoon tea, we've got you covered.
Smoked Salmon Starter
White
Start with a pop and go with something dry, white and fizzy. Traditional Champagne or an equally light and bubbly English sparkling wine will cut through the oil of the fish.
Red
If you insist on something darker, head to New Zealand and try a light Pinot Noir – delicate enough to match and not mask the flavour of the fish. 
Roast Turkey & All The Trimmings
White
An oaky Chardonnay from California will bring out the creaminess of the bird, while standing up to the bolder flavours on the table.
Red
Splash out on a red Burgundy to complement the cranberry accents of the main course, with just the right amount of acidity to cut through the fattier meat and potatoes. 
Christmas Pudding
Fortified
A Pedro Ximénez sherry is a good match, thanks to its dried fruit flavours and treacle-like characteristics - both of which complement this traditional pud. 
Cheeseboard
White
Sauvignon Blanc is a good choice if goats' cheese is your favourite.
Red
For strong, hard cheeses, a tannic red like a big Argentine Malbec is great. The flavour intensity will pair well, while the salt in the cheese softens the feel of the wine.
Fortified
A vintage port is the perfect foil for a stinky Stilton.
Chocolate Log
A tawny port would be a fabulous match, as long as the sweetness of the chocolate and the wine are in balance.
Leftovers/Sandwiches
At the end of a long, hard day of eating and drinking, a cool, crisp glass of white wine is the perfect solution. Try a Riesling, which will give you lots of flavour but with less alcohol.
DISCLAIMER: We endeavour to always credit the correct original source of every image we use. If you think a credit may be incorrect, please contact us at [email protected].