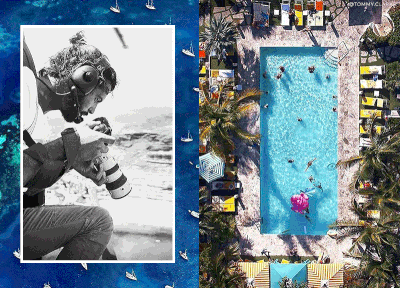 A Day In The Life Of An Aerial Photographer

---
Tommy Clarke is a rower turned fashion photographer turned aerial photographer. Whether it's planning a trip to Iceland or hanging out of helicopter over Martinique to get the perfect shot, no two days are ever the same.
SLMan caught Tommy in between flights to find out what its like to never know what is coming next and how he gets over his fear of heights.

The first thing I do when I get out of bed is put the kettle on and make myself a cup of tea whist I check the weather forecast and watch BBC news. I'm a Yorkshire tea and toast kind of guy. My morning routine is never the same. It might be sifting through and answering emails in my office one day, then dashing to a helicopter the next.
For me exercise is a combination of surfing and carrying a heavy load in my backpack. I spend my time between London and the coast and I try to surf whenever I am by the sea. I used to row but I've never been one for the gym. I prefer to be as naturally active and walk where I can. I've just spent the last ten days hiking around Martinique.
My work uniform is Acne Jeans, a Ralph Lauren t-shirt, always a Belstaff jacket and Red Wing boots. It's an outfit I could as easily wear hanging out the door of the helicopter as I could on a motorcycle, but it is also classic enough to wear to an event without looking too under-dressed.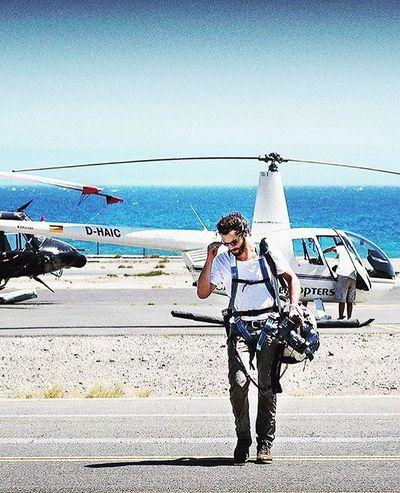 I ride to work on my Royal Enfield or I'll walk to the studio through the common. I find a walk with my headphones a creative way to start the day – it's often when new shoots and film ideas come to me. 
Music wise I am listening to Novo Amor, The Rolling Stones, Bowie and I have a crippling weakness for country music, so some Brad Paisley, Chris Stapleton and Brooks & Dunn too.
I am reading Dirt Music by Tim Winton. A friend recommended his books a few years ago and I'm slowly getting through them. I love travel writing and his ability to describe the Australian landscape has always amazed me and taken me back to my days living in and exploring the country.
I got my job by creating it. I don't think 'helicopter photographer' was a thing before. If it was, it certainly wasn't on my radar. I wasn't making it as a fashion photographer and this was a time before drones, so the aerial perspective was pretty unique. I managed to carve out a niche but fun career hanging out of helicopters, taking photographs of amazing landscapes and environments.
The best part about my job is that I never know what email or job offer might come in – right now I'm answering this interview whilst overlooking a volcano in Martinique.
The worst part about my job is not knowing if and when that next job offer will come. The fear really kicks in when a Monday comes and goes without something landing in my inbox. On a bad day, it can make you question the whole career choice. 
 
There are more dangers in my job than I'd like to think about, but of course anytime you're airborne there will be a certain amount of risk. Earlier this year a pilot I'd planned a shoot with crashed a couple of days before our flight was planned and died. So it's not something I take lightly but you can't spend your life worrying about things that may never happen.
I don't dwell on my safety. Every now and then when the chopper drops unexpectedly or you see the pilot sweating more than normal you have a moment of terror but worrying about it when you're up there won't help so I just try to enjoy the ride. 
I am scared of heights which makes it a bit ridiculous that this is my job! But it is so much fun that the nerves die off quickly. You just hope the seat belt doesn't come undone and that you get the shots. As time goes on I am learning to enjoy the flights more and more.
There is no such thing as an easy picture. I did a shoot over Miami a little while back which I'd funded myself, with the hope that the location and the pictures I captured would be an easy sell as prints. But after take-off, the wind picked up which made the ocean choppy, so all the pictures had very few people in the water and the sea looked very uninviting. I still haven't covered my costs on that shoot and it was meant to be an easy one.
 
Earlier this year a pilot I'd planned a shoot with crashed a couple of days before our flight was planned and died.
The hardest shots to capture are the ones to do with nature. Mother nature has a mind of her own and often doesn't play ball. Sometimes I'll search for ages for a pod of dolphins which don't materialise or there will be dark seaweed strewn across a beach driving people away from swimming.
 
My bestselling print is the one I took of boats moored off the beach in Saint Tropez. It's also my favourite - not for that reason, but because it was my first cover shot for Conde Nast Traveller and will therefore always be special.
 
My longest planned project was the Iceland series which also took the most time to save for. It was magic to exhibit it after all the years of planning it took.
The ocean is a my biggest inspiration and if I was Prime Minister for the day I would allocate more funding to cleaning up the plastic in our oceans.
 
In another life I would have my own beach shack restaurant in the Caribbean or have rowed at the Olympics. That was always my aim growing up, but I broke my spine in a snowboarding accident that put the brakes on that career option.
For more informtion visit TommyClarke.co.uk 
 
DISCLAIMER: We endeavour to always credit the correct original source of every image we use. If you think a credit may be incorrect, please contact us at [email protected].