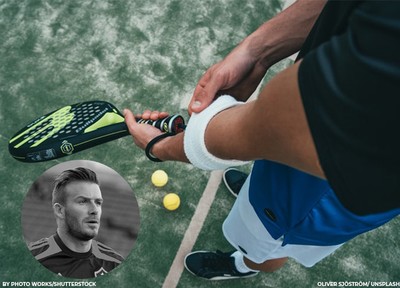 Everything You Need to Know About Padel

---
You might have never heard of padel, but there are now almost 50 clubs up and down the country where you can get involved - even David Beckham is a fan. A great way to build stamina and improve your tennis technique, it's easy to pick up – which is probably what makes it one of Europe's fastest growing sports. We asked Tom Murray, head of padel at the Lawn Tennis Association (LTA), for the lowdown…

Photography
OLIVER SJÖSTRÖM/ UNSPLASH
What is padel?
Padel is a form of tennis that's easy to play, fun and extremely sociable. It's played mainly in a doubles format on an enclosed court about a third of the size of a tennis court, and can be played in groups of mixed ages and abilities. The rules are broadly the same as tennis, although you serve underhand and the walls are used as part of the game with the ball allowed to bounce off them.
Where has it come from?
Mexican businessman Enrique Corcuera set up the first ever padel court at his holiday home in Acapulco in 1969, but the roots of the sport go back further than that. During the 19th century, passengers on British cruise ships played a similar game with tennis rackets. The International Paddle Federation was formed in 1991 and a year later the first world championships were held in Madrid and Seville. Today the game is hugely popular in Europe and South America.
When did it get to the UK?
In 1992 the British Paddle Association was formed by a group of expats seeking to compete in the 1992 World Paddle Championships. Since then the sport has steadily grown here. In 2019 the LTA integrated padel into our day-to-day operations. As of last year, there are around 6,000 active padel players across the UK, with 97 padel courts and 45 clubs. Those numbers are set to grow substantially over the coming years.
So what are the rules?
In padel, scoring is the same as tennis, but there are also many differences between the sports. A padel court has walls, so shots can be played off them, like in squash. When serving, players have two attempts to hit into an opponent's box. When a ball is served it must bounce once on the floor then hit from waist height or below. During a rally, players can volley the ball and they can bounce the ball off a wall on their own side of the court (similar to squash again) but the ball is 'out' should it hit the opposition's wall directly.
Like tennis, a set is won when a team wins six games and there is at least two games difference – failing that the set is decided by a tie-break. Matches are best of three sets. Padel courts are designed for four players and are roughly 25% smaller than the size of a tennis court. The full rule book can be found here.
What are the top venues?
Stoke Park, London
Stoke Park's indoor courts are open year-round to members and hotel guests. Equipment can be hired for 90-minute sessions of single or double play..
Visit StokePark.com
Will to Win, Regent's Park, London
You don't need a membership to play here. Take lessons with one of the club's coaches, or book a court for a match with friends. Equipment can be hired from £3 an hour.
Visit WillToWin.co.uk
Will to Win, Hyde Park, London
Hyde Park offers classes and tournaments for players of all abilities. You can get stuck in on the outdoor courts, and you don't need to be a member. Equipment can be hired from £3 per hour.
Visit WillToWin.co.uk
Huddersfield Tennis & Squash Club
This outdoor facility has a weather canopy so you can play year-round. Non-members can jump on court for as little as £2 per hour, but you will need your own bats and balls.
Visit HLTSC.co.uk
Sutton Coldfield, Birmingham
Alongside its eight floodlit outdoor courts for regular tennis, Sutton Coldfield Tennis Club has a padel court that's open to non-members.
Visit ClubSpark.LTA.org.uk
Edinburgh Sports Club
The home of Scotland's first padel facilities, Edinburgh Sports Club has two courts, one of which is covered for year-round play. You'll need to join up to get involved, but membership allows you to enter tournaments and make use of all equipment.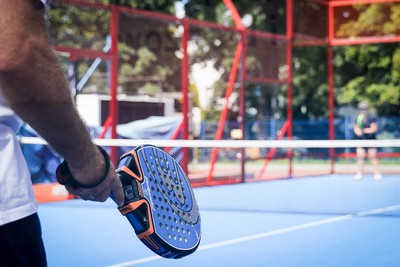 READY TO HIT THE COURT? TOM'S GOT TEN TIPS FOR MASTERING THE GAME:
Focus on early preparation. This isn't just something a coach says, it really does help. Turn to the side and get the bat behind you nice and early.
Padel isn't power dominant. It's more like a game of chess where you need to try and place your shots accordingly, rather than attempting to out-power your opponents. 
Serve and volley. Get to the net position before your opponent so as to secure the dominant position of play.
Be patient. Don't expect to hit quickfire winners on such a small court. Reduce those unforced errors and try to wear out your opponents by keeping the ball in play.
Always move in sync with your partner – both forwards and backwards – as this will prevent any angles from being exposed. 
Treat the surrounding walls as an aid rather than an obstacle. Remember, rebounds slow the ball down dramatically, so if you're stuck at the back of the court and are under attack, learn to use the walls so you can quickly turn a defensive position into an offensive one.
Only change the direction of your shot on slow moving balls. Padel bats don't have any strings, so in order to have more control, your contact point should always be as compact as possible. 
Use the side fence strategy. The side fence, especially when you're at the net, is a great target as you can generate an inconsistent rebound.
Don't get too close to the net. Lobs are the most common shot in padel, so you may be exposing the back of the court if you get too close to the net. If someone does lob you, you can always boast the ball off the back wall. 
Use the correct footwear. Tennis shoes, preferably clay court or omni soles, have a much better grip when moving around the synthetic surface.
DISCLAIMER: We endeavour to always credit the correct original source of every image we use. If you think a credit may be incorrect, please contact us at [email protected].