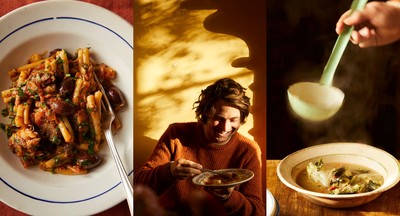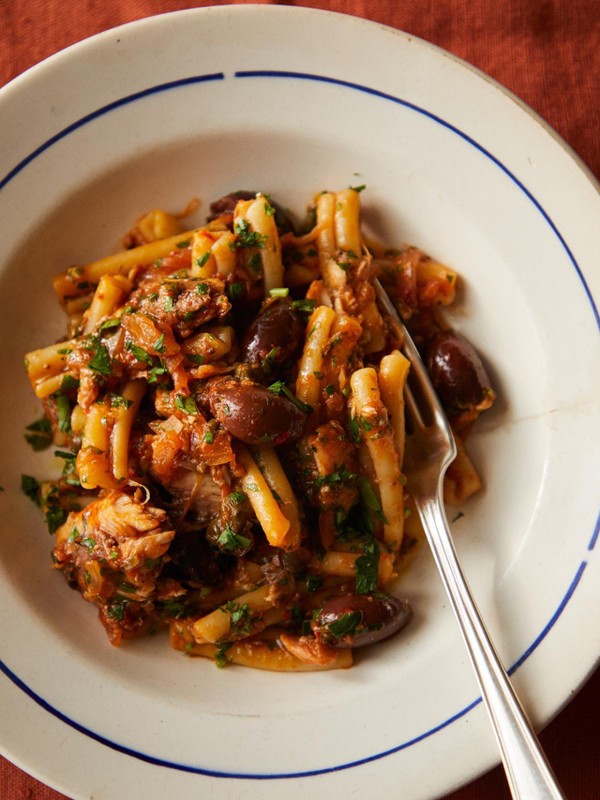 A Farmer & Chef Shares His Ideal Autumn Weekend

---
Chunky knits, pub roasts and long walks… There's a lot to like about autumn – especially if you're a farmer and chef like Julius Roberts. From pitstops at the local bakery to the dishes he's cooking, this is what an ideal autumnal weekend in south Dorset looks like…

Photography
Elena Heatherwick
I love autumn. When you live by the seasons, you immerse yourself in the beauty each one brings. Spring is probably my favourite time, but autumn is a special season when we shift from the golden days of summer to the stark bleakness of winter. I love the light and colours. Plus, the veg patch is often at its best this time of year, the fishing is incredible, and I love the return of slower, more unctuous cooking in the kitchen.
I usually wake up in the morning at first light. On a good day, the sun will be shining; on a bad day, wind howls and rain lashes against the windows. I like to make a strong coffee first thing and head out with the dogs, steaming mug in one hand, and a bucket of feed in the other. I check and feed the chickens first, and grab a handful of warm eggs, before checking on the goats. I top up their hayracks with fresh hay, then scoop up any apples that have fallen from the trees. These get fed to the goats and sheep, which live high on our land in the autumn and winter, as the ground is much drier with thick hedges for shelter. Then, I'll do a round of their fields, just to make sure no one's stuck in a fence or tangled in brambles.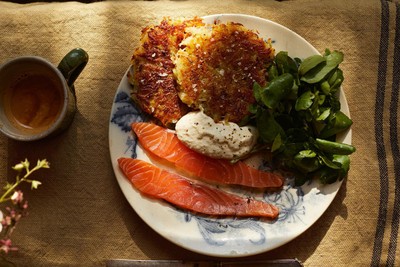 Friday nights are for relaxing in front of the fire with a film. But, if it's sunny, I'll head to the beach and go fishing for mackerel or even brave the waves and head out to sea on my kayak. This will be followed by a pint and a game of cards in the pub by the fire. When the weather is cold, Friday dinners are warm and hearty, like sausage stew with a jar of white beans, greens from the garden, green sauce and a hunk of healthily buttered bread.
I love a glass of red. A recent bottle that blew me away was a French wine from the Ardeche called Zig-Zag by Domaine les Deux Terres. Equally, I love a cold beer and I'm a huge fan of Small Beer's low-alcohol options. I've also been enjoying Botivo (a delicious non-alcoholic bitters) with soda and grapefruit.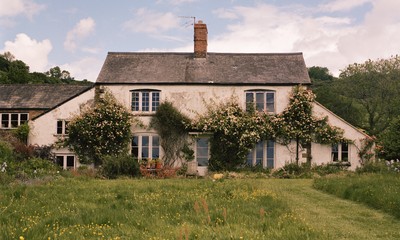 Weekend breakfast is always eggs on toast. A flat white with a dash of really good milk is also non-negotiable. I'd like to say I have a Saturday morning routine, but farm life is chaotic. Inevitably, just as I'm about to do something productive, a billy goat will escape and come charging into the yard, or the fox will be in with the chickens, or a tree will come down on a fence. Ideally, I like to spend a few hours tending to the veg patch before cooking something hearty for lunch, usually soup with buttered bread. During the colder months, I crave dark green veg, so I'm looking forward to the return of cavolo nero, savoy cabbages, blue leeks, romanesco and purple sprouting broccoli.
You can often find me at the local bakery. The Wobbly Cottage makes excellent bread, as well as the most incredible scotch eggs with curried mayo. I like to eat one during the dog walk. There's also a local Italian deli that sources fantastic cheeses and serves great Neapolitan pizzas, as well as a farm shop where I buy all my meat.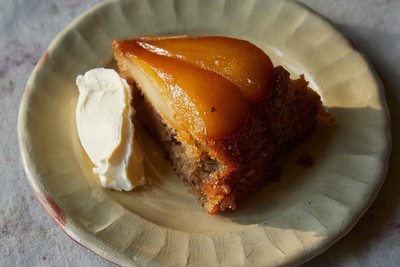 I recently bought a sea kayak and it's great fun in the rough autumn seas. If I have time, I might head on a long dog walk or go fishing. Back at home, I've always got a podcast on the go. I love The Adam Buxton Podcast, and religiously listen to The Rest Is History and The Rest is Politics. I also listen to music – songs I've been loving this month are 'Run Honey Run' by John Martyn, 'Confirmation' by Westerman, and 'Winter Morning I' by Woodkid & Nils Frahm.
My style of cooking is simple and hearty. That's why my cookbook is 100 dishes that are achievable to recreate at home. It's organised season by season, so you can find dishes you really want to eat at the time of year. Some of my favourite recipes include chicken pie with tarragon and smoked bacon; pumpkin, spinach and mozzarella lasagne; a classic healing chicken soup with crème fraiche and dill, but with these epic chicken and ricotta meatballs (that are almost dumpling like); and upside-down caramelised pear and walnut cake.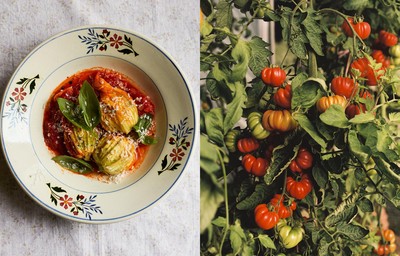 There are no days off when you're responsible for a farm. So Sundays generally look like other days of the week: tending to the animals, cooking at home, and going on long dog walks. Sometimes I'll go foraging for mushrooms in the woods. I never read the paper, but I love getting stuck in a good book. Right now I'm reading Narcissus and Goldmund by Herman Hesse for what must be the fifth time now… What an unbelievable book. 
I try to eat as much seasonal produce as possible. It means you get the best of local produce instead of food flown across the world, and food tends to be more nutritious and packed with flavour. Ideally, we shouldn't buy asparagus from Mexico in winter, for example, we should wait until it comes back into season here. Embrace the wait. It makes the world of veg more exciting – make the most of ingredients while they're around, feast on them and be creative in the kitchen. Out in my own veg garden, I've been growing Jerusalem artichokes, purple sprouting broccoli, kales, cavolo nero, beetroots, carrots, pumpkins, leeks, parsley, chillies, basil, coriander and aubergines. 
I save Sunday roasts for special occasions. My current go-to is a staple recipe from the book: tarragon roast chicken with mustard and cream. It's an absolute belter with crispy skin, juicy meat and, most importantly, tons of sauce. I only recently went out for my first roast at a local restaurant called The Parlour. I had a mind-blowing lunch of pork belly with potatoes, Yorkshires, roast beets, carrots and gravy. I can't wait to go back. 
On a Sunday night, a hot bath is one of my rituals. I like to light a candle, throw in some Epsom salts and listen to an audiobook. Nothing relaxes me more. 
All products on this page have been selected by our editorial team, however we may make commission on some products.
DISCLAIMER: We endeavour to always credit the correct original source of every image we use. If you think a credit may be incorrect, please contact us at [email protected].