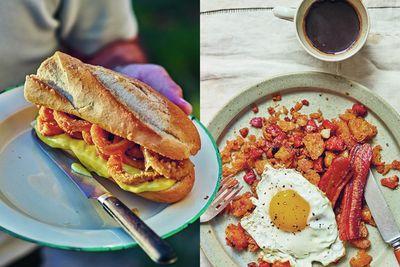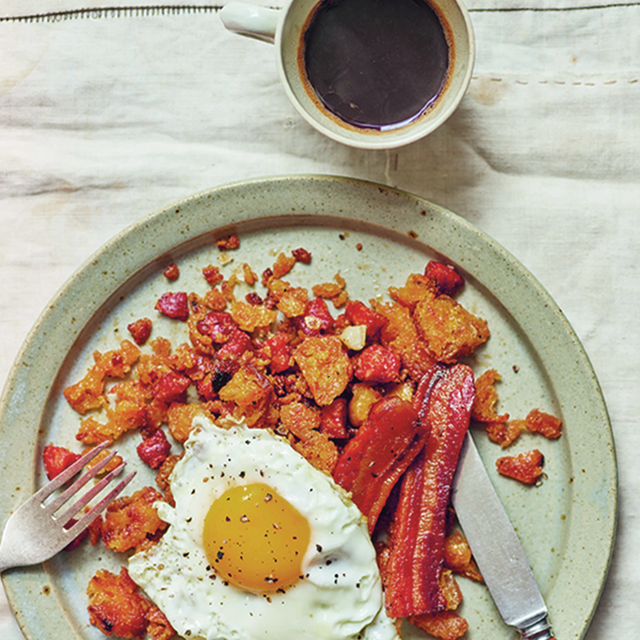 3 Easy & Excellent Spanish Recipes To Try This Summer

---
José Pizarro is the man who showed London that Spanish cuisine is so much more than paella and chips. Eleven years after he opened his first tapas bar in Bermondsey, he has five places around town – and a new cookbook. It features more than 80 of his favourite recipes, including the ultimate BBQ shoulder of lamb, a brilliant weekend breakfast option and a hangover-busting sandwich…
All products on this page have been selected by our editorial team, however we may make commission on some products.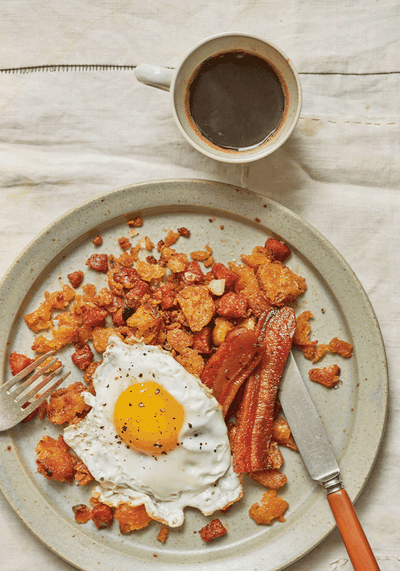 THE WEEKEND BREAKFAST
Migas With Fried Egg, Chorizo & Bacon
Whenever I eat or cook this recipe, it takes me back to one of my earliest memories: my grandfather watching the evening news while cutting stale bread for making migas the next day. Migas was traditionally eaten almost every day, as it was great fuel for people working on the farms. It's certainly not low in calories – but then nothing good is! There are so many different ways to prepare migas. Back at home, my family use just olive oil to cook the garlic and bread, and then cook the meat separately, serving it with coffee. I like to cook the chorizo first and then stir it back in at the end.
Ingredients
Ingredients

250g
of stale crusty bread, torn into large chunks
4
thick slices of streaky bacon
Method
Step 1
Put the stale bread chunks in a dish and sprinkle with 50ml of the water. Cover with a damp tea towel and leave for at least 3 hours (or overnight).
Step 2
Heat the oil in a large pan over a medium heat and gently fry the chorizo and garlic for 2-3 minutes until the chorizo is golden. Remove with a slotted spoon and set aside on a plate.

Step 3
Add the rest of the water to the pan along with a generous pinch of salt. Add a handful of the bread and mix really well, then add the rest of the bread to the pan and increase the heat to medium heat.
Step 4
Cook, stirring occasionally, for 15 minutes, until the chunks of bread are golden and crisp but still tender in the middle.
Step 5
Meanwhile, in a separate non-stick pan, fry the bacon slices over a medium-high heat for 3-5 minutes until golden and crisp, then remove and set aside with the chorizo.

Step 6
Keeping the pan on the heat, crack in the eggs and fry them in the bacon fat until they are done to your liking.
Step 7
Once golden, stir the chorizo and garlic back into the bread chunks. Serve with the bacon and eggs.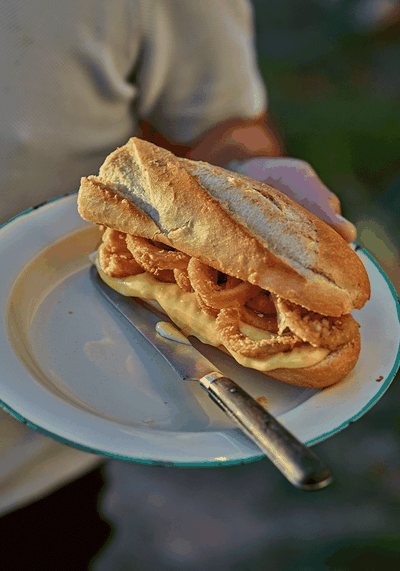 THE HANGOVER CURE
Deep-Fried Calamari Sandwich
For me, this is the best sandwich in the world, and (top tip) it's the most incredible hangover food. People seem surprised to learn that some of the best and freshest seafood in Spain can be found in Madrid. I have such wonderful memories of working there in my early 20s. I had a brilliant time exploring the night life and partying, and then discovering places to get something to eat afterwards – this was the best way to discover some incredible street food. One of my favourite places in Madrid is El Mercado de San Miguel, partly because I had one of the best bocadillo de calamares of my life there. I think this recipe comes close to it.
Ingredients
For The Aioli

Finely grated zest of
1
lemon, plus juice to taste
1
tsp
of white wine vinegar or apple cider vinegar
For The Calamari

1
litre of vegetable oil or light olive oil, for deep-frying
1
tsp
of pimentón de la Vera
500g
of small squid, cleaned, tentacles removed and body sliced into rings
1
crusty baguette, cut into pieces and each one halved
Sea salt & freshly ground black pepper
Method
Step 1
Begin by making the aioli. In a bowl, whisk together the egg yolk, garlic, lemon zest and vinegar. Season with a good pinch of sea salt. Slowly drizzle in the olive oil, whisking constantly, until you have a thick, luscious aioli. Add lemon juice to taste and set aside.
Step 2
To prepare the calamari, pour the oil into a large saucepan (you want it to be half full). Heat to 190°C, or until a cube of bread browns in 20 seconds.
Step 3
While the oil is heating, mix together the flour and pimentón in a large bowl and season with plenty of sea salt and freshly ground black pepper. Add the squid and toss until well coated in the seasoned flour.

Step 4
Working in batches, fry the squid for around 3 minutes or until golden and crunchy, then remove from the oil and set aside to drain on a plate lined with paper towels. Sprinkle with salt as soon as you remove it from the oil, then continue with the next batch.
Step 5
Lightly toast the baguette slices, then assemble the sandwiches by spreading the aioli over four of the slices, then adding the fried calamari. Top each one with the remaining baguette slices and enjoy.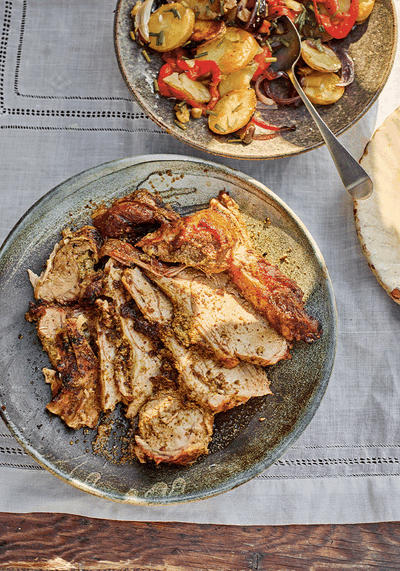 THE SUNDAY LUNCH SHOWSTOPPER
BBQ Shoulder Of Lamb With Olive & Herb Crust
Barbecuing seems to be more popular than ever before, and it's not just for summer. We are learning how important it is to spend time outdoors and be with our family and friends – and there's no better way to do that than cooking. Cooking on a BBQ often makes me think about the way humans first started to cook over fire. I like to think someone was just looking at the fire one day and thought, 'How much better would it be to put the food on there?' I'm sure there are studies to read about how it happened, but I just want to thank whoever came up with the idea – because it is one of the best joys in life.
Ingredients
Ingredients

175g
of pitted green olives
Finely grated zest of
1
lemon
1
large handful of flat-leaf parsley
5
lemon thyme sprigs, leaves picked
1
small handful of fresh mint
2
–2.2kg of lamb shoulder, boned
Sea salt & freshly ground black pepper
Method
Step 1
Put the olives, lemon zest, garlic, anchovies, herbs and olive oil in a food processor and pulse to form a paste. Season well. Spread all over the inside and outside of the lamb shoulder and set aside while you light the BBQ.

Step 2
Light your coals and set up the BBQ for indirect cooking (this means the coals are on either side of the BBQ, leaving the middle free).
Step 3
Place a drip tray in the centre of the BBQ below the grill, between the two areas of coals, to catch the fat. You want an initial temperature of about 200-220°C, which will then drop to about 170°C. You need enough coals for a good couple of hours' cooking at about 170°C.

Step 4
Place the lamb in the centre of the BBQ on the grill. Cover and cook for 1½-2 hours, allowing the temperature to drop as described above.

DISCLAIMER: We endeavour to always credit the correct original source of every image we use. If you think a credit may be incorrect, please contact us at [email protected].