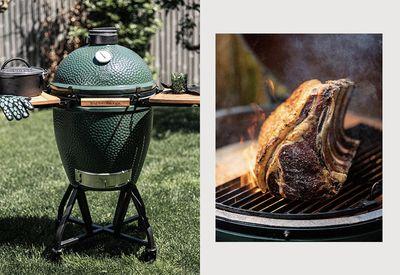 4 Fun Things To Cook On A Big Green Egg

---
Favoured by chefs like Tom Kerridge and Gordon Ramsay – and celebs like David Beckham – the Big Green Egg is rapidly gaining favour among keen home cooks who want restaurant-quality food. Heating up to 1,000ºC, it can cook anything from slow-smoked brisket to roast chicken, pizza and smoked oysters. Here, James Whetlor – founder of ethical meat business Cabrito Goat Meat and author of Cooking On The Big Green Egg – shares his tips and four recipes for dishes you might not have realised you could cook on a BBQ…
Photography @BIGGREENEGG
All products on this page have been selected by our editorial team, however we may make commission on some products.
Cooking with fire has been around longer than we've had language to write about it. But why does it still appeal? Why, when we've evolved kitchens, gas rings, microwaves and induction hobs, do we still drag out the BBQ every summer and scorch proteins like Neanderthals?
For some, it's the appeal of flame and meat. The thrill of controlling fire seemingly never gets old and there can be few things so deeply satisfying as an afternoon building up a good layer of char on a great cut of pork.
But there's something else much more exciting going on. As we become more fascinated by diverse global food ways, and as the technology of fire cooking develops, we are more able to pursue subtleties of flavour. Today, cooking outdoors with fire doesn't have to be about blackening the outside of a steak or incinerating some cheap sausages. It's everything from the authentic 'bark' on a BBQ hog butt to a Korean bossam, from the delicacy of a Japanese yakitori to a Galician, slow-grilled turbot.
If you are lighting your Egg, try to extend the cooking as much as possible. Just heating the ceramics takes a lot of energy, and good charcoal isn't cheap. To get the most out of each load, try to combine cooks. For example, light the Egg for a low and slow cook. Once that is done, increase the temperature and have something ready to grill, then when you shut the Egg down, throw in an afterburner. Three cooks from a single lighting. You don't have to do this, of course, but it's a nice thing to keep in mind.
INSPIRED? HERE ARE FOUR RECIPES TO TRY… WHATEVER THE WEATHER.
DUTCH OVEN BONE-IN VEAL SHIN OR BEEF SHIN PASTA
Serves: 6
Total Time: 5 Hours
Target Temp: 140-160°C
Cooking in a pot inside a Big Green Egg is a joy. Many of the classic dishes you know from your conventional oven get an extra layer of complexity in the Egg, and this shin dish is one of them.
In a conventional oven you would brown the meat in the same pot as you'd cook it in. If you wanted to do that here, the Egg would need to get really hot – too hot to then cook the meat. Instead, you brown the meat on the grill, which gives it a punch of smoky flavour, while you are softening the vegetables in the pot. Once you've got the hang of this, all the stews and braises in your repertoire will be destined for the Big Green Egg. If you can't find veal, beef shin will substitute well.
INGREDIENTS
4 tbsp of olive oil

4 pieces of veal osso buco (or use diced beef shin), removed from fridge before lighting the Egg

1 onion, finely chopped

2 carrots, finely chopped

2 small leeks, finely chopped

1 head of garlic, cloves peeled and finely chopped

200ml of dry white wine

1 tbsp of tomato purée

2 sprigs of sage, leaves finely chopped

500ml of chicken stock

Small bunch of flat-leaf parsley, leaves finely chopped

400g of dried pappardelle pasta

70g of parmesan, finely grated

Salt and freshly ground black pepper
METHOD
Preheat a dutch oven or cast-iron pot in the Egg for 10 minutes, then add the oil to the pot and allow to preheat for 2 minutes.

Season the meat with salt and pepper and place straight on the grill. Cook for 10 minutes to lightly brown, turning once. At the same time, add all the chopped vegetables and garlic to the pot to soften for 15-20 minutes, stirring a few times.

Pour the wine into the pot with the tomato purée, sage and stock and bring to the boil, then place the browned meat in the pot.

Close the lid of the Egg and cook for 3-4 hours, without the pot's lid, until the meat is very tender, but not falling apart, adding a splash of water or more stock if it dries out. Stir through the parsley and shred the veal using two forks, discarding the bones (or keep the meat whole if you prefer). Check the seasoning, adding salt and pepper to taste. Keep warm.

Cook the pasta until al dente, according to the packet instructions, then drain well, reserving a little cooking water. Add the hot pasta to the veal with a couple of tablespoons of pasta water and toss.

Serve topped with the parmesan.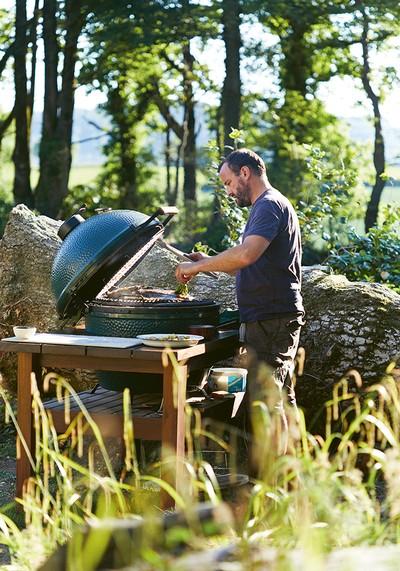 PIZZA
Serves: 4
Total Time: 1 Hour 30 Minutes
Target Temp: 275-325°C
Cooking pizza takes some practice. The art is to get the base crispy, but not quite burnt, while cooking the toppings. Remember it is essential you allow the Egg long enough to heat the baking stone or you won't get the crispy base. I cannot stress enough how important it is that you wait until you get to the right temperature. If you don't, you will be scraping half-cooked dough from your baking stone, rather than enjoying delicious pizza.
INGREDIENTS
500g of '00' flour, plus extra for dusting

1 tsp of fast-action dried yeast

1 tsp of salt

350ml of water
For the topping:
500g of new potatoes, thinly sliced

2 sprigs of rosemary, needles roughly chopped

2 tbsp of extra virgin olive oil, plus extra to drizzle

3 garlic cloves, finely chopped

250g of mozzarella, cut or torn into little pieces

Freshly grated of parmesan

Salt and freshly ground black pepper
METHOD
Make the dough. Put the flour, semolina flour if using, yeast and salt in a big mixing bowl and stir in the water with a spoon.

Mix well to combine completely, place a damp cloth over the bowl and leave for an hour or so until almost doubled in size.

Mix the sliced potato with half the rosemary, the olive oil and some salt, and spread out in a thin layer in a baking tray. Bake in the hot Egg for 5 minutes until softened and beginning to brown at the edges. Toss with the garlic and the remaining rosemary and check for seasoning, then leave to one side.

Divide the dough into four even pieces and roll into balls. Place on a lightly floured tray. Have a pizza peel or thin board ready, and dust lightly with flour.

Roll or stretch one ball of dough into a round base about 30cm in diameter. Transfer it to the peel and top with a quarter each of the potato and mozzarella, and a sprinkling of parmesan.

Slide the pizza onto the hot baking stone, close the lid and cook for 4-8 minutes (this really does depend on temperature; as you open and close the Egg the temperature can rise quite quickly).

Slide the cooked pizza onto a large plate or a chopping board and top with a little more olive oil and some salt and pepper, followed by some more freshly grated parmesan. Repeat with the remaining pizza dough and topping. You can completely play around with toppings to suit your tastes – for a classic margherita, swap the potatoes for tomato passata.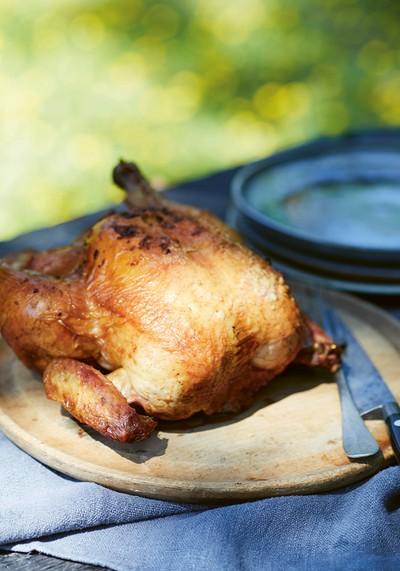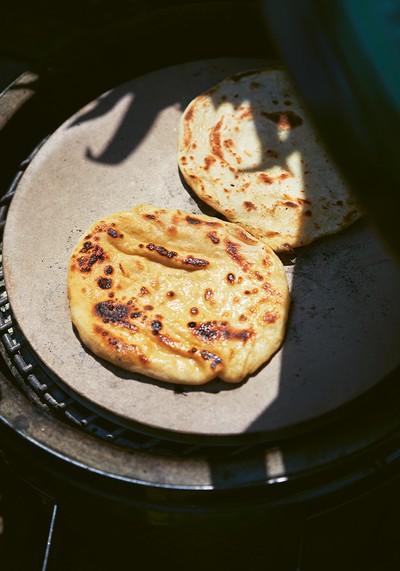 ROAST CHICKEN
Serves: 4-6
Total Time: 1 Hour 30 Minutes
Target Temp: 170-200°C
Roasting a chicken is something most people will be familiar with. There is a succulence and juiciness the Egg gives a roasted chicken that means you will never return to a conventional oven. I like to cook my chicken on a rack over a roasting pan with an inch or two of water in it. As the chicken cooks, it will drip roasting juices into the water. This becomes a stock that can serve as the base of a gravy. The water also helps keep the atmosphere inside the dome moist, which in turn helps keep the chicken moist. It's a technique than can be applied to most meat-roasting recipes.
INGREDIENTS
1 chicken (1.5-2kg), removed from fridge before lighting the Egg

2 garlic cloves, unpeeled and squashed slightly

½ lemon, halved into 2 quarters

1 big sprig of rosemary, thyme or sage

1 tbsp of olive oil

Salt and freshly ground black pepper
METHOD
Pat dry the chicken and generously season the cavity with salt and pepper, then pop in the garlic cloves, one piece of lemon and the herb sprig. Rub the chicken with the juice from the remaining lemon quarter and the olive oil, then generously season on all sides with salt and pepper.

Place the chicken either directly on the grill or in a roasting pan, breast side up. Close the lid and roast for 1-1½ hours until the skin is crisp and golden brown and the meat is cooked through – the internal temperature should read 74°C.

Transfer the chicken to a large plate and let it rest for about 20 minutes before carving or jointing to serve.
 
PARATHA
Serves: 8
Total Time: 20 Minutes
Target Temperature: 250-280°C 
London BBQ restaurant Temper is one of my favourite places to eat. They serve paratha with everything, which is a really good idea, so don't restrict these to just Indian or Asian dishes. I like to serve steak on them, sliced and fanned out. Make sure you preheat your baking stone.
INGREDIENTS
500g of plain flour, plus extra for dusting

½ tsp of sugar

1 tsp of salt

300ml of water

40g of butter or ghee, melted
METHOD
Mix the flour with the sugar and salt, then mix in the water to make a soft dough. Cover and put to one side for 5 minutes, then knead for a couple of minutes until smooth.

Separate the dough into 8 pieces and, on a floured surface, roll each piece into a circle about 15cm / 6in in diameter, then brush each with a little melted butter or ghee. Roll each up into a cigar shape, with the buttered side inside, then coil up the cigar into a snail. Press down with the palm of your hand and roll out again to a circle about 15cm / 6in in diameter.

Add to the hot baking stone, close the lid and cook for 1–2 minutes until beginning to char in small patches, then flip over and cook for the same time on the other side. Brush with a little butter or ghee (or do this just before serving) then place in a bowl and cover with a clean cloth while you repeat with the rest of the dough.
DISCLAIMER: We endeavour to always credit the correct original source of every image we use. If you think a credit may be incorrect, please contact us at [email protected].