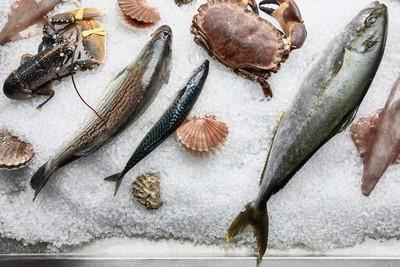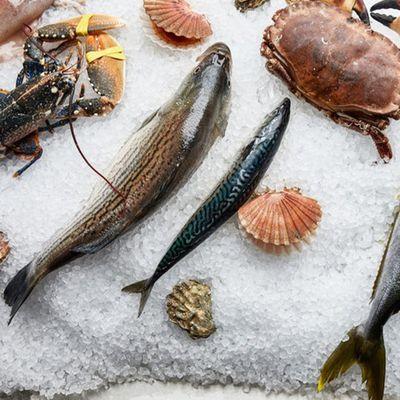 9 Food Pros Pick Their Favourite Fishmonger In London

---
Billingsgate Market is the obvious choice, but if you don't fancy waking up at 4am for the catch of the day, there are quality fishmongers elsewhere in the capital. We asked nine of the country's best chefs to share their favourites, what they ask for at the counter, and the sustainable options to look out for.

Photography Helen Cathcart/The Sea The Sea
Theo Randall
InterContinental London
"My favourite fishmonger is La Petite Poissonnerie in Primrose Hill. It's local and the fish is always incredibly fresh. I usually buy clams, seabass, turbot, sardines, prawns and brown shrimp, but they also specialise in Japanese food as the French owner's wife is from Japan. They always have delicious seaweed and lovely Japanese crackers as a bonus. This month I'll be buying mussels, clams, seabass and wild turbot which are in season so taste great at this time of year and the price is better. The mussels and clams will be made into a sauce for pasta, and I'll cook the bass whole on the bone. I'm already looking forward to turbot, cut into large steaks and roasted in the oven. When you're at your local fishmonger, it's important to buy fish that's in season and from day boats not trawlers. It tastes better as it is caught live not drowned by long trawling nets which make the fish smell of ammonia as the saltwater cooks the fish as it's being trawled. Eat fish once in a while but buy the freshest that's in season. Mussels are always great value for money and go a long way, especially made into a simple pasta dish."
"I go to Moxon's in Clapham weekly for home and family cooking, and my restaurants have deliveries most days. We have a long-term relationship and I trust the owner Robin's eye for great seasonal fish that's simple – they really do love fish! For the family, I like to buy a small 1kg turbot to roast in the wood oven or a centre-cut hake for a nice traybake with onions and chorizo. Moxon's has its own smokehouse as well as a huge variety of wet fish and harder-to-find shellfish like sea urchins. I'm keen to get my hands on some seabass before the restriction starts in the UK (to allow the bass numbers to recover) as well as a few Dover soles. After February, it's all about large cock crabs, hake and cod. One of my favourite dishes right now is smoked salmon portions brushed with teriyaki sauce and whacked under a hot grill for about eight minutes. We eat this with sautéed pak choi and coconut rice at home."
Visit TrinityRestaurant.co.uk
"My local fishmonger The Sea, The Sea in Hackney hand-picks the best fish directly from day boats, divers and regional markets in Cornwall, Devon and Dorset. Recently, I've been asking for line-caught mackerel which is more sustainable, and chalk stream trout from Hampshire, another favourite. Sardines are at their best right now. I like to butterfly them, carefully removing the backbone and head. Then, lightly flour the skin and cook them very quickly, skin-side down in a hot pan for wonderfully crispy. I finish by dressing them with a chilli salsa or pesto. Sardines are so versatile because you can roast them or use them in the base of sauces. Always shop at your local fishmonger – they have the best advice regarding seasonality and the most sustainable options."
Visit BehindRestaurant.co.uk
Sandy Jarvis
The Culpeper
"My favourite fishmonger is Fin & Flounder on Broadway Market. Brendon, Sam and Marcus are fantastic. Super friendly, they have an amazing selection of fish and always offer great advice. I ask them what's best and we chat about catch methods and where the fish comes from. Everything is responsibly sourced, but I always try to get the top level of that, which changes throughout the year. Our lockdown treat was a whole turbot. Their shellfish is top notch, too, as is their farmed halibut from Gigha in north Scotland. There's also a strong natural wine selection. Avoid market day when there's always a crazy queue (unless you're in the mood for oysters while you wait) and if you give them enough notice, they'll do whatever you need to the fish – ideal if you're not confident at filleting or de-boning. This month, I'll be buying squid and mussels for a simple cataplana at home. Add in any shellfish, wine, really peppery olive oil and coriander. That's all."
Visit TheCulpeper.com
"My favourite fishmonger in London has to be Billingsgate Market. Well known for its freshness and national products, it's a great experience to go there and talk with suppliers that provide Michelin-star restaurants and smaller markets. After five years, I've tried different places but I always end up coming back to it. The quality of the seafood is supreme, and they bring in white meaty fish seasonally which you can see comes from the deepest part of the ocean. I like to go fortnightly so next week I'll be on the lookout for red mullet, lobster and scallops. At home, I cook it all on the barbecue and garnish it simply with garlic sauce or butter to appreciate the pureness of the fish. I also love Borough Market and often make trips there to try produce from the independent stalls like Applebee's and Furness."
Visit BokanLondon.co.uk
Alex Webb
InterContinental London
"Life of Fish in Clapham is my local fishmonger which offers an incredible selection of fresh day-boat fish. I Iove flat fish, such as Dover sole, so I tend to go for varieties similar to that. I usually cook it in the pan the classic way with butter, capers, parsley and lemon juice. It sounds simple but often simple is best. Otherwise, I'll always ask what's in season and pick up some tinned baby octopus which is their speciality. I absolutely love it straight out the can or you can add it to sauces and pasta dishes. I try to get the most sustainable fish where possible. The team are incredibly knowledgeable about where their produce is sourced, so definitely ask them for recommendations before you buy."
"The only fishmonger I will use, both at home and in my restaurants, is James Knight of Mayfair. The quality is just exceptional. They only source their fish from the UK and it's always super fresh. They do a lot of night fishing, so what you get in the morning was caught in the last 12 hours, but it's often a lot less. They also hold a Royal Warrant, and used to supply fish to Queen Elizabeth II, so you know it has to be good. For my personal cooking at home, I go every week or two in the morning. I'm really loving monkfish at the moment because it's a hearty fish that's perfect for colder weather as it really is meaty. Given how hardy monkfish is, it works brilliantly in Indian-inspired dishes. I like to marinate it in Indian spices and leave it in the fridge overnight for up to 12 hours to really take on that flavour, then grill it on the bone. It's incredible. Right now, I'm looking forward to spring halibut which works beautifully with wild garlic and morels. Ask the fishmonger to fillet it for you into the size you want then do it really simply at home, pan-fried with butter and lemon juice, and served with whatever you like – green veg always works well. I also have to mention their shellfish which is amazing and worth splashing out for – I wouldn't go anywhere else for our scallops. Also, look out for its premium at-home meals like fish cakes or fish pie, which are delicious."
Visit GanymedeLondon.co.uk
Joe Hurd
Lifetime Training's Chef Academy
"Cyprus Fisheries at Billingsgate has the biggest selection of fish I've ever seen. Everything is super fresh, the prices are good and – short of a mermaid – there's nothing they can't get you, from parrot fish caught in the Indian Ocean to huge spider crabs that are as broad as an adult arm. I like to take the apprentices we teach to show them the breadth of what's on offer. They recently had lots of beautiful Scottish queen scallops and shellfish from the Med. One of my favourite dishes is polpo pappa al pomodoro (grilled octopus with a tomato and bread sauce) which always comes out beautifully tender. During the winter months I'm drawn to Dover sole. It's meaty and doesn't require a lot of messing about. I cook it whole with lots of herbs (don't chop them up, just add bunches then remove before serving) olive oil and either white wine or lemon juice. Very simple. The oysters are a must, too." 
Visit LifetimeTraining.co.uk
"My favourite fishmonger is The Sea, The Sea in Hackney and Chelsea. They're a fantastic team with amazing produce that comes in daily from the British Isles. They put a lot of effort into their sourcing strategy and the produce is always seasonal. Right now, I'm on the lookout for line-caught or netted pollock which is aged for two to three days, as well as red mullet, halibut and Dover sole. Mackerel is also fantastic, fresh and sustainable, so I'll also try to get my hands on that later in the month. One of my favourite dishes during the colder months is fried halibut with curry leaf butter. Infuse the melted butter with curry leaves then pan fry it gently for comfort food that's perfect for on a chilly Sunday at home."
Visit ParadiseSoho.com
Inspired? Here, chef Mitch Tonks – sustainable fish expert and founder of Rockfish – shares his top five tips on buying and eating seafood sustainably…
Look for the MSC logo. This will let you know the fish comes from a certified sustainable fishery.
Look for British-landed fish, for example at Rockfish we're based right on the quay in Brixham and buy fresh fish from boats we know and trust. 
Where possible, go for line-caught seafood, which is caught using a low-impact method.
Avoid fish with roe. Not eating certain species during their breeding season helps ensure there will be plenty of fish for the future.
Get to know your seasons and eat with them. Right now, look out for mussels, coley, Dover sole, gurnard, lemon sole, monkfish, pollack, ray and white ling. 
Visit MitchTonks.co.uk
DISCLAIMER: We endeavour to always credit the correct original source of every image we use. If you think a credit may be incorrect, please contact us at [email protected].