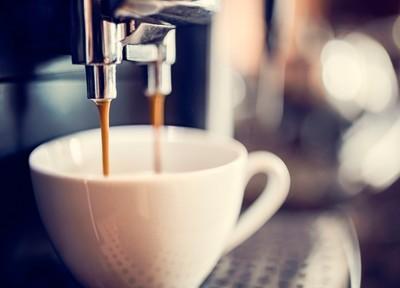 The Coffee Pod Products To Try Now

---
Home-brewed coffee has come a long way since a jar of 80s Nescafe. From the latest Nespresso capsules to newer contenders making fully compostable pods and a recent launch straight from Japan, these are ten of the best coffee-machine products to know.

Photography ISTOCK/MARIUSZBLACH
BEST FOR A RICH TASTE: Hotel Chocolat
Following the success of its Velvetiser hot chocolate maker, Hotel Chocolat has turned its attention to coffee. Its fully recyclable pods are filled with freshly ground, ethically sourced coffee which come from small farms, co-operatives and community programmes in countries such as Colombia, Costa Rica and Ethiopia. There are currently five to choose from: Rocket is a turbo-charged blend with notes of subtle leather, tobacco and dark chocolate; The One is a classic blend with full-bodied notes of milk and caramel; The One Decaf is decaffeinated naturally; Oh Hello is a lively blend, featuring dark chocolate, peaches, blueberry jam and cranberry; and Cashmere is the team's most mellow serving, with notes of creme caramel and brioche.
Visit HotelChocolat.com
BEST FOR SOMETHING NEW: Ueshima Coffee Company
Japan's bestselling coffee is now available in the UK. Established in Kobe in 1933, Ueshima Coffee Company is steeped in history: a household name in Japan, it has a 36% market share and a network of coffee shops across the country. Characteristically smooth, bold in flavour and low in acidity, the new range includes beans, coffee bags and Nespresso-compatible aluminium capsules in three blends – Tokyo Roast, House Blend and Fuji Mountain – each using original recipes. Keen to mix up your morning routine? Sign up to the newsletter and you'll receive 10% off your first order.
Visit UeshimaCoffeeCompany.com
BEST FOR LOW-CAFFEINE FANS: Cru Kafe
Designed to work on all kitchen-top Nespresso machines, Cru Kafe's aluminium capsules are 100% recyclable. Of the brand's six-strong collection of coffee capsules, we like the look of its slow caffeine box. Its Great Taste 2020 award-winning Peruvian Decaf is one its most popular products, outselling many of its caffeinated coffees. If you're after something a bit stronger – but without the caffeine crash – opt for Cru's new Half Caff, which includes the same Peruvian bean but with an extra boost. Ideal for an afternoon lift or post-dinner fix. Unsure where to start? Check out Cru Kafe's Discovery box, which comes with ten pods of each flavour.
Visit CruKafe.com
BEST FOR SUBSCRIPTIONS: Kiss The Hippo
Indie coffee roaster Kiss the Hippo, which has popular coffee shops in Fitzrovia and Richmond, launched its coffee subscription service last year. With seasonality in mind, the team sources coffee from quality-focused producers around the globe, before roasting the beans in house using the most environmentally friendly roaster – the Loring Smart Roaster. There are currently three flavours to choose from: Organic House Blend is an update of fan-favourite George Street Blend, offering both sweetness and strength; Organic Classic Blend is a darker roast that delivers a richer, more intense flavour; and Organic Decaf is an easy-to-drink, classic coffee, decaffeinated using the all-natural sparkling water method.
Visit KissTheHippo.com
BEST FOR VARIETY: Pact
Whether you like your coffee first thing in the morning, after a post-lunch slump or as something to be savoured over the weekend, coffee subscription service Pact has the ideal blend. Offering flexible delivery plans from £6.95, the team can create any package depending on your preferred strength and method. Customers can choose pods based on roast, region or flavour profile – we like to order the letterbox-friendly mixed pack of pods, which includes four different coffees, each with its own distinctive roast profile. 
Visit PactCoffee.com
BEST FOR STRONG FLAVOURS: Volcano Coffee Works
In 2010, Kurt Stewart founded Volcano Coffee Works as an ethical roastery to bring the great tasting coffees he grew up with in New Zealand to the UK, while supporting the livelihoods of the communities who grow and produce it. From a coffee cart on the streets of West Norwood to a state-of-the-art roastery in Brixton, Volcano has grown to a team of 30, though Kurt himself continues to roast the first batch of coffee of the day. Volcano's range of award-winning coffees now come in pods made of 100% compostable bio-based material (derived from sugarcane and GMO free). We love the full-bodied flavours of dark chocolate and stone fruit from its Bold coffee capsules – a great way to kick-start your morning.
Visit VolcanoCoffeeWorks.com
BEST FOR SCANDI-STYLE COFFEE: Norlo
Inspired by Nordic coffee culture, newcomer Norlo lightly roasts its speciality organic beans to create a smooth, healthier blend of coffee. Now available as tubes of Nespresso-compatible pods, the coffee is designed for a smooth, long-lasting crema and comes in 100% compostable, nitrogen-flushed flow bags for maximum freshness and flavour preservation. Of the collection, we like its caffeinated blend, which offers notes of jasmine, bergamot, chocolate, blueberries and stone fruit.
Visit Norlo.co.uk
BEST FOR A HEALTH KICK: Rokit Pods
Rokit Health launched in 2016 with the aim of making healthy and organic hot drinks convenient. Its range of drinks are made from high-quality natural ingredients, sourced from sustainable, ethical farms all over the world, only ever using raw ingredients which are minimally processed and free from chemicals, preservatives and flavourings. From 'VitaCoffee' (an arabica robusta coffee blend enriched with zinc, selenium and vitamin D3) to matcha, barley coffee and turmeric lattes, Rokitpods offer healthy drinks at a touch of the button. The pods are compostable or recyclable, making them an eco-friendly option. 
Visit Rokit-Health.com
BEST FOR ICED COFFEES: Nespresso
As the original company behind the burgeoning coffee pod market, Nespresso has the largest range of pods for customers to choose from. At this time of year, we like to order a batch of its capsules designed for making iced coffee. New for this summer is its Barista Creations tropical coconut flavour. The pods blend Brazilian arabica beans – which are lightly roasted to keep the taste round and sweet – with Ethiopian arabica to create caramel notes and an exotic addition to its traditional coffee base. Brew it directly over 90g of ice to chill it instantly and lock in the flavours – and for an extra twist, add 90g of cold milk. 
Visit Nespresso.com
BEST FOR COMPOSTABLE PODS: Grind
Grind has been making coffee in its seven London cafés for almost a decade. Today its teams serve over 2m cups a year and the company also sells ethically sourced coffee in distinctive pink tins. Most recently, it's branched out to create compostable pods for Nespresso machines. Filled with organic coffee from sustainable farms around the world, the pods are 100% plastic free and come in five flavours: House Blend, which cuts through milk with notes of chocolate and hazelnut; Light Blend, a more floral number best served as an espresso or long black; Dark Blend, a traditional dark roast; and Decaf Blend, which offers the same kick as the House Blend, just without the caffeine.
Visit Grind.co.uk
DISCLAIMER: We endeavour to always credit the correct original source of every image we use. If you think a credit may be incorrect, please contact us at [email protected].