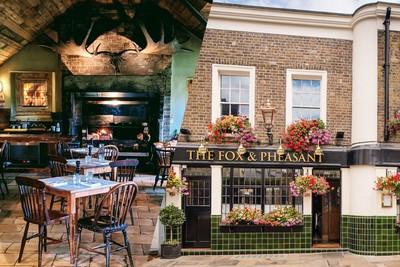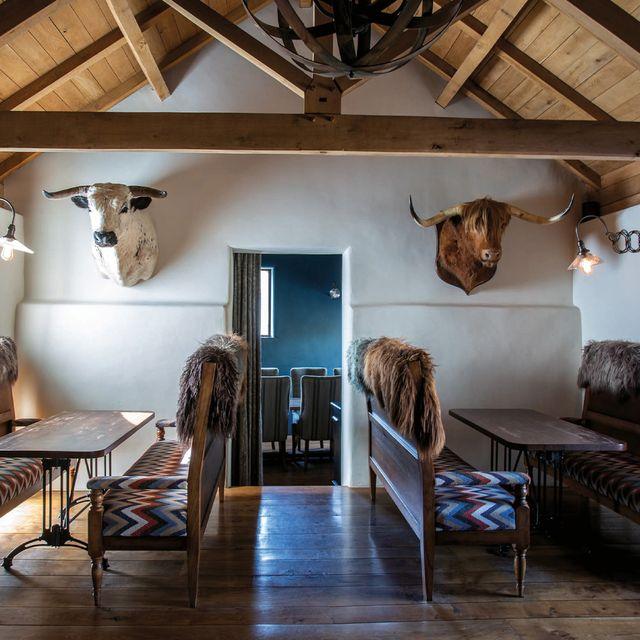 The Expert-Approved Pubs To Bookmark For Autumn

---
New book 'Great Pubs of England' by photographer Horst Friedrichs and travel journalist Stuart Husband is an epic virtual pub crawl charting the illustrious history of English pub culture. Whittling it down to 33 of the country's finest and most distinctive inns, the authors travel the length and breadth of the country – from Yorkshire dining destinations to Cornish beer shrines. Here, Stuart shares his favourite boozers for all types of occasion…
Author Heather Steele
All products on this page have been selected by our editorial team, however we may make commission on some products.
FOR A TRUE LONDON EXPERIENCE
The French House, Soho
What makes a great pub is almost intangible. Lots of things have to come together: the atmosphere, the people, the stuff they serve, the service. Service more than anything – it's more than enough reason to keep returning. The French House in Soho attracts absolutely committed regulars. When it opens at 12, Leslie the landlady – who lives upstairs – throws open the doors to see the same people waiting to come in and take the tables they always sit at and have the drinks they are always served. She has what she calls a brigade of fierce and incredible women who know exactly what these people want to drink and when to refill their glasses. When I had lunch there recently, there was a bit of delicate negotiation about which table we could sit at and when we might need to surrender it. And it has such a great mix of people, from curious tourists to people who have propped up their own little corner of the bar for decades, to actors, tech entrepreneurs and old Soho characters. A lot of the places in Soho are sad shadows of their former selves – The French just seems to go from strength to strength.
FOR AN ULTIMATE LOCAL
The Crown, Hastings
The Crown in Hastings is in a beautiful location, right in the middle of the old town, on the corner of a narrow street. The team who run it have done such a brilliant job of getting the community involved – they do a lot of things other pubs do, like holding sewing circles in the snug and having mother-and-baby groups in the morning, so it evolves from a coffee stop when it opens at 11 through to lunch, afternoon hangout, early dinner, late dinner… The ambience changes subtly as the day progresses. You can't manufacture the constant chatter – it's like stepping into a warm bubble bath. It's a really great place to linger, and that's another acid test of what makes a good pub. If you don't want to stay there then, you're not likely to want to go back.
FOR A LIFE-CHANGING ROAST
The Marksman, Hackney
Tom and Jon of the Marksman care very deeply about food – and British food in particular. Even though they both have a restaurant background, they love the democratic nature of a pub. They didn't want to open a fine-dining place and wanted to keep the ambience of the pub – it looks very much like an old Victorian boozer. There's a slightly more designer-y bit upstairs to reflect the Hackney hipster environment, but there are no expensive seats and no cheap seats – everybody gets treated the same. Sunday lunch is legendary there – so much so, that that's what I've booked to celebrate the launch of the book. I also love the Guinea Grill in Mayfair – it's one of those places where lunch might bleed into dinner because you're having such a good time.
FOR AN OVERNIGHT STAY
The Gunton Arms, Norfolk
I love the Gunton Arms in Norfolk. It's in an old hunting lodge in a 100-acre estate with a deer park. The art dealer Ivor Braka is the mastermind behind it, and the place is covered in his collection. A lot of it is quite sexy – his partner is the supermodel Kristen McMenamy and there are a lot of photos of her in artful states of undress around the pub. The rooms are beautiful, dark and there are no TVs, so there are no distractions. It's in the middle of nowhere, the food is incredibly hearty, there a great wine list and a roaring open fire – all you really want to do afterwards is stagger upstairs.
FOR HIGH-END FOOD
The Angel at Hetton, Yorkshire
Lots of people love doing a food tour of Yorkshire, and the Angel at Hetton should definitely be on that list. It's got bedrooms, so lots of people end up staying overnight – they've really gone to town on the décor. Michael Wignall does amazing things in the kitchen. It identifies as a pub, but it's totally a fine-dining restaurant.
FOR UNPRETENTIOUS SURROUNDINGS
The Royal Oak, Swindon
The Royal Oak is run by Helen Browning, a famous organic farmer. It's very unpretentious, but the food is terrific. You can get a tour of her farm and there's a really nice farm shop attached. Because it's so unpretentious, it doesn't look like a destination. But they're all about promising small and delivering big, so it's definitely worth visiting. For sheer jaw-dropping grandeur, the Philharmonic in Liverpool is gorgeous – all stained-glass and gilt. It's an amazing place to hang out in – and it's worth a visit just to see the legendary loos.
FOR A VILLAGE STAPLE
The Farmers Arms, Woolsery
I'm from North Devon, so I was really pleased to see the old village pub in Woolsery get taken over. The Farmers Arms was closed for years and the whole village was going through a big decline. Then Michael Birch, the founder of tech company Bebo, came in with all this money. The fact he revived the pub means the villagers got a new lease of life. Pubs are like a second living room for many, and without it the village became really atomised – apart from church, there was nowhere for people to meet. John, the landlord of the Bluebell Inn in York, was raised Christian, but he always says the pub has even more of a role to play as it's a place for people to meet and gather, especially when it comes to tackling the loneliness epidemic in this country.
FOR AN AFTERNOON OF SPORT
The Boleyn Tavern, Upton Park
The Boleyn Tavern was one of the first pubs we visited for the book and I was really surprised. It's right by West Ham's old grounds and hasn't yet been co-opted by hipsters. If it was in Shoreditch, the place would be packed to the rafters. It's been beautifully restored to its Victorian splendour, but not overdone, and it's still very sporty – it's got stained-glass panels of the likes of Bobby Moore and Geoff Hurst. Another decent spot is Tom Kerridge's The Butcher's Tap & Grill in Marlow. It's very modern – he's got meat in a vitrine that looks like a Damien Hirst artwork – but it has a big screen in the main room and lots of people come in to watch sport and have a pint along with their burger and chips.
FOR FAMILIES
The Fox & Pheasant, Chelsea
James Blunt's pub the Fox & Pheasant is great. It's set up in a very family friendly way; it's a hugely popular place for Sunday lunches and there's a massive conservatory with a big olive tree growing inside. You often see James walking round with his own family asking people how they are enjoying their Sunday lunch. I'm sure he'd love to hand the pub on to his family one day.
FOR A DRINK WITH MATES
The Britons Protection, Manchester
I'd go for the Britons Protection in Manchester. It's very convivial and has a huge selection of whiskies as well as beer. When we visited, there were lots of parties of blokes – but women are also more than welcome. Vivienne Westwood has come in before and ordered a glass of rosé.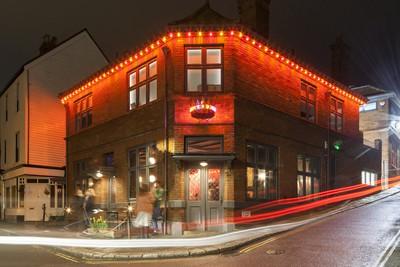 FOR A PERFECTLY POURED PINT
The Blue Anchor, Cornwall
The Blue Anchor in Cornwall has a beer called Spingo, which was the most delicious I tasted throughout our travels – and I say that as someone who's not primarily a beer man. It's quite a famous beer, and people come from miles around to try it. The team brews it out the back and has been doing so for about 500 years.
FOR A HIDDEN GEM
The Whitelock Ale House, Leeds
Whitelock Ale House in Leeds is a hidden gem in the sense it's quite difficult to find. But once you have, it's like stepping into Narnia. Leeds city centre is all very modern but right in the middle between, say, River Island and Zara, there's a row of 18th-century worker's cottages. This is where you'll find the pub. Inside, the place has not changed. It's very convivial and always packed.
FOR A LEGENDARY LANDLORD
The Golden Hart, Spitalfields
I have to mention Sandra at the Golden Hart in Spitalfields. EastEnders landlords Danny Dyer, Barbara Windsor and Mike Reid all had a pint in there so they could see how it's done. She's worked there forever – and even on her own at times, when she couldn't afford to pay any staff. She was there when Shoreditch and Hackney became hipster central, and she started hosting all the YBA parties with Gilbert & George and Tracey Emin. She's a septuagenarian, but still keeps a hula hoop behind the bar and occasionally, when pressed, will get it out and do a bit of hula hooping. We're doing the book launch party there, so I'm hoping she might get it out then. Also try the Palm Tree in Bow. I'm not sure how much longer he's going to carry on, as he's in his 80s now, but Alf is lovely and a very old-school East Ender. They have jazz guys playing over the weekend and they're all in their 80s and 90s too. It gives you a taste of how things used to be – it doesn't even take cards! If you try to pay with card, you're redirected to a cashpoint about half a mile down the road. 
To buy Great Pubs of England, visit Waterstones.com
DISCLAIMER: We endeavour to always credit the correct original source of every image we use. If you think a credit may be incorrect, please contact us at [email protected].