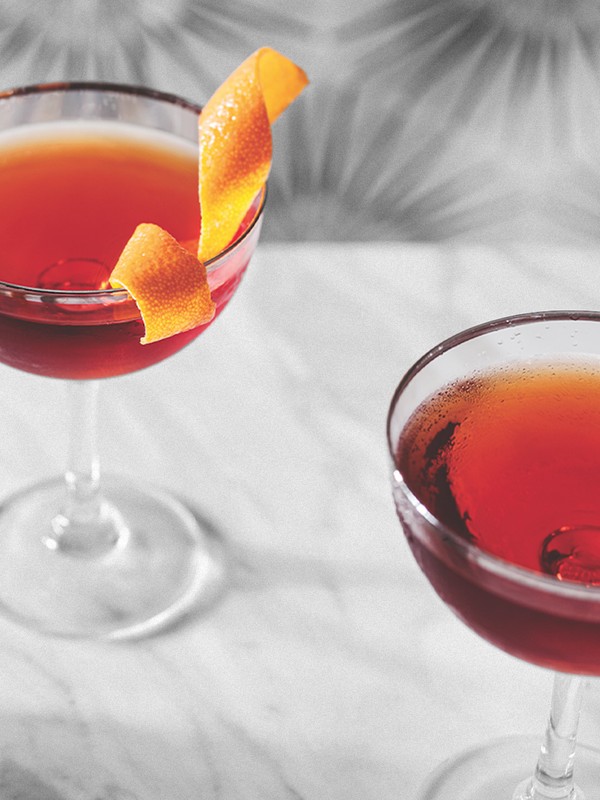 A Hollywood Director's Guide To At-Home Cocktails

---
Paul Feig is best known for creating the cult classic show Freaks & Geeks and directing Bridesmaids and Ghostbusters. In 2020, he started a daily Instagram live series called Cocktail Time! and his new book is all about how to make classic cocktails and throw parties – each served along with funny insider stories about Paul's Hollywood life and famous friends. Here are three great recipes to try at home.

What's your favourite cocktail at this time of year?
I'm pretty stuck in my ways and so I never stray far from a martini no matter what the season. I always make mine with a twist, very dry, stirred, very cold and, of course, always with gin. However, I am quite partial to any festive drinks that put me in the mood for the holidays. I invented a cocktail called the 'Last Christmas', based on my Emilia Clarke, Henry Golding and Emma Thompson film from 2019, which tastes like December 25th to me. It's gin, light crème de cacao and crème de menthe, all topped off with a candy cane stirrer. One sip of this and it's beginning to taste a lot like Christmas.
What's a good pick if you're entertaining a crowd?
If you've got a lot of people over, there's hardly anyone that isn't happy to see champagne being poured. It always makes a party feel like a party, especially at the beginning of the night. But after that, I want to serve cocktails. I find the best thing for a party is to offer people a choice of drinks. If I want to feel like I'm pleasing everyone, I'll offer up a choice of martini, a perfect Manhattan (half dry vermouth and half sweet vermouth, as opposed to the traditional ounce of sweet vermouth), a margarita (on the rocks, not blended – you don't want to be messing with blenders at your parties!) and then red and white wine. Don't forget soft drinks for the teetotalers in the crowd – I always make sure their drinks are in nice glasses with a garnish so they don't feel like they're wearing a scarlet letter for not boozing it up.
What do you choose if you're out at a bar?
Again, I'll always go for a martini. I find that a martini is a true test of a bartender's skills. I personally feel that martinis should always be stirred, but so many bartenders pride themselves on how hard they can shake a martini, which results in a cloudy, ice chip-filled mess. (Yes, I know, James Bond liked his shaken but he's a superspy and so needs to water down his drinks in order to be sober enough to fight bad guys. The rest of us don't have to worry about that.) Since everybody has a different way they like their martinis – very dry, dirty, wet, twist, olive, olives, onions – a bartender needs to know exactly how to get these proportions right. And, most importantly, how to get a martini as cold as possible. A sort-of cold martini is a disappointment and one that you are well within your rights to ask them to put back in the mixing glass and bring down to the right temperature, which is as cold as possible. Anything else means you're not at the right bar for you.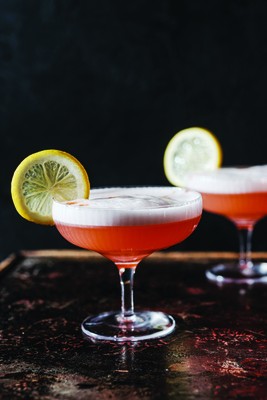 "If you've got a lot of people over, there's hardly anyone that isn't happy to see champagne being poured. It always makes a party feel like a party."
Have you got a favourite nightcap?
I've been a single malt whisky guy for most of my life, but also love to pour a nice cognac or armagnac in a beautiful snifter. Half the fun of drinking is the presentation and so having your nightcap (or any drink) in the nicest glass possible just makes the experience all the better. For a single malt, I love an old fashioned glass with the heaviest bottom possible. Since a pour of whisky is pretty light, you want to feel the weight of what it will actually deliver to you once you take a sip. So, dress up your nightcap before you enjoy.
What film most inspires your love of cocktails?
Any of the Thin Man films with William Powell and Myrna Loy. Those old movies from the 1930s show drinking at its most fashionable and fun. The glassware is always great, the drink trays in people's apartments always have a seltzer bottle they use to squirt fizzy water into their scotch-filled highball glasses and the scenes in the fancy supper clubs where everyone is dressed in formalwear sipping on sensibly-sized martinis (back then, martinis were only a few ounces, not the giant Slurpee-sized ones that get served in most places these days) just make you wish you had a time machine that allowed you to go spend an evening with Nick and Nora and Asta the dog. 
What cocktail kit should every home bar have?
If you want the bare minimum, you need a cocktail shaker (a cobbler has a strainer already built into the lid), a jigger for measuring, a long cocktail stirrer for non-shaken drinks and a bottle opener. If you have those, you can make most drinks. If you then want to step things up to the next level, you can add a mixing glass (just prettier and more impressive than stirring a drink in your metal shaker), a strainer for pouring from your mixing glass, a handheld juice squeezer for adding lemon and lime juice to your drinks, and a small paring knife and cutting board for cutting the lemons and limes. If you really want to complete things, get a muddler (for mashing up ingredients in the bottom of your shaker), an ice bucket and scoop (because you don't want to use your hands to put ice into your friends' drinks) and some bar towels. And then, of course, you need glasses. I say get four martini glasses, four highball glasses, four old fashioned glasses and four white wine glasses and you are good for any boozy occasion that may occur.
Who's your favourite person to have a drink with and why?
My wife Laurie. We love to go to nice bars and restaurants and enjoy cocktails. She's more of a lightweight than me but that's okay because drinks out at nice bars are expensive. She calls herself a cheap date and I have no problem with that.
Where are your favourite places to drink?
In London, I love Dukes Bar at Dukes Hotel. It's my favourite bar in the world and one of my closest friends is the head bartender there, Alessandro Palazzi. He'll make you the world's best (and strongest) martini tableside and talk you through his whole process as he does it. The bar in the back of The Connaught is also wonderful and filled with drink-making pageantry. In New York city, my favourite bars are Bemelmans in the Carlyle Hotel (where you not only get great drinks but you're surrounded by beautiful hand-painted walls and serenaded by the piano and vocal stylings of Loston Harris, Billy Stritch, Jim Caruso and Earl Rose), and the Ralph Lauren Polo Bar, which is the centre of all things good in NYC. The bar is spectacular, the drinks are out of this world, the food is amazing and the staff are absolutely special and make you feel like the most important person in the world. As for Los Angeles, I'm quite fond of the bar at the Smokehouse, which is one of the oldest restaurants in the valley. It's all dark wood and red leather (the kind of place that used to exist everywhere but now is mostly extinct, sadly) and they make amazing martinis that even come with an extra sidecar in an ice-filled bowl so that you're pretty much getting two martinis for the price of one.  
Finally, what would be your death-row drink?
Well, if I was on death row I don't know if I would deserve a drink. But let's say I've been falsely accused and am about to be unjustly put to death. If that was the case, then please bring me the world's largest Dukes martini possible, a side of olives and a new lawyer.
---
Inspired? Here are three of Paul's favourite cocktails for this time of year to try at home…
THE VESPER
THE DRINK JAMES BOND INVENTED
In Ian Fleming's very first James Bond novel, Casino Royale, James falls in love with a woman by the name of Vesper and invented a drink in her honour. Since Bond is a lover of martinis, he had the decency to make her drink a variation on the martini.
Ingredients
15ml

of Lillet Blanc aperitif
Method
Step 1
Combine the gin, vodka, and Lillet in a mixing glass or shaker with ice and either stir or shake, depending on how much dilution you want. (Remember, shaking with ice puts more water into the drink than stirring.)
Step 2
Strain into a chilled cocktail glass and squeeze the lemon twist over the surface of the drink to release the oil.
Step 3
Brush the rim of the glass with the twist and drop into the drink.
CLARIDGE COCKTAIL
Claridge's Hotel in London is my favourite hotel in the world. Its elegant old-world charm is right in my sweet spot, since I'm British on my mother's side and love traditional English style. I love getting cocktails and snacks in its beautiful little Fumoir Bar, which used to be dedicated to smokers, with its very high ceilings and dark walls that wouldn't show the smoke stains. You can't smoke in it anymore, but it's a wonderful place to spend an evening. This cocktail first caught my eye in the Mr. Boston book because I figured it originated in the Fumoir. But then I found out that the drink is actually from the book Barflies and Cocktails, which was written by the staff of Harry's New York Bar in 1927. In that book, they say the cocktail is named after the Claridge Hotel in Paris, where it was invented by the head bartender. So, turns out it has nothing to do with Claridge's in London. However, by the time I knew all of this I had already made the drink and liked it. So, origins aside, give it a whirl! But make sure you use apricot brandy. When I first made this, I used pear brandy instead and, well, it didn't quite work. With the apricot brandy, it is a drink worthy of whatever hotel you want to think it's named after.
Ingredients
15ml

of Cointreau orange liqueur
Method
Step 1
Fill a cocktail shaker with ice, then add the gin, vermouth, Cointreau, and brandy.
Step 2
Shake, then strain into a chilled cocktail glass.
Step 3
Squeeze the lemon twist over the surface and drop it into the drink.
GIN SOUR
Sours are great. Pure and simple. You can make sours out of just about any spirit. The "sour" part comes from adding lemon juice and some sort of sweetener, whether it's simple syrup or a sweet liqueur.
Ingredients
30ml

of fresh lemon juice
Dash of Angostura bitters
Method
Step 1
Fill a cocktail shaker with ice and add the gin, Aperol, lemon juice, and egg white.
Step 2
Shake vigorously for 1 minute.
Step 3
Strain the drink into a separate shaker to get rid of the ice, then shake for another minute with no ice.
Step 4
Strain the drink into a chilled coupe or cocktail glass. Garnish with the lemon wheel, then sprinkle the bitters on top of the foam to decorate.
Photography by Haarala Hamilton.
Recipe Copyright © 2022 by Paul Feig. Reprinted by permission of William Morrow, an imprint of HarperCollins Publishers.
All products on this page have been selected by our editorial team, however we may make commission on some products.
DISCLAIMER: We endeavour to always credit the correct original source of every image we use. If you think a credit may be incorrect, please contact us at [email protected].