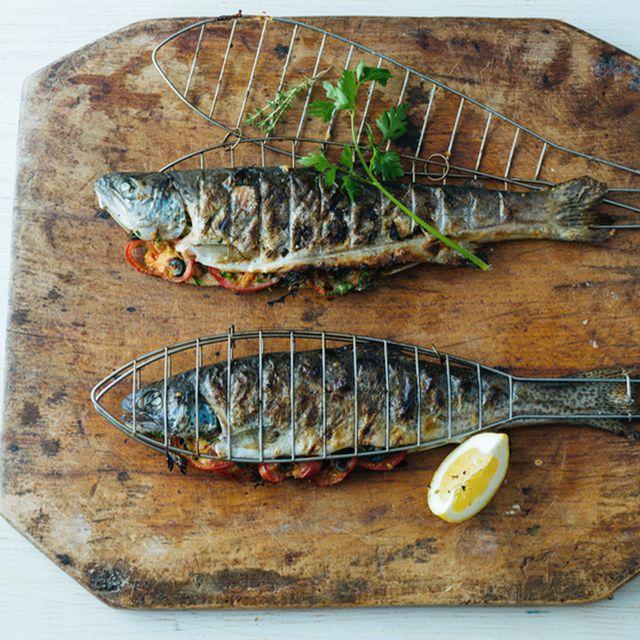 How To BBQ Seafood At Home

---
A lot of things taste better on the BBQ, but especially seafood, which can be marinated and cooked in minutes to lock in extra flavour. To make yours the best it can be, we asked some of the nation's top chefs and fishmongers to share their trips. From the prep to the cooking, here's what you need to know…

Photography J.RPHOTOGRAPHY/STOCKSY UNITED; STEVEN JOYCE
All products on this page have been selected by our editorial team, however we may make commission on some products.
"When it comes to seafood, you want it as fresh possible, which is where a reputable fishmonger comes in. If you're London-based, go to Fin & Flounder at Broadway Market or Moxons, which has several sites. Talk to them and let them know what you're planning so they can give you advice and let you know what's in season. The main issue people have is fishing sticking to the BBQ, so pick an oily variety such as mackerel, sardines or salmon – fish with a good skin on them. You want to make sure the skin has dried out a bit before putting it on the BBQ, so leave the fish in the fridge uncovered for a few hours. If you're planning on serving oysters, fishmongers almost always sell shuckers – the knives you need to open them. I like Carlingford oysters from Ireland, which are great for novices, too." – Tom Brown, Cornerstone
"Fish is excellent on the BBQ. If you're cooking it whole, keep the scales on to stop it sticking to the grill and stuff the cavity with herbs to pack in the flavour. You do get more flavour from cooking it on the bone, that comes down to personal preference. I love cooking fresh mackerel on the BBQ – butterfly the fish, remove the bones and season with salt, olive oil and fresh lemon. Lay the fish skin-side down and cook until the fillet turns white with a little bit of pink left on top. Gently remove from the BBQ and lay it on a plate and drizzle with a good quality olive oil and fresh lemon." – Rick Toogood, Prawn on the Lawn
"Sardines are perfect cooked over the fire. Leave them whole, guts in and heads on, rub them with salt and olive oil and wait for the skin to blister and golden, then peel the flesh from the bones. The whole process takes about 6-7 minutes, so just turn them once. If you want to cook bigger fish, it's important to choose what's in season and what's sustainable. Look for the MSC logo where possible – it's the mark of sustainability. Also, buy British landed fish from small-scale fisheries that are well managed. Right now, look for turbot or John Dory." – Mitch Tonks, Mitch Tonks
"During the summer months, seabass, seabream, turbot, brill, mackerel and trout are all mega on the BBQ. They get a lovely crispy skin over the fire and are relatively easy to cook. I also love the flavour of a grilled scallop or langoustine – seeing one form into shape and colour as it cooks is unbelievable. The flavour of both is unparalleled, too." – Luke French, JÖRO
"Shellfish is ideal on the BBQ, like lobster, prawns, and scallops. When choosing your seafood, you ideally want a firm fish, such as Dover sole, turbot, seabass, sardines, or mackerel. Oily fish are great when they're in season, as they have an oily texture and great flavour that stands up to the smoke and embers. I live by the coast, so I love cooking turbot as it's a nice meaty fish." – Tim Hughes, J Sheekey
"If you're not confident filleting a fish, always ask your local fishmonger to do the hard work for you – they're skilled and will be able to give you exactly what you want. If you do want to give it a crack, it's relatively easy. To fillet it, make sure you have a proper filleting knife that's razor sharp. Use a pair of scissors to remove any fins then cut the head off from behind the gills. Run the blade carefully along the spine from the back of the gills to the tail, then flip the fish over and repeat this but the other way around from the tail to the back of the gills. Insert the tip of the blade under the rib bones and slide through along them to remove them from the belly. Finally, use a pair of fish pliers or tweezers to remove the pin bones. There are lots of decent YouTube videos if you need a guide." – Luke French
"Fish retains its juices and flavour if you leave it on the bone – plus there's an element of theatre especially with bigger fish like turbot. Once its cooked, you can pull out the central bones all in one go. Ask your fishmonger to fillet and clean the fish as it's a messy job and most people don't have one of those hoses you see for cleaning out the bellies in the fishmongers. It's often nice to have it ready to go so you can focus on the cooking. During the prep, cut the fish with as few motions as possible using long smooth actions with a knife. Making lots of small cuts and incisions becomes very visible on the flesh so it's important to be confident." – Gabriel  Waterhouse, The Water House Project
SEASONING, STUFFING & MARINADES
"My go-to marinade works well with flaky white fish, or oily fatty fish like mackerel, trout or tuna. Mix a tablespoon of the following together: caster sugar, mirin, white miso, soy sauce and sake. Rub it onto the fish and let it marinade for at least ten minutes, but you can leave it for two to three days before cooking. If you'd rather stuff the fish for something more substantial, blitz together lemongrass, crushed garlic, kefir lime leaves, coriander, ginger, green chilies, Thai shallots and a squeeze of lime. Tie it up or wrap it in foil before cooking." – Luke French 
"Whatever fish you're cooking, season it with a generous amount of Maldon salt and lemon juice. You could simply cook it like this, or make things interesting with a quick marinade of fennel seeds, cumin seeds, lemon zest, chilli and freshly chopped coriander, all mixed with olive oil. BBQ it with sliced fennel and courgettes and throw in some raisins or grapes for a sweet punch." – Gabriel  Waterhouse
"Seasoning is all about personal preference but always use quality sea salt, pepper and fresh herbs like dill, thyme, and rosemary with slices of lemon and lots of olive oil. I usually avoid seasoning with butter as it can burn on the BBQ. It's important to use top quality ingredients when cooking over flames as the flavours will be intensified. If you're cooking the fish whole, cover it with olive oil, chopped chilli, crushed garlic, herbs de Provence and grill until cooked. If you're planning to stuff a fish, it's best to use a whole seabass. Add fennel, mixed herbs, lemon, ginger, and garlic to the lining inside the stomach and grill." – Tim Hughes
"A good stuffing can't be topped. When cooking on the BBQ, go big and use each ingredient liberally. I use a mixture of fine breadcrumbs, olive oil, fennel seeds, and dried savory, thyme, and oregano. Brush the fish with olive oil and season well with salt and pepper. You can stuff the fish or sprinkle the mix on top." – Mitch Tonks
"Don't use the standard coal you buy in supermarkets as it's soaked and dowsed in paraffin and lighter fuel. It tastes horrible and so will your food if you cook over it. Spend time sourcing some really good quality charcoal – I use Whittle & Flame, a small sustainable supplier in Oxfordshire which specialises in single species UK hardwood charcoal. I also rate Big Green Egg's charcoal and Japanese binchotan. Just make sure to get loose lump wood charcoal rather than briquettes and get the coals white hot. Fan it and use the vents in the BBQ so it can breathe. Don't starve it of oxygen. Drip feed it with fuel (charcoal or wood), and don't smother it. Also, don't spread the coals until they're hot. Clean any scallops and cook them in their shell until it pops open and the juices inside are bubbling then remove from the shell and eat like that. You could also shuck the scallop and cook it on the grill bars over the fire, brush it with some beef fat and cook on one side until it is well caramelised. For langoustines, cut them down the middle, remove the intestinal tract and pop them straight onto the hot grill bars flesh side down for a minute or so. Another way is to carefully remove the flesh from the shell while raw, then cook it on a skewer and brush with smoked butter." – Luke French
"I always use Big K coal, which a lot of Turkish and Greek restaurants swear by, but there are some wonderful handmade specialist charcoals out there. Just wait for the fire to die down and make sure the coals are glowing before you add the fish. To keep the fire hot, keep feeding it the odd charcoal lump every now and again. It might be easier if you have a gas BBQ but you get so much more flavour cooking over coal." – Mitch Tonks
"If you're cooking shellfish like mussels or clams, steaming works well. Lay out a large sheet of foil with a slightly smaller sheet of greaseproof paper on top. Place your seafood on the greaseproof with some dry herbs, a knob of butter and a splash of white wine. Lift the edges up and seal the foil to create a parcel. Put it straight onto the hot BBQ and cook for 10-15 minutes. If you're cooking something delicate like squid, make sure it's not too wet and add a little olive oil before putting the tentacles on the BBQ first, followed by the hood (keeping it whole rather than slices, which is much easier). You can then spoon over some melted butter after a few minutes once it's slightly charred."  – Rick Toogood 
The most important thing to remember is to cook your food to temperature on the BBQ and not to time. If you're just guessing when your food is ready, you're more likely to leave it cooking too long, which causes it to dry out. Cutting into your fish means you lose all those valuable juices – the juicier the fish, the more flavoursome it is. To take the guesswork out, invest in a decent digital thermometer, like the Thermapen. It will tell you the exact temperature of your food – as a general rule, you want fish to reach at least 62°C. Also, make sure you set up two different heat zones in your BBQ. If things start to flare up, you can move the food over to the indirect, safe side." – Daniel Whittaker, The Smokin' Elk
"Before you start cooking, prep some sides that you can BBQ at the same time. I like whole courgettes, leeks or onions with plenty of salt. Once charred, plate up and drizzle with a light, slightly sweet white wine vinegar. For an Asian-inspired fish dressing, chop a teaspoon of garlic and ginger, add 75ml of soy sauce, 25ml of sesame oil and a squeeze of lemon, then spoon over the fish. You can also add in lemongrass, coriander and lime juice, and drizzle with a little fish sauce at the end."  – Rick Toogood
"For a simple dressing that works with everything, mix 60% of quality olive oil with 40% lemon juice. 
Grate in a garlic clove and season, then add shredded parsley and basil over. Butter can often burn on the BBQ so add it at the very end. Make a rosemary and anchovy butter by smashing together one garlic clove with six anchovy fillets and a small handful of rosemary leaves, then add 125g of soft butter to bring it all together. Serve this with a fresh salad using charred red peppers." – Mitch Tonks
"I enjoy simple flavours on a BBQ. You can make quick and easy sauce with butter, capers, salt, lemon juice and a handful of chopped herbs. Throw in a small number of potted shrimps for extra saltiness. A preserved lemon butter is also delicious with shellfish – I make mine with preserved lemons. These aren't as pithy as the shop-bought ones as they are cooked until tender in salty water, then seeped in a sugar syrup with garlic, vanilla and bay leaves. Blend these with butter to bring out the zesty lemon without the aftertaste. It also works amazingly in a sandwich or lobster roll. I'm very happy if I have this with roasted pink fir potatoes, dressed in garlic and thyme – cut the potatoes in half and dress them in olive oil, butter, garlic and thyme, then place them into the embers, wrapped in tinfoil. To give them a final bit of colour you can toss them in a frying pan with butter or olive oil. Serve this with a citrusy fennel ribbon salad dressed in olive oil and a squeeze of fresh orange." – Gabriel Waterhouse
"If in doubt, make a classic salsa verde with heaps of parsley, coriander, lemon juice, chopped gherkins, peeled and charred jalapenos and wild garlic. Also, butter lends itself to so much. At Acme, we infuse our butter with Marmite which would work excellently for a meatier fish like turbot. As with any compound butter, bring it to room temperature, then fold through whatever you like – be that chopped capers, seaweed, wild garlic, Marmite etc, and then spoon generously over the fish. During the summer months, you can't go wrong with blistered tomatoes on the BBQ using the residual heat built up, or in a fresh leafy salad. Charred corn with miso butter is also a winner." – Daniel Watkins, co-founder of Acme Fire Cult
Inspired? Shop Our Edit Of BBQ Essentials Below…
DISCLAIMER: We endeavour to always credit the correct original source of every image we use. If you think a credit may be incorrect, please contact us at [email protected].